Girls returns -- and looks who's happy
01/10/14 03:00 PM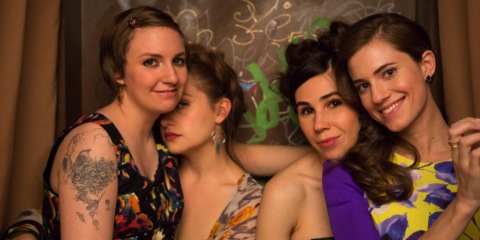 Lena Dunham (left) and her three Girls co-stars. HBO photo
By ED BARK
@unclebarkycom on Twitter
Season 3 of HBO's
Girls
opens with a shocker. There's a gainful, functioning relationship among the four oft-miserable principals. And so far it's still in place after the first three episodes.
The Lena Dunham lightning rod -- in which some critics pound her for being morose, nude too much and not having enough diversity in the cast -- returns on
Sunday, Jan. 12th with back-to-back episodes at 9 p.m. (central).
Dunham, now 27, is the creator, star and head writer of
Girls
. She also directs the new season's first two half-hours, both of which afford her Hannah character a modicum of happiness.
Hannah is now living with the grubby but not quite as gross Adam (Adam Driver). For now this suits the both of them. She even survives a searing confrontation with one of his old girlfriends at Ray's new coffee/pizza place.
Ray has recently broken up with loopy Shoshanna (Zosia Mamet), who's nearing her college graduation. Marnie (Allison Williams) is still mooning over her breakup with Charlie while being browbeaten by her mother, Evie (guest star Rita Wilson), after briefly moving back home. And Jessa (Jemima Kirke), whose impulsive marriage ended in a quick divorce, is making herself impossible to help while housed as a patient at the far-off Sheltering Winds rehab center.
Remarkably, Hannah actually seems to be making some progress as a writer and has an E-book deal in the works. But her editor (played by Cameron Mitchell) is a colossal self-important a-hole. This becomes especially evident at Hannah's 25th birthday party, in which all of her friends and acquaintances gather at a bar during an ambitiously staged Episode 3. The writing is particularly sharp here, and Hannah is positively glowing in her "Birthday Bitch" hat.
For the record, Dunham gets naked just once during the course of these three episodes. And it's "organic" to the story, not gratuitous.
This will be a 12-episode Season 3, up from the 10 ordered for both Seasons 1 and 2. So there's ample time for everyone, including Hannah, to be deep in the throes of misery if that's how Dunham wants to play it.
In the meantime, we wish Hannah well. Oddly enough, contentment with Adam becomes her. Everybody's got to have somebody.
GRADE:
B+
Email comments or questions to:
unclebarky@verizon.net