The Muppets gives ABC a big brand name in a challenging "mockumentary" setting
09/21/15 04:56 PM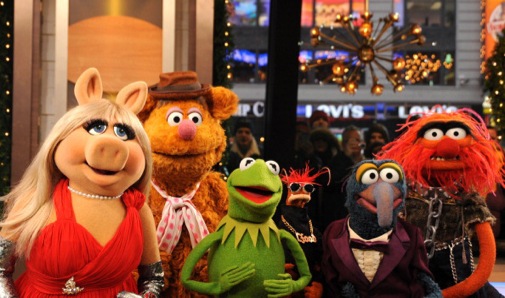 No further introductions necessary. It's The Muppets. ABC photo
Premiering:
Tuesday, Sept. 22nd at 7 p.m. (central) on ABC
Starring:
Kermit, Miss Piggy, Fozzie Bear and many, many more
Produced by:
Bill Barretta, Bill Prady, Debbie McClellan, Randall Einhorn, Bob Kushnell, Kyle Laughlin
By ED BARK
@unclebarkycom on Twitter
The Walt Disney Company has owned the rights to The Muppets since early 2004. So what took so long to turn Jim Henson's timeless creations into the stars of a new weekly TV show?
As co-executive producer Bill Prady recently told TV critics, the idea was pitched -- and rejected -- about eight years ago. Network executives are always coming and going, though. And in February of this year, the Muppets people found a newer and very receptive batch at Disney-owned ABC.
Problem is, they wanted the show
now
and not later. Prady says he balked but acquiesced. Based on the first two episodes made available for review, the gaggle of fuzzy wuzzys is still a little rough around the edges. But the more adult "mockumentary" Muppets are still safe to view for the whole family (even if fewer and fewer watch TV that way anymore) without fear of accelerating anyone's ascent to puberty.
The big "news" over the summer was the breakup of Kermit and Miss Piggy after the level-headed frog finally got fed up with her diva ways and means. But he's still around to produce her "Up Late with Miss Piggy" talk show. Which is a show within a show on
The Muppets
, where backstage machinations, out-of-pocket personal lives and talk-to-the-camera sidebars form the bulk of the first two half-hour episodes.
The second, with featured guest appearances by Josh Groban and Jay Leno, is better than Tuesday's opener. That's better than the other way around.
Tuesday's premiere, which leads off ABC's prime-time lineup, deploys Elizabeth Banks and Tom Bergeron, longtime host of the network's
Dancing with the Stars
. A subplot follows Fozzie Bear's new romance with a human woman whose father emphatically is not for it. Jere Burns, very villainous on
Justified
, gets off a good line at the dinner table, semi-whispering loud enough for all to hear, "Likes the salmon. What a surprise."
The Miss Piggy show's set manager, Bobo, is another bear who stands out. He's much burlier and bigger than Fozzie, going about his job in an amusingly laconic way. Old coot critics Statler and Waldorf are also in residence, this time carping from the studio audience instead of a balcony perch.
Post-Miss Piggy, Kermit has a new girlfriend named Denise, who's also a pig. But little is done with this in Episode 1 and Denise isn't a part of next week's show.
The Muppets
obviously has a built-in brand name and likely will be fairly heavily sampled in the early going. Its humor remains fairly gentle, although some younger viewers might wonder what's going on early in Episode 2. That's when Zoot, who plays the horn in Miss Piggy's house band, Electric Mayhem, is told "No dirty drawings" during a staff meeting.
"Oh. Maybe I can make it into a saxophone," he deadpans. Think about it.
Not that
The Muppets
wouldn't still be evicted from the Cartoon Network's Adult Swim lineup for being way too tame. The problem, at least for now, is whether the show can find a happy medium between sharpening itself without resorting to any crude or unduly cutting humor. These first two episodes are watchable enough, with next week's half-hour hitting on a fairly novel way to short-circuit a gooey Groban-Miss Piggy relationship that calms her tempestuous temperament but compromises her show.
As usual, put-upon Kermit ends up being the idea man, er, frog. He needs a pod-cast.
GRADE:
B-minus
Email comments or questions to:
unclebarky@verizon.net