CBS' 3 at least wins the minimalist title crown (but what's this all about?)
07/25/12 11:15 AM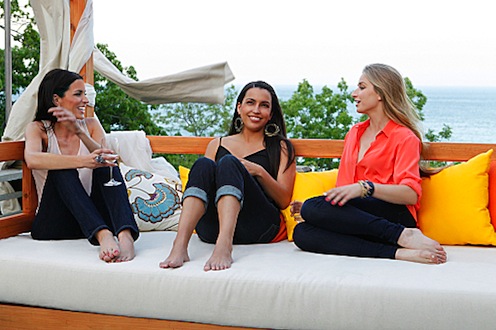 Chillin' with the 3 comely singles of 3. CBS photo
Premiering:
Thursday, July 26th at 9 p.m. (central) on CBS before moving to Sundays at 8 p.m.
Starring:
Libby Lopez, Rachel Harley, April Francis
Produced by:
Dan Cutforth, Jane Lipsitz, Chris Columbus, Avi Nir, Ami Glam
By ED BARK
@unclebarkycom
TV titles can't get much more minimalist than
3
. So what could it be?
***
The mini-adventures of
24
's Jack Bauer?
***
The Babe Ruth story (sports fans will get it)?
***
A raucous look at kids coming out of their "Terrible Twos?"
***
Tell-alls from the number of women who usually accompany Hugh Hefner to bed each night?
***
Lamar Kardashian's 1 to 10 care-o'-meter rating as a Dallas Maverick?
It's the summertime, though. And as with almost any new unscripted series coming your way,
3
turns out to be yet another "journey of the heart" on the part of people looking for made-for-TV love.
Saving grace:
3
is from CBS, whose so-called "reality" offerings usually aren't as sleazy, catty or bankrupt as those on rivals ABC, NBC or Fox. So there's a certain patina to
3
in comparison with
The Bachelor, The Bachelorette, Bachelor Pad, Love In the Wild, Take Me Out, The Choice
or one of ABC's all-time stinkers from the summer of 2009,
Dating in the Dark
. (The network's
Conveyor Belt of Love
, which briefly soiled ABC's 2010 midseason schedule, remains the uncontested grand champ in this field.)
3
, which rolls out on Thursday, July 26th, also has a shocking twist. It
doesn't
originate from a posh Southern California mansion or mini-manse. It's instead headquartered at a "luxurious lakeside home" in Chicago, where 24-year-old model Libby Lopez, 29-year-old entrepreneur April Francis and 34-year-old pharmaceutical rep Rachel Harley have gathered to inspect some 100 men promenading before them.
Each woman must pick six of 'em, but it's OK for two or more to vie for the same guy. Then comes the multi-episode "search for love," with a little-seen extraneous host named Alex Miranda promising that in this quest, Libby, April and Rachel will "travel across the country and outside their comfort zone" before returning to Chicago for the end games.
Pretty Rachel is pretty appealing as the widowed mom of two kids who lost her husband to brain cancer two years ago. Libby is intent on marrying a "believer," so bachelor Tyler immediately hooks her with his declaration that "For me, the No. 1 thing is a relationship with Jesus Christ." April so far is the least likable, as well as the pickiest. She gets weepy -- and the piano tinkles -- when Rachel and Libby gently tell her she needs to open herself to new possibilities and maybe be a little less judgmental.
In the premiere episode at least, the three women both go along and get along. Maybe the claws come out later in the game. But it's unique, it not all together refreshing, to see a little sisterly camaraderie rather than the typically shallow gamesmanship in play on other shows of this ilk.
A scant few of these quests for true love actually end in anything genuine or long-lasting. Not that these shows are any better or worse than online dating services or various other non-televised matchmaking gambits.
3
rises above the genre's usually tawdry trappings, even if the opening episode is more than a bit static. Here a dude, there a dude, everywhere a dude dude, with Libby, Rachel and April passing judgment from their group couch. Previews of coming attractions show that they'll eventually get to Hawaii, though. Lei lady lei? As they phonily say in the TV news business after showing anchors or reporters the door, "We wish them all well."
GRADE:
C+