CBS adds four fall newcomers while deleting CSI: Miami and transplanting The Mentalist, Two and a Half Men
05/16/12 08:14 AM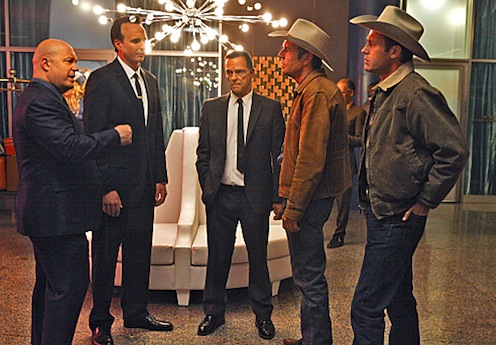 Michael Chiklis (left) and Dennis Quaid (2nd from right) will be squaring off in the new period crime drama Vegas. CBS photo
By ED BARK
@unclebarkycom
CBS is subtracting a
CSI
, adding another P.I. and returning Michael Chiklis to prime-time as a tough guy in a new fall lineup announced Wednesday.
The No. 1 network in total viewers has added four newcomers while also unveiling three midseason replacements. The most notable cancelation,
CSI: Miami
, will be replaced in its vacated Sunday slot by
The Mentalist
.
CSI: Miami
star David Caruso took his shades off and on for 10 seasons before the sun set.
In another significant night and time shift,
Two and a Half Men
will leave Monday nights and move to Thursdays following the network's most-watched comedy,
The Big Bang Theory
.
Rob
and
Rules of Engagement
tried to hold that slot this season, but both had major audience fall-offs.
Rob
is officially canceled. But although it's not listed among CBS' renewals, network entertainment president Nina Tassler later told TV writers that
Rules'
fate once again hangs in the balance if a midseason plug-in is needed.
CBS' other evictees are
Unforgettable, A Gifted Man, NYC 22
and the already long gone
How to Be a Gentleman
.
Undercover Boss
again will return in midseason.
Here are CBS' four new fall series:
Vegas
(drama) -- ABC's old
Vega$
with the late Robert Urich had a dollar sign in the title. This one doesn't, but it's still about money, circa the 1960s. Dennis Quaid stars in his first TV series as Vegas sheriff Ralph Lamb, who's called off his ranch to help solve the murder of a casino worker. He's soon clashing with ruthless Vincent Savino (Chiklis), a Chicago-bred gangster aspiring to be a Vegas big shot. Jason O'Mara, rebounding from Fox's cancelation of
Terra Nova
, journeys to the past this time to play Lamb's "even-keeled" brother, Jack, who's also a deputy.
Elementary
(drama) -- Sherlock Holmes gets yet another remake, and this time his Watson's a woman. Jonny Lee Miller as Holmes and Lucy Liu as Dr. Joan Watson crack the NYPD's "most impossible cases" in current-day Gotham. He's on the mend from rehab in London, but none too happy about his dad forcing him to live with the teetotaling Watson. Also starring is Aidan Quinn as a New York police captain to whom Holmes reports. Quinn had roughly the same role last season in NBC's since canceled
Prime Suspect
.
Made In Jersey
(drama) -- Newcomer Janet Montgomery stars as a resilient working class recruit to a prestigious New York law firm. Her boss is played by TV vet Kyle MacLachlan of
Twin Peaks
and
Desperate Housewives
fame. Former ABC entertainment president Jamie Tarses is the head executive producer.
Partners
(comedy) -- David Krumholtz (
Numb3rs
) and Dallas native Michael Urie (
Ugly Betty
) play characters based on the lives of the show's creators, David Kohan and Max Mutchnick. Their "bromance" is put to the test when architect Joe (Krumholtz) gets newly engaged to a female jewelry designer while co-worker Louis (Urie) continues to date a male vegan nurse. Kohan and Mutchnick previously collaborated on NBC's long-running
Will & Grace
and CBS' short-running
$#*! My Dad Says
.
Here is CBS' night-by-night fall schedule:
Monday
How I Met Your Mother
Partners
2 Broke Girls
Mike & Molly
Hawaii Five-0
Tuesday
NCIS
NCIS: Los Angeles
Vegas
Wednesday
Survivor
Criminal Minds
CSI: Crime Scene Investigation
Thursday
The Big Bang Theory
Two and a Half Men
Person of Interest
Elementary
Friday
CSI: NY
Made In Jersey
Blue Bloods
Saturday
Reruns
Reruns
48 Hours Mystery
Sunday
60 Minutes
The Amazing Race
The Good Wife
The Mentalist
These are CBS' new midseason series:
Golden Boy
(drama) -- An ambitious cop rockets to the top of the NYPD. But what deals went down for him to become the youngest police commissioner in the city's history? It's flashback time, with Theo James (
Downtown Abbey
) in the lead role of Walter William Clark Jr. and TV vet Chi McBride (
Hawthrone, Human Target
) as his gruff partner.
Friend Me
(comedy) -- A pair of male twentysomething buds move from Indiana to L.A. in hopes of becoming cool. Starring are newcomers Nicholas Braun and Christopher Mintz-Plasse.
The Job
(reality) -- Producer Mark Burnett (
Survivor, The Voice, The Celebrity Apprentice
) strikes again. This time around, batches of "talented candidates" vie weekly for a chance to win a dream job. Lisa Ling hosts.