Fox's Star so far is Empire-building on a shaky foundation
12/13/16 02:06 PM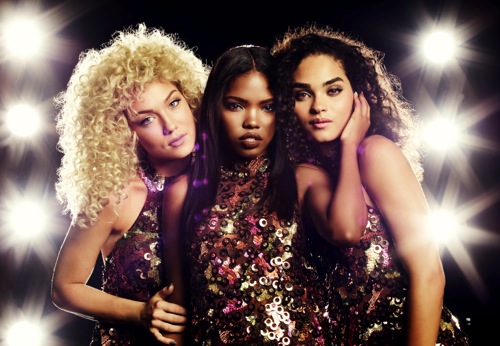 The three would-be stars of Star. But will you care? Fox photo
Premiering:
Wednesday, Dec. 14th at 8 p.m. (central) following the fall finale of
Empire
on Fox
Starring:
Queen Latifah, Benjamin Bratt, Jude Demorest, Ryan Destiny, Brittany O'Grady, Amiyah Scott, Lenny Kravitz
Produced by:
Lee Daniels, Tom Donaghy, Pamela Oas Williams, Effie Brown, Chuck Pratt
By ED BARK
@unclebarkycom on Twitter
Fox's mega-promoted followup to
Empire
can be semi-tolerable if you enjoy watching plausibility in the key of F and aren't looking for any likable characters.
Otherwise, buyer beware of
Star
, which is virtually guaranteed a big tune-in Wednesday night with a preview after
Empire
's "fall finale." The series then will take the rest of the Christmas season off before returning on Wednesday, Jan. 4th.
Both melodramas trade on the "cutthroat music business" and are created/produced by Lee Daniels. But in the pivotal early going,
Star
is to
Empire
what
The X Factor
was to
American Idol
. Both talent competitions had Simon Cowell, but their U.S. versions were hit and miss for Fox.
Wednesday's launch of
Star
begins with wizened surrogate mom Carlotta Brown's (Queen Latifah) narrative declaration that "Star wouldn't listen to nobody but herself." We then flash back to Star Davis (Jude Demorest) bridling under the care of a cartoonish white cracker/Mama June-ish duo of foster mama and grandma. Girl ain't gonna stand for that. So Star is quickly on the loose and in search of her sister, Simone (Brittany O'Grady). Simone's stepdad is a beast who's caught in the act of sexually molesting her at exactly the time when Star comes calling. A kitchen knife will remedy that.
The third wheel, described as Star's "Instagram bestie" in Fox publicity materials," is restless Alexandra Crane (Ryan Destiny), who no longer wants to sing backup for her dad, Roland (the recurring Lenny Kravitz). So in a flash, Star, Simone and Alexandra hook up and head off to Atlanta, where beauty parlor owner and would-be godmother Carlotta just happens to be willing to take them in and provide guidance on her somewhat stern terms. First though, Latifah gets to sing a rousing song with her church group. Given the overall preposterous plot, perhaps a weekly Latifah concert would have been a better way to go.
Star, fully equipped with 'tude and an off-putting cackle, is determined to flaunt her body, her moves, her pipes and whatever else it takes to rocket straight to the top. Drug-dependent sister Simone, who has the waif-like, dazed look of an early Lisa Bonet, is more immediately interested in zoning out. But the girls amazingly pull it together on a moment's notice, performing like pros in matching outfits at a strip club and later at the posh home of a "famous NFL player" who's also blonde and beautiful. Their new orchestrator is broken-down talent agent Jahil (Benjamin Bratt), who envisions a big comeback and a potential gold mine. Carlotta, of course, doesn't trust him at all.
The word "bitch" is used constantly while Star in particular fills the bill as a character who inspires scant if any rooting interest. Who cares if she makes it big? That's still a basic question worth asking, even in a TV era replete with anti-heroes.
Empire
jumped off the screen with its first episode, most notably whenever Taraji P. Henson's Cookie Lyon was center stage. Her three troubled sons from a marriage to nefarious record magnate Lucious Lyon (Terrence Howard) also could be embraced with varying degrees of empathy.
Star
offers none of those plusses, with Latifah trying hard to be
Star
's version of Cookie but coming off as more of a saltine in comparison.
Perhaps
Star
will evolve and hit some higher notes in future episodes. But its premiere hour is mostly a patchwork quilt of fairly effective performance segments and threadbare storylines. Daniels himself directed the pilot, so it's pretty much all his doing.
Empire
has been a huge success story.
Star
just looks excessive.
GRADE:
C-minus
Email comments or questions to:
unclebarky@verizon.net