No more House calls for Fox's classically irascible doc
02/08/12 05:42 PM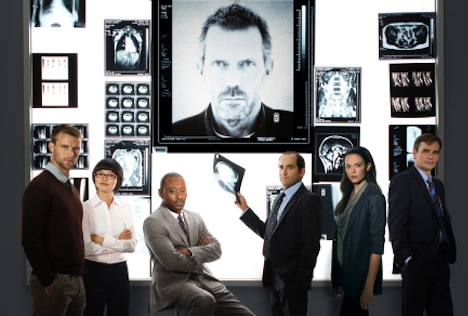 The cast of House and its centerpiece namesake. Fox photo
By ED BARK
Fox and the producers of
House
announced its long-expected discharge early Wednesday evening.
One of the network's signature dramas will end its eight-season run this spring after 177 episodes.
A joint announcement, from executive producers David Shore, Katie Jacobs and Hugh Laurie (who also stars as temperamental Dr. Gregory House) said that "the decision to end the show now, or ever, is a painful one, as it risks putting asunder hundreds of close friendships that have developed over the past eight years."
But the stories have run their course, they said. And the producers "have always imagined House as an enigmatic creature. He should never be the last one to leave the party. How much better to disappear before the music stops, while there is still some promise and mystique in the air."
Heavier production costs and declining ratings also became part of the prescription that led to Wednesday's announcement. Fox entertainment president Kevin Reilly praised the series in a companion statement as a "true original" with some of the "most compelling characters and affecting stories ever seen on television."
"While it's with much regret, and a lump in our throats," he said, "we respect the decision Hugh, David and Katie have made."
House
is made for Fox by NBC Studios. But NBC entertainment president Bob Greenblatt told TV writers at January's semi-annual network TV "press tour" that both the expense and the age of the show made it unlikely that NBC would pick it up.
That faint possibility was extinguished with Wednesday's announcement.
"
House
has aspired to offer a coherent and satisfying world in which everlasting human questions of ethics and emotions, logic and truth, could be played out, and occasionally answered," the producers said. "This sounds like fancy talk, but it really isn't.
House
. . . has shown that there is a strong appetite for television drama that relies on more than prettiness or gun play."
A date for the series finale will be announced later.