Lifetime Movie Network keeps the faith with compelling Amish Grace
03/26/10 03:23 PM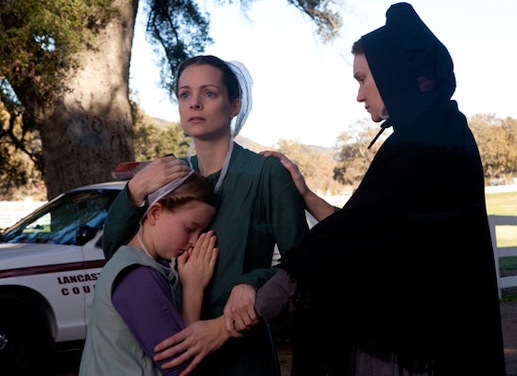 Kimberly Williams-Paisley co-stars in Amish Grace. Lifetime photo
Premiering:
Sunday, March 28th at 7 p.m. (central) on Lifetime Movie Network
Starring:
Kimberly Williams-Paisley, Tammy Blanchard, Matt Letscher, Fay Masterson, Madison Mason,Gary Graham, Karley Scott Collins, John Churchill, Madison Davenport, Eugene Byrd
Produced by:
Kyle A. Clark, Marta M. Mobley
By ED BARK
Rebuking hate, embracing forgiveness and letting God handle the rest are the root causes, in effect, of Lifetime Movie Channel's edifying
Amish Grace
.
Whatever your gender, it's a tearjerker. Typical made-for-TV movie touches are self-evident. But any film featuring Tammy Blanchard (an Emmy winner as the young Judy Garland in ABC's acclaimed 2001 miniseries) is always worth your time. And she doesn't disappoint as the guilt-wracked wife of a milk truck driver who in 2006 killed five Amish schoolgirls and then himself in a Nickel Mines, PA classroom.
Widely covered by the national media -- NBC's Brian Williams and Ann Curry are briefly seen in news footage -- the murders spotlighted the Amish community as a universally forgiving lot.
For dramatic purposes, grieving Ida Graber (Kimberly Williams-Paisley) is the lone holdout in
Amish Grace
after learning that her 14-year-old daughter, Mary Beth (Madison Davenport), was among the victims. Her husband, Gideon (Matt Letscher), steeled in Amish principles, is both numbed by the loss of his daughter and angered by his wife's intransigence.
A printed disclaimer notes that the Graber family is fictionalized. Those with an intricate knowledge of both the tragedy and the families involved may be inclined to discount
Amish Grace
for that reason alone. But it nonetheless works both dramatically and thematically, making points and counterpoints that grow in impact and resonance.
Gideon, a by-the-book practitioner, reluctantly says that his wife will be "shunned" if she makes good on her vow to leave the Amish community rather than forgive the murderer of their daughter or his widow. He will, however, come to "fetch" their little daughter, Katie (Karley Scott Collins), for periodic visits.
That sounds cold if not demonic. But Gideon is never portrayed as a monster. His faith is all-consuming but not toxic. In one of the film's many compelling scenes, Katie tells him she is determined to hate her sister's killer.
Gideon asks whether that makes her feel good inside. No, it doesn't, she admits.
Letting God "hand out the punishment" frees the aggrieved from carrying hate and buckling under it, he tells her.
"Maybe I could forgive him, and still hate him just a bit," Katie responds, earning a slight nod from her understanding father.
Amish Grace
also includes an unusually benevolent TV reporter and her like-minded cameraman. Both work for fictional WEBG-TV, whose news director for once isn't a hard-driving despot. He wants to know whether some Amish are being manipulated into forgiveness by their deacon. But if Jill Green and Danny the photographer (Fay Masterson/Eugene Byrd) can prove otherwise, then he's willing to roll that way, too. Imagine that.
Meanwhile, blameless Amy Roberts (Blanchard) is left with the searing pain caused by a husband whose mind snapped after their daughter was still-born. The movie depicts this as the main motive behind Charlie Roberts' (John Churchill) demented plan to take revenge on God by taking other young girls' lives. (Showing admirable restraint, the filmmakers completely steer clear of any reenactments of the shootings.)
Blanchard, her face drawn and drained, communicates her character's agony in ways that only a first-rate actress can. Letscher and Williams-Paisley also bring texture to their performances as aggrieved Amish parents who are fortified and repelled by the act of forgiving.
Amish Grace
can be forgiven its occasional cookie-cutter moments. It's an overall strong film that dares to bill itself as a "story of faith and forgiveness." You don't get a lot of that these days.
GRADE:
B+