Barbara Walters and her royal farewell from The View
05/16/14 03:14 PM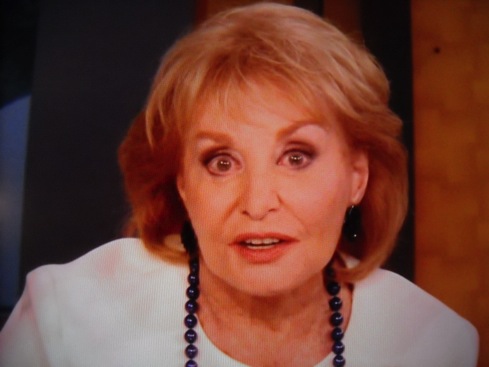 Barbara Walters during her closing seconds on Friday's The View.
Photo: Ed Bark
By ED BARK
@unclebarkycom on Twitter
No tears were shed -- at least not by the honoree herself -- during the making of Barbara Walters' goodbye as a co-host of
The View
.
The 82-year-old TV legend faced the camera Friday, cheerfully bid "
a bientot
" (bye for now) and self deprecatingly plugged
Barbara Walters: Her Story
, a two-hour special airing Friday night. She also thanked everybody, all without her voice ever breaking. Sobbing farewells are over-rated anyway.
The View
, which Walters created and launched on Aug. 11, 1997 in tandem with her longtime producer, Bill Geddie, otherwise feted her like an emperor queen.
A prolonged standing ovation and exclamatory chants of "Barbara" set the table before Hillary Clinton paid a supposedly surprise visit. She looked to be in glowingly good health, which these days is a slap at
naysaying, paunchy old Karl Rove
.
"I can't believe this day has come and I can't believe it's real," said Mrs. Clinton, who has been crowned as Walters' most fascinating of her annual 10 "Most Fascinating People" a record three times since the thing began in 1993.
The former First Lady, U.S. Senator, Secretary of State and likely 2016 presidential candidate advised Walters to "take some time off."
"You're in no position to tell me to take some time off," Walters riposted.
Hillary sat in the middle among Walters and the other
View
co-hosts, Whoopi Goldberg, Sherri Shepherd and relative newcomer Jenny McCarthy. It was a little odd to see the former
Playboy
playmate lead the questioning of Mrs. Clinton. In fact McCarthy basically took the reins throughout the show, with Shepherd chipping in and Goldberg seemingly content to be largely a soak-it-all-up bystander.
After Hillary left, Michael Douglas strode out and told Walters up top, "If Hillary runs, I think you'd be a great vice president." She demurred. But if that ever happened, then Rove might really have something on the age/health issue front.
In a taped segment, Walters interviewed herself in the person of Babs impersonator Cheri Oteri. It came out OK. Then came the grand entrance of Oprah Winfrey, who took the play away from
The View
's other three co-hosts after Walters appeared to be genuinely surprised (although one never really knows).
"Of course I'm here," Winfrey said. "You have literally meant the world to me."
Oprah introduced a lengthy clip from the prime-time Walters special. It focused -- once again -- on Harry Reasoner's very obvious disdain for Walters as his co-anchor when she made history way back in 1976.
"I felt I was drowning without a life preserver," she says in the special. But her contract to also do ABC prime-time specials kept her afloat, Walters says.
Reasoner has been dead for nearly 23 years now. His resistance toward Walters undoubtedly is a major chapter in network TV news history. But it seemed a bit unseemly to choose that particular clip for
The View
's celebratory farewell. Walters wasn't wild about Harry, who certainly wasn't wild about her. Got it. But he also was one of the charter two anchors, along with Mike Wallace, on CBS'
60 Minutes
. So he deserves to be remembered as something more than a mean Mr. Mustard opposite Walters' Lady Guinevere.
After the latest Reasoner demolition, Winfrey told the in-studio and at-home audience that "we all proudly stand on your shoulders, Barbara Walters." Then came an unprecedented cavalcade of women who followed in Walters' path. Led by Diana Sawyer, they also included Robin Roberts, Katie Couric, Jane Pauley, Connie Chung, Kathie Lee Gifford, Deborah Norville, Savannah Guthrie, Joan Lunden and many more. All received individual hugs before Walters said, "These are my legacy."
Although retiring from
The View
, Walters will remain the show's co-executive producer. And unlike Charlie Gibson -- who has quit ABC News cold turkey after leaving the network in 2009 -- she'll likely pop in and out for as long as her health and mind remain sound.
Personally speaking, I've done a number of interviews with Walters over the years. A while back on one of those semi-annual TV "press tours" in Southern California, she even took your friendly content provider on a tour of her hotel suite's oversized upstairs bathroom after first saying it was all too much.
Walters liked her creature comforts, though, while at the same time demonstrating a common touch in her interviews with heads of state, "Big Get" newsmakers such as Monica Lewinsky and more show biz stars than anyone could possibly count.
Tellingly perhaps, she twice called herself the first female "co-host" of a network evening newscast during her closing remarks Friday. Walters pretty much rubbed out any lines between "host" and "anchor" in her 38 years with ABC News after leaving NBC's
Today
show to team up with Reasoner.
She did what it took and she had what it takes to conquer what had been a man's world. What Winfrey did for women of color Walters did for women in general. We won't see her likes again in large part because there's no need for her likes again.
So rest in peaceful tranquility, Barbara Walters. Stay in good health, smell the proverbial roses and retire to a fuller life without TeleprompTers, camera filters, just the right lighting and never enough time. Because for once in your life, time is finally on your side.
Email comments or questions to:
unclebarky@verizon.net