National Geographic's The Long Road Home is both commemorative and compelling
11/06/17 03:51 PM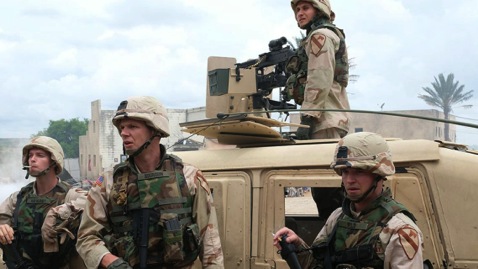 Front and center in The Long Road Home. National Geographic photo
Premiering:
Tuesday, Nov. 7th at 8 p.m. (central) on National Geographic channel
Starring:
E. J. Bonilla, Michael Kelly, Jason Ritter, Jeremy Sisto, Sarah Wayne Callies, Kate Bosworth, Jon Beavers, Darius Homayoun, Noel Fisher, Jorge Diaz, Ian Quinlan, Patrick Schwarzenegger, Kenny Leu, Joshua Brennan
Produced by:
Mike Medavoy, Phil Abraham, Mikko Alanne, Benjamin Anderson, Edward McGurn, Jason Clark, Mikael Salomon
By ED BARK
@unclebarkycom on Twitter
The fall TV season already has been a battle ground, with Ken Burns' stellar
The Vietnam War
a centerpiece while CBS, NBC and The CW continue to respectively fire away with weekly episodes of
SEAL Team, The Brave
and
Valor
.
For the next seven Tuesdays (beginning with a two-hour premiere on Nov. 7th) and extending to just six days before Christmas, the National Geographic channel will bear arms with its most ambitious, expensive and heavily promoted venture to date.
The Long War Home
, filmed entirely in Texas, is adapted from ABC News Chief Global Affairs Correspondent Martha Raddatz's 2007 bestseller. Its focus is a single and very harrowing day in the lives of U.S. soldiers trying to fight their way out of Sadr City, Iraq.
It was April 4, 2004, and they were supposed to be on a routine "peacekeeping mission" just under a year after one of the Iraq war's most famous events and images, the toppling of Saddam Hussein's statue in Baghdad's Firdos Square. Instead a small unit commanded by young Lt. Shane Aguero (E.J. Bonilla) came under fierce attack on Palm Sunday. They regrouped on the rooftop of a civilian home in what became their veritable Alamo. Greatly outnumbered and running low on ammunition, the survivors waited a seeming eternity to be rescued by the Crusaders Quick Reaction Force in tandem with the First Cavalry.
"Writing about this battle has been the most profound experience I have had as a journalist," Raddatz writes in an accompanying letter to TV critics. She has stayed in touch with many of the soldiers and their families in the 13 years since the ambush. Her book and this resultant eight-hour National Geo production are "not just a story of war," Raddatz says. "It is a story of family, bonds and brotherhood."
All of the soldiers were deployed from Fort Hood, Texas, and
Long Road Home
journeys back and forth in briefly telling their back stories while dramatizing the wives' reactions when sketchy news of the ambush starts to hit back home. For the most part it's a fully realized and gripping story, albeit with some syrupy interludes, some of them pretty prototypical.
The most recognizable members of the ensemble cast are Michael Kelly (
House of Cards
), Jeremy Sisto (
Suburgatory
), Sarah Wayne Callies (
Prison Break
) and Jason Ritter, also currently starring in ABC's new
Kevin (Probably) Saves the World
.
Sisto in particularly stands out as terse, emotionally drained Staff Sgt. Robert Miltenberger, who says there's no glory in battle, "just death. And rot." He's had an earlier traumatizing war experience that's revealed in the Nov. 21st chapter. No wonder he feels the way he does.
Bonilla also brings some affecting touches to the pivotal role of Lt. Aguero, who's left a wife and two pre-teen children back home. His men include hardbitten Sgt. Eric Bourquin (Jon Beavers); jovial driver Eddie Chen (Kenny Leu); accomplished marksman Sgt. Ben Hayhurst (Patrick Schwarzenegger); the traumatized Sgt. Jackson (Joshua Brennan); goodly Pfc. Tomas Young (Noel Fisher); and interpreter Jassim Al-Lani (Darius Homayoun), who quickly comes under suspicion in the immediate aftermath of the attack.
Kelly plays Lt. Col. Gary Volesky, the seasoned Camp War Eagle commander who has "never lost a man in combat" -- until now. Callies plays his resilient wife, Leann, who heads Fort Hood's contingent of caregivers. And Ritter is the selfless Capt. Troy Denomy, who's ready to roll in an instant when news of the ambush is radioed in.
The firefights are numerous in
Long Road Home
, as are the human touches that help to pull this story together. Pfc. Young's tale is particularly heart-rending upon his return home due to his war wounds. At the end of Part 5, it will be difficult to keep a dry eye in the face of a church choir singing "I Am A Poor Pilgrim of Sorrow."
Long Road Home
ends with updates on its real-life principal characters before Kelly's Lt. Col. Volesky calls out the names of the dead, now represented by their helmets atop their rifles.
The journeys of these soldiers, whether deceased or alive, continue to speak for and honor the country as a whole. National Geographic channel earlier this year received several Emmy nominations for its scripted
Genius
series about Albert Einstein, and will follow it next year with a Pablo Picasso bio. But this tautly emotional and up-close look at a mettle-testing day in Iraq seems certain to become its most resonant and valuable production to date.
GRADE:
B+
Email comments or questions to:
unclebarky@verizon.net