Downton Abbey gives PBS a third big rush
01/04/13 10:52 AM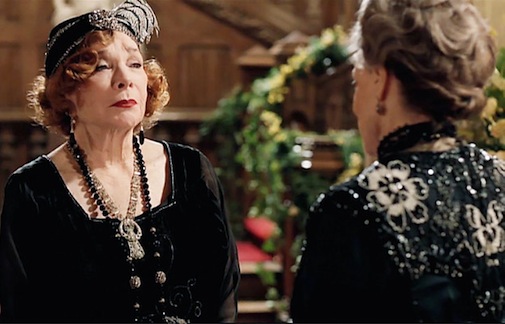 Shirley MacLaine and Maggie Smith have a joust. PBS photo
By ED BARK
@unclebarkycom
Given all the attendant drum-beating,
Downton Abbey's
Season 3 premiere might suitably be subtitled "In Anticipation of Shirley MacLaine's Grand Entrance."
Be patient. And don't get too used to her.
MacLaine, guest-starring as the American mother of Cora, Countess of Grantham (Elizabeth McGovern), is first sighted just after the 43-minute mark of
Downton
's two-hour, Sunday, Jan. 6th premiere (
8 p.m. central on KERA13
). And by Part One's climax, she's gone but not forgotten. The next 5 parts sent for review come and go without her.
The much-heralded and highly watched Season 2 ended with Lady Mary Crawley (Michelle Dockery) and noble World War I returnee Matthew (Dan Stevens) at last agreeing to wed in the mist of soft and picturesque falling snow. Devotees of PBS' most popular series of this century no doubt unanimously sighed with approval. Even the menfolk.
Season 3, airing in seven parts on successive Sundays through Feb. 17th, begins in Spring 1920 with the impending marriage of Lady Mary and Matthew. So that's why MacLaine's tart Martha Levinson is making the long journey from abroad. A delicious preview of coming detractions is served up at one of Downton's nightly formal dinners.
"I'm so looking forward to seeing your mother again," Violet, the Dowager Countess of Grantham (Maggie Smith), tells her daughter-in-law. "When I'm with her, I'm reminded of the virtues of the English."
"But isn't she American?" Matthew asks.
"Exactly," says Violet.
The fireworks to come are showy to be sure, although also properly restrained. This isn't
Dallas
or
Dynasty
after all, even though
Downton
at heart remains a soaper. But the Brits have no equal in the annals of upper crust period dramas spiced with lower class envy and duty on the part of their mostly well-trained servants. U.S.-made series about the rich are at best still poachers.
Martha's clashes with the Crawleys, who have preserved Downton Abbey courtesy of Cora's New World wealth, are fairly frequent and mostly on point during Sunday's elongated opener. No need to spoil them here, save for one table-setter. "You tell me all your wedding plans," she tells Mary within seconds of debarking. "And I'll see what I can do to improve them."
While wondering how
Downton's
privileged few can endure their ornate dinner wear on a nightly basis, one also can marvel at how relatable they remain. Earl of Grantham Robert (Hugh Bonneville) is still very much a stickler for propriety. But he has the common touch in crunch times while also being slowly usurped by bad investments and changing post-World War I times. At heart -- and certainly in his view -- he's a magnanimous job creator in addition to being a lifelong devotee of consummate creature comforts.
Meanwhile, downstairs and at above-ground dinners, butler Charles Carson (Jim Carter) often manages to trump Robert's imperious ways. He may have a bit of a thing for his counterpart, Mrs. Hughes (Phyllis Logan), who heads the female servants contingent. But it seeps out in minuscule doses while he otherwise rides herd on his charges with a basso profondo voice that cauterizes all nonsense.
F. Scott Fitzgerald once wrote, "Let me tell you about the very rich. "They are different from you and me." Mr. Carson speaks volumes on this score with his outrage at new footman Alfred Nugent (Matt Milne). Hoodwinked by conniving servant Thomas Barrow (Rob James-Collier), he has managed to burn a small hole in Matthew's dinner attire.
"Alfred has embarrassed the family!" the lower level bossman thunders. "He forced Mr. Matthew to appear downstairs improperly dressed!"
Yes, the rich, they are different. As are their appointed underlings. But their deep wounds are felt in kind, particularly during a wrenching Part 4 (Sunday, Jan. 27th) that takes
Downton
to what may be its greatest ever dramatic heights at Season 3's midpoint.
Meanwhile -- and there are lots of those -- Robert's imprisoned valet, John Bates (Brendan Coyle), faces major complications in his marriage to servant Anna Bates (Joanne Froggatt). Plain-faced Lady Edith Crawley (Laura Carmichael) remains hopelessly in love with impaired World I vet Sir Anthony Strallan (Robert Bathurst). Lady Mary and Matthew tangle over the disposal of his inherited fortune. And the Earl and Countess's youngest daughter, Sybil (Jessica Brown-Findlay), courts further disapproval by bringing her outspoken Irish commoner husband, Tom Branson, (Allen Leech), back to Downton Abbey for sister Mary's wedding.
These are a lot of moving parts. And not everything is always well-oiled under the wing of creator/writer Julian Fellowes. There are too many coincidentally overheard conversations leading to later ramifications. Stop lurking, people! Characters also are awkwardly interrupted on occasion in order to prolong some of the twists and turns. Sort of on the order of, "This is a life and death matter I must tell you about -- oh wait, it's dinner time. We'll talk later."
Downton
can have a truncated "set piece" feel to it at times. Publicity materials list 25 main and supporting characters in addition to guest stars. Servicing all of them on a regular basis can be a bigger chore than polishing all the silver at hand. Envision a director saying more often than he'd like, "And . . . cut! Sorry, we've got a lot of actors' mouths to feed today."
Through it all, though,
Downton Abbey
is still superior entertainment on a grand scale. Its straight-ahead plot points are easily grasped and its performances a pleasure to behold. It would be nice to see a good deal more of MacLaine. But the many-splendored cast regulars, led by Bonneville, McGovern, Smith and Carter, are more than enough to keep carrying the day.
"I'm so happy. So very happy I feel my chest will explode," Bonneville's father of the bride beams in Sunday's opener.
Devoted fans of
Downton Abbey
can be forgiven for feeling quite the same way. For the next seven Sundays, they'll be in their own heavens on earth. And there's nothing at all wrong with that.
GRADE:
A-minus
unclebarky@verizon.net