9-1-1 gives Fox an emergency transfusion
12/28/17 02:53 PM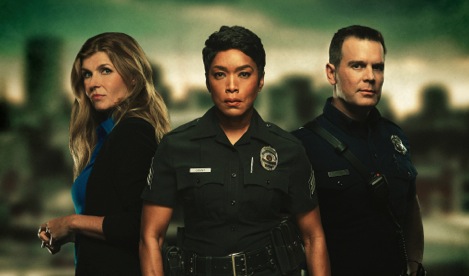 Stalwarts Connie Britton, Angela Bassett, Peter Krause front 9-1-1.
Fox photo
Premiering:
Wednesday, Jan. 3rd at 8 p.m. (central) on Fox
Starring:
Peter Krause, Angela Bassett, Connie Britton, Oliver Stark, Aisha Hinds, Kenneth Choi, Rockmond Dunbar
Produced by:
Ryan Murphy, Brad Falchuk, Tim Minear
By ED BARK
@unclebarkycom on Twitter
Producer/writer/director Ryan Murphy apparently found himself with a little extra time despite the four series he's making for FX and the one he'll be helming for Netflix.
So he's re-shackled himself to the content restraints of broadcast network television to bring Fox the serviceable yet unremarkable
9-1-1
. Its Wednesday, Jan. 3rd premiere follows the return of a showier Fox property,
The X-Files
.
9-1-1
gives Fox what NBC already has in abundance -- "the high pressure experiences of police, paramedics and firefighters who are thrust into the most frightening, shocking and heart-stopping situations."
In the pilot episode, which is all that Fox made available for review, they respond to two rather offbeat emergencies and one fairly conventional one. But there's nothing particularly graphic or daring. Murphy's three ongoing FX franchises,
American Horror Story, Feud
and
American Crime Story
, are appreciably more "adult" in comparison, while his upcoming
Pose
touts "television's largest cast of transgender actors in series regular roles and the largest LGBTQ cast ever for a scripted series." The TV
auteur's
Netflix series,
Ratched
, will star one of his go-to actresses, Sarah Paulson, as the vindictive and sadistic nurse from
One Flew Over the Cuckoo's Nest
.
Publicity materials for
9-1-1
dangle a "shocking revelation" from the husband of hard-driving LAPD detective Athena Grant (Angela Bassett). But it's not really shocking at all, and in fact, almost prototypical in today's television. Michael Grant (Rockmond Dunbar) informs his wife and their two children that he's gay and has nothing to be ashamed of. The openly gay Murphy obviously and correctly concurs, and has long written gay characters into his series, most notably with Fox's
Glee
. Numerous other TV producers since have followed suit.
9-1-1
's other readily recognizable cast members are TV vets Peter Krause (
Parenthood
, etc.) and Connie Britton (
Nashville
, etc.). Krause's character, recovering alcoholic Bobby Nash, is the firefighter team leader while Britton plays 9-1-1 call center head Abby Clark. She gets to repeatedly spout the series' tagline: "9-1-1: What's your emergency?" And there are plenty to go around.
Abby otherwise dotes on her mother, who has Alzheimer's Disease. She's also still lonely a year after her boyfriend broke up with her.
The other regular characters all get nicknames. Evan "Buck" Buckley is the standard issue young buck and heart-throbber who enjoys racing things around when he's not making it with young women, some of whom he's just helped to rescue. Howie "Chimney" Han (Kenneth Choi) and Henrietta "Hen" Wilson (Aisha Hinds) likewise are along for the fire truck rescue rides.
"Buck," who also bills himself as "Fire Hose" for reasons other than his job performance, of course is fated to clash with the now notably fuller-faced Krause's Bobby Nash. But the kid's got mad skills and a line of contrite B.S. to go with them. In the first episode's biggest groaner, he admits, "I was a punk. I still am one. But I'm a punk who understands what he lost. Just needed you to know that." (What he lost was his job after committing the cardinal sin of insubordination. Guess what he gets back.)
9-1-1
is a match for the overall quality of NBC's
Chicago
trifecta. None of these race-to-the-rescue, life-and-death dramas is anywhere near Emmy caliber. But if there's room for one more -- and quite likely there is -- then Fox certainly could do worse than a comparatively blood-less but decently executed series from a producer who still hits more than he misses.
GRADE:
C+
Email comments or questions to:
unclebarky@verizon.net