NBC's Stars Earn Stripes blazes into view after 21-gun Olympics promo campaign
08/10/12 02:12 PM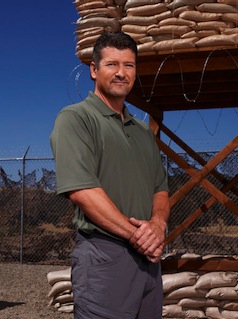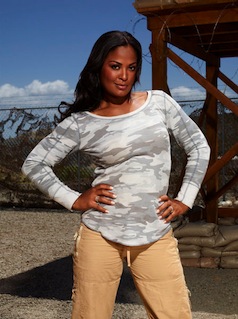 Todd Palin and Laila Ali are among combatants in Stars Earn Stripes.
NBC photos
Premiering:
Monday, Aug. 13th at 7 p.m. (central) on NBC
Starring:
Eight real-life military operatives and celebrities Dean Cain, Laila Ali, Todd Palin, Terry Crews, Picabo Street, Nick Lachey, Eve Torres, Dolvett Quince
Produced by:
Mark Burnett, Dick Wolf, David Hurwitz
By ED BARK
@unclebarkycom
Dean "Superman" Cain, absent his cape and made-for-TV ability to leap tall buildings in a single bound, is the celebrity who gets to say, "This is not a joke. I know there's a chance I could die."
Well, that wouldn't be much of a mission accomplished for NBC's much-hyped
Stars Earn Stripes
. Instead of extolling America's fighting men and women, the Peacock would be dodging bullets about being the first "reality" series to trigger a real-life fatality.
That isn't going to happen, although Cain and seven other celebrity participants are encouraged to take pride in their bumps and bruises after engaging in "missions reminiscent of counter-insurgencies that have taken place all over the world."
NBC has been drum-beating Monday's two-hour premiere throughout its Olympic coverage. But the network waited until late Friday morning to make
Stars Earn Stripes
available for review via a password-protected web screening. That's too late for many TV critics' deadlines. But as a former U.S. Marine, your friendly content provider is duty and honor bound to take a close look and then report back to readers. So "Ten-hut!" Or if you prefer, "At ease."
Cain is being joined by Todd Palin, Laila Ali, Eve Torres, Picabo Street, Nick Lachey, Terry Crews and Dolvett Quince. Each will be paired with a real-life former or current military operative. They range from ex-Navy SEAL sniper Chris Kyle to present-day U.S. Navy specialist Talon Smith. Two ex-Marines also are in the mix. A pair of Green Berets, too.
NBC has asked that reviews not reveal the celebrity/military pairings, which seems to be taking things a little too far in the interests of full-blown viewer enjoyment. We can tell you, however, that former presidential candidate and retired General Wesley Clark ramrods the series with help from Samantha Harris, the onetime
Dancing with the Stars
co-host.
"Real heroes. Real bullets. Real danger," Clark proclaims in the early going. So never mind the fine print disclaimer at the end of the show, which says in part that "Portions of the program may include non-lethal ammunition used in conjunction with live weapons fire."
Celebrities will be "dismissed" week by week following "elimination shoot-outs" (at targets) between the two weakest links. Those who continue will get a stripe, with each one worth $10,000 toward a star's designated charity. The last man or woman standing (figuratively) will take away a $100,000 charitable contribution.
The two principal executive producers of
Stars Earn Stripes
unequivocally have earned their own stripes in TV's cut-throat prime-time combat zone. Mark Burnett's name is on
Survivor, The Apprentice
and
The Voice
. And Dick Wolf created NBC's
Law & Order
franchise.
This results in a picturesque endeavor that otherwise suffers from a lot of padded redundancy. The celebrities repeatedly say how much they now appreciate the military. Their military mentors repeatedly say how much they appreciate the grit shown by their pupils. And Monday night's principal mission -- an amphibious assault on an enemy encampment -- has a sameness to it after being shown four times with different stars undertaking the mission.
Not to give away a whole lot, but
Stars Earn Stripes
does add a strong element of truth to the common perception that a majority of black men aren't much for swimming. In one such instance, the hard-charging Palin is left to hit all of the enemy targets on his own.
"Todd's an animal. Good God!" says Cain.
"He's just straight up Rambo," adds an admiring operative. At last some props for a male Palin.
After his initial appearance in the field, Clark repairs to his Mission Control observation area, where he supposedly watches the individual missions on a big video table while occasionally issuing orders such as "Pull him out" and "Carry on with the mission."
Following the fireworks, the eight stars and their military partners gather
Survivor
-style for a way too long Q&A conducted by Harris. Everyone's all for one and one for all. Over and over again.
Stars Earn Stripes
has an outwardly noble intent, even if its "look at modern warfare" (as Clark puts it) tends to come off as one big gung-ho combat high accompanied by a chain rock score.
Humans are involved, so this is no video game. And it's certainly not easy jumping from a helicopter into a river in full combat gear. A little "reality" series trickery can never be entirely discounted, though. It's amazing, for instance, that in each of the four missions, the military pros hit their comparatively tiny targets the first time, every time.
Following Monday's two-hour launch,
Stars Earn Stripes
will continue with weekly one-hour episodes on the same night at 8 p.m. (central). The overall objective is to honor military service and reward worthy charities. So the show can be saluted in that context while also being fairly critiqued for not doing an overall better job of it.
GRADE:
C+