Nerdy but nice: TBS offers up King of the Nerds competition
01/17/13 11:55 AM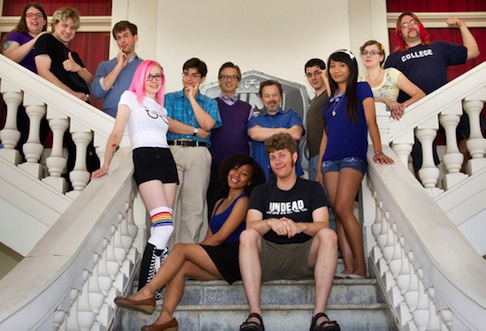 Here a nerd, there a nerd. Happy nerding. TBS photo
Premiering:
Thursday, Jan. 17th at 9 p.m. (central) on TBS
Starring:
A gaggle of nerds, with hosts, Curtis Armstrong, Robert Carradine
Produced by:
Ben Silverman, Jimmy Fox, Rick Ringbakk, Craig Armstrong
By ED BARK
@unclebarkycom
Revenge of the Nerds
movies mainstay Robert Carradine seems a bit embarrassed, or maybe stunned, to be co-hosting a latter day "reality competition" series among real-life dweebs.
He shouldn't be. His father, John Carradine, once starred in
Billy the Kid vs. Dracula
.
But Carradine is reticent in the premiere episode of TBS'
King of the Nerds
. He leaves the heavy lifting to co-host Curtis Armstrong, who played Dudley "Booger" Dawson alongside Carradine's Lewis Skolnick in 1984's
ROTN
and its three sequels.
"Calling all nerds!" Armstrong says through a megaphone, seeming to enjoy himself. And this energetically produced, brightly colored concoction hits the guilty pleasure spot more often than not. Former NBC programming head Ben (
The Biggest Loser
) Silverman is the principal hand behind it.
The 11 designated nerds, identified by first names only, gather at the well-appointed Nerdvana headquarters to compete for a $100,000 grand prize and the right to occupy the prestigious Throne of Games.
"There's so much beautiful nerd culture," raves Ivan.
The competitors otherwise exude the usual "reality competition" bravado, with "pro gamer" Celeste declaring "I'm a complete bitch. I will play my ass" off while Joshua brags, "I am the best nerd here."
Insecurities also abound, particularly with Alana. Having no discernible nerd talent, other than being a heavy-duty comic book reader, she repeatedly frets about being the first to go home. And when her worst fears seemingly are realized, Alana tells the camera: "This for me now is not fun. I've been losing all my life. That's why I'm a (bleeping) nerd. OK?"
Ah, but there's a twist.
Whether semi-spontaneous or fully scripted, nerds tend to say the darnedest things. Jon reveals, "I read textbooks for pleasure." Ivan frets, "This is going to be really rough, because every nerd is so nerdy."
Competing team members eventually are selected by being slimed with blue or orange paint. And in the climactic "Nerd Off" -- in Episode 1 it's an over-sized chess game -- one competitor is sent home empty-handed. Not even so much as a comic book as a parting gift.
TBS has ordered eight episodes of
King of the Nerds
, which includes five women in the mix. It possibly merits a 7 on a 1 to 10 "Stupid Fun" scale. Then again, Brandon supposedly is a neuroscientist and Hendrik a geophysicist. That beats the "model" or "life coach" professions cited on many a made-for-TV competition. So let's just call this a pleasant little R&R excursion for the ol' triple digit IQ.
GRADE:
C+
unclebarky@verizon.net