NEW SEASON: ABC's Austin-made My Generation follows the script of our reality-saturated times
09/23/10 03:26 PM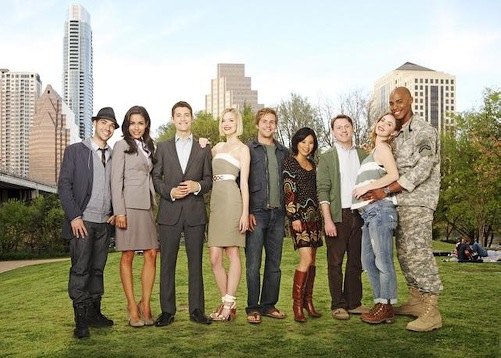 My Generation's nine principals pose prettily in Austin. ABC photo
Premiering:
Thursday, Sept. 23rd at 7 p.m. (central) on ABC
Starring:
Michael Stahl David, Kelli Garner, Jaime King, Keir O'Donnell, Sebastian Sozzi, Mechad Brooks, Anne Son, Daniella Alonso, Julian Morris
Produced by:
Noah Hawley, Warren Littlefield, Henrik Bastin,Patrick Magnasson, Martin Piersson
By ED BARK
The prying eyes of reality TV cameras weren't nearly as all-seeing back in the year 2000, when a film crew kept close tabs on nine graduating seniors from Austin's fictional Greenbelt High School.
A decade later, ABC's
My Generation
lens and lends itself to another look at them in times when TV has more reality series than the population of Poughkeepsie.
A willful off-camera female narrator ensures that no personal embarrassment or predicament will go uncovered this time around. And the nine 28-year-olds under the microscope seem to be pretty much down with that in a series that provides both a lot to swallow and maybe enough to whet appetites for more.
Filmed in Austin,
My Generation
begins with a group photo shoot on high school graduation eve. Here we meet the principals. And since you might welcome a scorecard, let's just lay them out for you.
Rolly Marks (played by Mechad Brooks), is "The Jock."
Dawn Barbuso (Kelli Garner) is "The Punk."
Steven Foster (Michael Stahl David) is "The Over-Achiever."
Brenda Serrano (Daniella Alonso) is "The Brain."
Kenneth Finley (Keir O'Donnell) is "The Nerd."
Jackie Vachs (Jaime King) is "The Beauty Queen."
Anders Holt (Julian Morris) is "The Rich Kid."
Caroline Chung (Anne Son) is "The Wallflower"
And just plain Falcon (Sebastian Sozzi) is The Rock Star."
Co-starring Jerry Mathers as Theodore Cleaver -- "The Beaver." No, not really. And anyway, that's
my
generation, circa a 1966 graduating class.
You'll meet them all in Thursday's premiere episode, some more so than others. The early go-to guy is Steven Foster, now in Hawaii surfing by day and tending bar by night.
"You were going to conquer the world. What happened?" the narrator accuses during their on-camera catch-up round.
"Nothing," Steven says before the venue shifts to Washington, D.C. and Brenda Serrano, now a top aide for a congressman who heads the House finance committee.
Brenda used to be the high school sweetheart of Anders Holt, who's now married to Jackie Vachs -- as in vacuous.
Dawn Barbuso and Rolly Marks likewise are married. She's pregnant and he's serving with the Army in Afghanistan after leaving behind a starting guard position on Stanford's basketball team in favor of enlisting after 9-11.
That leaves Falcon, a perpetually drinking music producer; Caroline Chung (who drops a bombshell from afar on Steven); and Kenneth Finley, possibly one of the most woebegone characters in TV drama history. It's tough enough to be the designated "Nerd." But Kenneth, now a sad sack elementary school teacher, takes another heavy-duty body blow in Episode 1. We also learn the circumstances of his father's tragic death, with Steven again a factor.
Steven, heart throb-iest of the male characters, seems to have a chance meeting with just about everyone upon returning to Austin. Only two central characters, the aforementioned Rolly and Brenda, haven't made it back to Texas by the time the closing credits roll. But she's en route after being notified of a family emergency.
Before getting the news, though, Brenda must endure a blind dinner date with a D.C. boor who wonders what's up with the cameras. She says they're revisiting her class of 2000 for the purpose of a television program. Well, all right then. A minute or so later, the boor only barely lowers his voice to inform Brenda, "I have a small penis. But I know how to use it." That's reality TV gold. Maybe they ought to give him his own show instead.
My Generation
clearly has a lot of puzzle pieces, and they don't always quite fit together. Still, it's a reasonably textured serial soap with at least a few characters worth caring about.
Boy, though, that poor Kenneth "The Nerd" Finley. He really takes it in the grill when asked to model a shower gift he's bought for Dawn "The Punk" Barbuso, who's living very platonically at his place while Rolly strives to survive in Afghanistan. Problem is, you might be just as inclined to laugh out loud as to feel Kenneth's heartbreak. It's the one time where
My Generation
really ladles it on way too thick. Please, hold the syrup next time.
GRADE:
B-minus