ABC's new fall season throws another Texas-made series in the mix
05/18/10 09:57 AM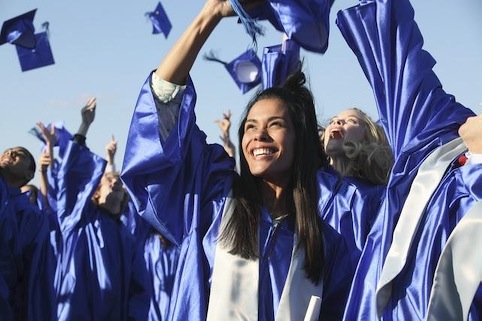 Hats off to Austin's fictional Greenbelt HS class of 2000. ABC photo
By ED BARK
It was Austin's turn Tuesday after NBC and Fox greenlighted three made-in-Dallas series for the fall earlier this week.
ABC announced that
My Generation
, centered on a group of grads from Austin's fictional Greenbelt High School, will be among the seven new series coming this autumn. As production winds down on NBC's made-in-Austin
Friday Night Lights
, it's all systems go for the formerly titled
Generation Y
.
Slotted to lead off Thursday nights,
My Generation
stars an ensemble cast of relative unknowns, including Daniella Alonso (pictured above). Premise: A group of 2000 high school grads were filmed by a documentary crew. Ten years later, they return to Austin en masse to be filmed anew.
ABC rather clunkily explains further: "These students couldn't wait to graduate and head out into the real world. But the world they were entering got very real very fast. As these classmates return home to revisit their old hopes for their future, they'll discover that, even if you don't get exactly what you thought you wanted out of life, it's not too late to get what you need."
Series creator Noah Hawley also helmed ABC's short-lived
The Unusuals
, a 2009 serio-comic cop series set in New York.
As previously reported, NBC's
Chase
and Fox's
Lonestar
, whose pilots were filmed in Dallas, are now part of their respective networks' new fall lineups. A third series, Fox's
The Good Guys
, has been filming in North Texas since late January. It sneak-previews on Wednesday, May 19th before beginning its scheduled summertime run in June. Extra episodes have been ordered after Fox announced on Monday that
Good Guys
also will be part of its fall lineup -- on Fridays at 8 p.m. (central).
ABC's Tuesday morning announcements earmarked five new dramas, a comedy and a reality series for the fall. Cancellations include
FlashForward, Scrubs, Romantically Challenged, Better Off Ted, Wife Swap
and
Shark Tank
.
The network has renewed
V
, although it won't be back until sometime in midseason. As will the inevitable
Supernanny
.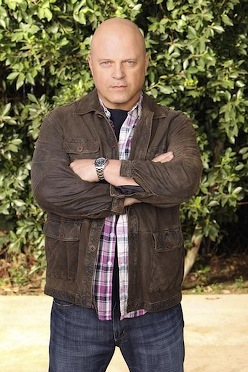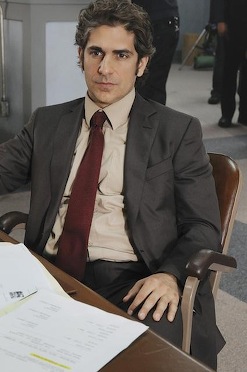 Back in play: Michael Chiklis and Michael Imperioli ABC photos
Besides
My Generation
, here are ABC's six other newbies:
No Ordinary Family
(drama) -- Michael Chiklis, whose career was reborn with
The Shield
, gets another shot as a family man whose marriage is getting stale. A remedial vacation with his wife and two kids takes an abrupt detour when their plane crashes into the Amazon River. The Powells all mysteriously resurface with "unique and distinct superpowers." ABC describes them as a "totally relatable family who happen to be a little amazing." Julie Benz, who played Dexter Morgan's wife on
Dexter
before being murdered in last season's closing episode, returns to prime-time as Chiklis' spouse.
Detroit 1-8-7
(drama) -- Michael Imperioli of
Sopranos
fame takes a break from pitching 1800 Silver Tequila to star as "damaged but driven" homicide detective Louis Fitch. Like the characters in
My Generation
, Fitch and his unit are being followed by a documentary film crew. This makes for "moments of raw exposure when they address us directly, as well as private moments when they forget they're being filmed."
Body of Proof
(drama) -- Dana Delany segues from
Desperate Housewives
to playing a "brilliant neurosurgeon at the top of her game" until a car wreck waylays all that. She reboots as a crime-solving medical examiner with the generic name of Megan Hunt.
The Whole Truth
-- Rob Morrow, former star of CBS' soon-to-be-officially-canceled
Numb3rs
, immediately rebounds as a rising criminal defense attorney whose chief adversary is a deputy DA played by Joely Richardson from
Nip/Tuck
. This is yet another Jerry (
CSI
) Bruckheimer production, with weekly up-close looks at how both the prosecution and defense prepare their cases.
Better Together
(comedy) -- One couple, Maddie and Ben, have been dating for nine years, remaining committed but unmarried. But Maddie's younger sister, Mia, announces that she and her boyfriend of seven weeks are both getting hitched and having a baby. The sisters' parents side with Mia, prompting spasms of laughter if this thing is done right. The best known cast member is Jennifer Finnigan, who starred in Bruckheimer's
Close to Home
crimesolver a few seasons back.
Secret Millionaire
(reality) -- Rich people go undercover to "live and volunteer in some of the most impoverished and dangerous communities in America." In the big finish, they hand out "at least $100,000" of their own money to deserving angels of mercy who "continually sacrifice everything to help those in need."
ABC also announced three midseason replacement series Tuesday. The highest-profile one is
Mr. Sunshine
, with former
Friends
star Matthew Perry playing the "self-involved manager of a second-rate San Diego sports arena." Turning 40, he decides to re-assess. Also included is Allison Janney (
The West Wing
and last week's weird episode of
Lost
) as Perry's boss.
Here is ABC's night-by-night new fall lineup, which of course is subject to change:
(New shows are marked by an asterisk.)
MONDAY
Dancing with the Stars (performance show)
Castle
TUESDAY
No Ordinary Family
Dancing with the Stars (results show)
Detroit 1-8-7
WEDNESDAY
The Middle
Better Together
Modern Family
Cougar Town
The Whole Truth
THURSDAY
My Generation
Grey's Anatomy
Private Practice
FRIDAY
Secret Millionaire
Body of Proof
20/20
SATURDAY
Saturday Night College Football
SUNDAY
America's Funniest Home Videos
Extreme Makeover: Home Edition
Desperate Housewives
Brothers & Sisters