Betrayal gives ABC another single-word string-a-long
09/27/13 02:57 PM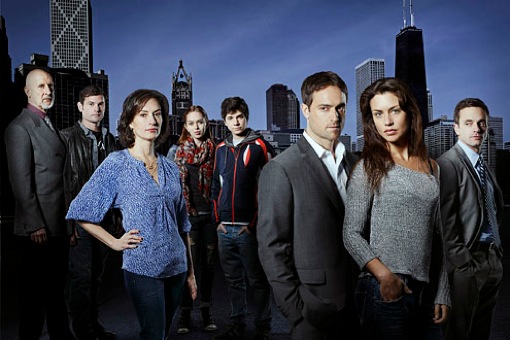 It's a crowded field of betrayers in Betrayal. ABC photo
Premiering:
Sunday, Sept. 29th at 9 p.m. (central) on ABC
Starring:
Hannah Ware, Stuart Townsend, James Cromwell, Henry Thomas, Chris Johnson, Wendy Moniz, Elizabeth McLaughlin, Braeden Lemasters
Produced by:
David Zabel, Lisa Zwerling, Alon Aranya, Rob Golenberg
By ED BARK
@unclebarkycom on Twitter
ABC is the network of
Scandal, Revenge
and soon,
Betrayal
. Perhaps
Avarice, Envy
and maybe even
Sloth
are in development.
For now, though,
Betrayal
will follow
Revenge
on Sunday nights. Launching Sept. 29th, it's the saga of a married photographer named Sara Hanley (Hannah Ware), whose chance meeting with a married lawyer named Jack McAllister (Stuart Townsend) leads to sexual fireworks. But this happens only when soulful Jack says she's made him "feel the magnitude of things in a way I never did" after everything previously seemed "so small" to him. Now how are you gonna resist a guy like that? Their first coupling is to the tune of some other guy singing, "Feel for me, baby."
Viewers immediately are tipped, though, that things eventually don't go all that well. That's because
Betrayal
's first and last scenes are Sara getting shot and then holding hands with an unknown guy in an ambulance. How long it takes to get to this point is anyone's guess and typical of the way ABC strings viewers along with its expanding roster of heavy-breathing serial dramas.
Betrayal
also includes the glowering countenance of James Cromwell, who won an Emmy last Sunday for playing a demonic surgeon in FX's
American Horror Story: Asylum
. He plays powerful Chicago businessman Thatcher Karsten, who suspects his brother-in-law, Lou, of somehow "ripping us off."
Lou is soon fished out of the Chicago River after being perforated by two slugs. Suspected of causing his death is the Fredo-like T. J. Karsten (Henry Thomas of long-ago
E.T.
fame), who's been a little weak upstairs since almost drowning as a kid. Jack, who rescued him, now serves as the Karsten family lawyer. And guess who the prosecutor is going to be? Why it's Sara's husband, Drew (Chris Johnson), a politically ambitious sort who expects this high-profile case to catapult him to the top of the Windy City's political pecking order.
"Obama did it, Rahm Emmanuel did it, I can, too," he reasons. It's enough to make Sara drop the bottle of red wine he's brought home to celebrate. Earlier in the hour, Cromwell's character angrily overturns a drink tray. If the spirits are moving, the flesh is weak. Or something like that.
The premiere episode of
Betrayal
briskly and soapily sets up all of its domino effects while also laboring with a stilted script.
"Why do I get the feeling that you're always playing some kind of game with me?" Sara wonders while encouraging Jack to play on.
"You make me want to connect," he later tells her. Groan. Meanwhile, Jack's dutiful wife, Elaine (Wendy Moniz), who's also Thatcher Karsten's daughter, is none the wiser during this first hour.
Adapted from the Dutch series
Overspel
(adultery),
Betrayal
is consistently overwrought. But this is the ABC way, and the network has wrung multiple seasons out of both
Revenge
and
Scandal
. So why stop when the going's good? Even if the goings-on in
Betrayal
tend to be less bracing or stimulating than a watered-down cocktail.
GRADE:
C
Email comments or questions to:
unclebarky@verizon.net