Record-setter: Atlantic founder Ahmet Ertegun loved the sounds of music more than cash registers
05/02/07 04:09 PM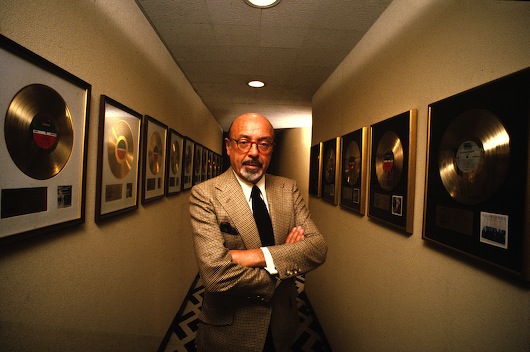 By ED BARK
The Atlantic has at last one big edge over the Pacific. It's also the name of a storied record company founded by the Turkey-born son of the Turkish ambassador to the U.S.
The late Ahmet Ertegun died last December at age 83 of injuries suffered after falling backstage at a Rolling Stones concert. He lived to see
American Idol
, but that wasn't his way. Ertegun groomed and swooned over talent in a singular fashion that had nothing to do with cell phone or Internet voting. He judged you on his own. And if his ear responded, you were in.
Ertegun's life story as a hitmaker consumed far more by the music than its bottom line is nicely reprised in PBS' two-hour
Atlantic Records: The House that Ahmet Built
. It premieres on Wednesday, May 2 (9 p.m. in Dallas on KERA-TV/Channel 13) as part of the longrunning
American Masters
series.
The subject is very much a participant in this tribute, which was four years in the making. Filmmakers reunited him with a number of the artists he helped bring to prominence, including Mick Jagger, Wynton Marsalis, Bette Midler, Phil Collins, Aretha Frankin, Eric Clapton, Robert Plant, Kid Rock and the late Ray Charles.
We learn that Ertegun didn't care at all for the relatively bland way he was portrayed in the feature film
Ray
. But Charles, Atlantic's first big recording star, pays his old mentor the ultimate compliment.
"You guys never ever bothered me about my music," he tells Ertegun.
Most of these latter-day reunions aren't all that revealing. There are lots of shared laughs, but not a lot of shared insight. Franklin says, "I just remember we had a rompin', stompin' good time."
Ertegun came to these shores with a profound love of black artists and a zeal to make their music available to a much larger public. In his view, it all comes down to "black American music and the white imitation thereof." But he loved the imitations, too, particularly Led Zeppelin. The band had total artistic control over its early albums. Ertegun laughs that even he was kept out of recording sessions.
Midler also serves as the film's narrator, and at best she's barely adequate. Mostly though she's dull and rote-like, at least on the review copy sent to TV critics. If ever a Take 2 was needed, this is it.
Ertegun also penned a few early songs for his label, using the name Nugetre (his surname spelled backward). He remembers sneaking off to the Plantation Club in Harlem as a seventh-grader, drinking in the music and the drinks after his parents had dropped him off at the movies. The bug had bitten him, and in 1947 Ertegun started Atlantic Records with Herb Abramson (who left in 1958).
Charles' "What'd I Say" became the company's first million selling single. He eventually jumped to ABC Records for a more lucrative contract, but hey, business is business.
Atlantic's first major white artist, Bobby Darin, struck gold with "Mack the Knife." And in-house songwriters Jerry Leiber and Mike Stoller cranked out hit after hit, including "Stand By Me, Charlie Brown, Yakety Yak" and "Searchin' "
A solid collection of vintage clips further chart the considerable life and times of Ertegun, whose legacy also includes helping to create the Rock 'n' Roll Hall of Fame in Cleveland. He never had the looks of a rock star, but sure knew how to treat the species.
Their unfettered music is his eternal hymn book. Glory be.
Grade:
B