Documentary review: 1968 (The History Channel)
12/06/07 01:17 PM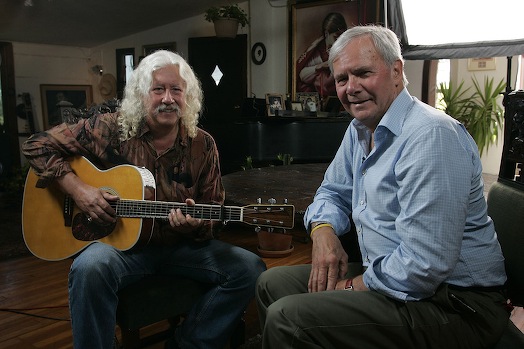 The guy on the right is Tom Brokaw. Or is it?
By ED BARK
Bruce Springsteen remembers himself as a "faux hippie." Arlo Guthrie (pictured above) now prefers the company of whiskey to pot. And Tom Brokaw learned some time ago that you can't get a two-hour documentary on a broadcast network anymore.
Pretty much retired from active duty with NBC News, Brokaw seems more than content to report
1968 (Sunday, Dec. 9 at 8 p.m. central)
for The History Channel. An offshoot of his current bestseller
Boom!
, it gives him a chance to stretch out and go the way of other broadcast news deities such as Ted Koppel and Dan Rather.
They're lately cable guys, too, and why not? Whatever you think of Rather, he's doing some of his best work ever on HDNet. Few are seeing it, but at least Rather can take comfort in knowing he can still do it. Koppel's exemplary documentaries for The Discovery Channel likewise are keeping his head held high.
Brokaw, 67, was a 28-year-old TV reporter in '68. He was also a square, man, as he readily admits.
Sporting a coat, tie and short-clipped hair, "I was the freak," Brokaw says of his long-ago visit to San Francisco's Haight-Ashbury district, then the epicenter of the counter-culture movement.
1968 just wouldn't quit when it came to stunning, epochal events.
Robert F. Kennedy and the Rev. Martin Luther King Jr. were assassinated. The Democratic National Convention in Chicago became a bloody battleground between cops and hippies. The Tet offensive in Vietnam shook America's belief in the winnability of the war. Richard Nixon was elected president. Olympians Tommie Smith and John Carlos brandished "black power" salutes while receiving their Olympic medals. The Apollo 8 astronauts orbited the moon.
Brokaw reprises it all in capable fashion, interviewing both celebrities and commoners in the process. He clearly revels in the company of Guthrie, who sings a few verses from "Alice's Restaurant" while Brokaw grins like a kid at an Xbox expo.
Springsteen tells him that the music of the 1960s is "in my body. It's in my soul. It will never leave."
He eventually met the troubadour of those times, Bob Dylan, who told him, "If there's anything I can ever do for you . . ."
"Anything you can ever do for me? It's been done," Springsteen says almost reverentially.
Other notables interviewed for
1968
include James Taylor, Tommie Smothers, Andrew Young, Michelle Phillips, Jon Stewart, Mark Rudd and former Olympic decathlon champion Rafer Johnson, who was at Robert F. Kennedy's side when assassin Sirhan Sirhan ended his life on the same night he triumphed in California's Democratic presidential primary.
Johnson belatedly wrestled the pistol from Sirhan. And on the following morning, he discovered that he still had it in his suitcoat pocket. Now that's an anecdote.
The documentary also uses the music of the times, still unequalled as a mood-setter. Nothing even remotely like 1968 has rolled this way since. It was by no means a very good year. And many who experienced it, including yours truly as a U.S. Marine, are still wondering and debating what shape it's left us in.
Grade:
B