Curb appeal: Seventh season will be well-stocked with Seinfeld stars
08/11/09 01:38 PM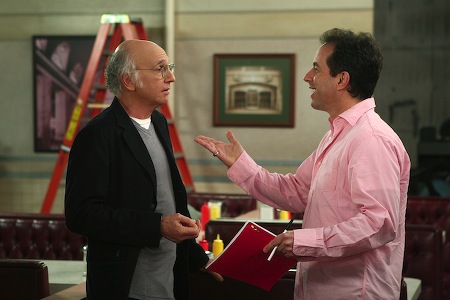 Larry and Jerry will be themselves in 7th season of Curb.
By ED BARK
PASADENA -- At first he's typically testy.
"We couldn't do this earlier?" he grouses as a mini-mike is affixed to him while TV critics prepare to parry and thrust. We've all just seen a highlight reel from the upcoming seventh season of
Curb Your Enthusiasm
. And Larry David -- playing Larry David -- seems to be in fine form, whether attempting to make out with a woman in a wheelchair or fighting over a lunch check with guest star Rosie O'Donnell.
Oddly enough, though, David verges on being almost magnanimous during his half-hour onstage in a ritzy hotel ballroom. He actually agrees with a questioner who first tells him, "You seem pretty happy today."
Has the show been "sort of therapy for you?" David is then asked. "Are you less neurotic now because you are able to sort of look at yourself?"
The old Larry might have retorted, "What? Are you &*%#$@ crazy?"
Instead we get this: "I was talking to somebody earlier. I was saying that this Larry is kind of melding with
Curb
Larry, and I love
Curb
Larry. Always hated this Larry. And so I'm getting a little like
Curb
Larry. We're melding a little bit. So yes, I am a little happier."
That doesn't entirely make sense, mainly because "
Curb
Larry" tends to be one miserable S.O.B. more often than not. But whatever. David, at age 62, has mellowed to the point where he's actually willing to be pretty expansive on Topic A of the new season, which premieres on Sept. 20th. The co-creator of
Seinfeld
has coaxed the show's four principals -- Jerry Seinfeld, Julia Louis-Dreyfus, Jason Alexander and Michael Richards -- to appear as themselves in five of the 10 new episodes. Their common goal will be something they've all vowed to never do in real life -- a
Seinfeld
reunion show.
"It's a lame idea" David says. "And then I thought, 'But it might be very funny to do that on
Curb
.' And I kept thinking about the idea. I started to think of different scenarios and how we could pull this off. And I called Jerry, and Jerry was game. And I said, 'Well, I'll call the others.' And I did. And we did it.
"So we're doing a
Seinfeld
reunion show on
Curb
. We're going to see writing. We'll see aspects of the read-through, parts of rehearsals. You'll see the show being filmed. And you'll see it on TV . . . You won't see the entire show. You'll see parts of the show. You will get an idea of what happened 11 years later."
Seinfeld
left NBC after a May 14, 1998 finale in which Jerry, Elaine, George and Kramer were sentenced to a year in jail for "crimes against common decency." The ending under-whelmed many viewers, drawing mixed reviews from TV critics that rivaled the reception for HBO's abrupt ending of
The Sopranos
.
"Excellent show. Excellent show," David says. And for those who thought otherwise? "Morons. Morons."
Jerry Seinfeld will appear in five of the new season's
Curb
episodes, with the other cast members "on at least four," David says before immediately recalibrating. "Maye one or two of the others will be on five. I'm not sure."
Curb
's season-ender, likely to be a one-hour episode, will also house the
Seinfeld
finale.
David always agonizes over whether to do another season of
Curb
. Topping himself is a constant concern, and "this thing is going to be tough to beat, I can tell you that," he says.
There was no getting-to-re-know you dinner before the
Seinfeld
-ians regrouped.
"They just showed up on the set," David says. "Jerry and I -- just like we used to -- went over all the
Seinfeld
script material. So we got together and wrote that . . . There was no awkwardness at all. It was like getting on a bicycle, yes."
Off-camera, David is recently divorced, the father of two teenagers and something of a doting dad. Within reason.
"Daughters Cazzie and Romy "don't seem to be fans of mine," he says. "I don't think they like to see their daddy behaving the way he does (on
Curb
). I think it bothers them to see daddy yelling at people. That's my guess. I'm not sure. It might just be the humor might not register with them yet."
David instead watches
Gossip Girl
with them. "My daughters love it.
Love
it. They freak out over it."
He's guest-starred on one of their earlier favorites,
Hannah Montana
. Would he do the same on
Gossip Girl
to impress them anew?
"Only if my daughters were on the show with me," David says. "That's the only reason I did (
Hannah Montana
), because my daughters were on the show. Otherwise, I think you would have to blow my head off."
The interview ends on that note. Which is another way of saying that all's still well with Larry David.