The Burning Plain: latest HDNet Movies freebie deftly mixes pain and sexual heat
09/16/09 12:33 PM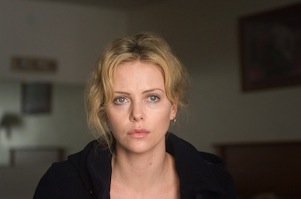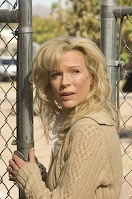 Charlize Theron and Kim Basinger front The Burning Plain.
By ED BARK
Charlize Theron and Kim Basinger are the headliners, but young Jennifer Lawrence is the scene-stealer in Dallas-based HDNet Movies' latest "Sneak Preview" film.
The Burning Plain
, opening in theaters Friday, will be free of charge to the network's subscribers on Wednesday, Sept. 16th at 7, 9 and 11 p.m. (central). The one hour, 40 minute film, from Mark Cuban and Todd Wagner's Magnolia Pictures, is an absorbing puzzler that juggles times, locales and ever-popular "forbidden loves" while also keeping viewers guessing about the specifics of a trailer park explosion.
It's quickly known that the blowup took the lives of lovers Gina and Nick (Basinger, Joaquim De Almeida), both married to others. There are ripple effects, of course, with promiscuous, self-destructive restaurant manager Sylvia (Theron) involved in ways that aren't meant to be readily apparent and for the most part aren't.
Theron is first seen in the nude, a regular and still impressive occurrence for her on the big screen. She's spent the night with one of her upscale restaurant's chefs (played by John Corbett). But detachment is her game, for reasons that slowly come into focus.
Basinger's character, seen in flashbacks, is a survivor of recent breast cancer surgery and the mother of several children, principally oldest daughter Mariana (Lawrence). Her husband, Robert (Brett Cullum), outwardly seems attentive. For starters, though, he's grief-stricken and angry about his wife's death and the games she played on him.
Burning Plain
principally is set in Oregon and the New Mexico border town of Las Cruces, with side trips to Mexico that introduce a crop duster and his pre-teen daughter, Maria (Tessa la). This all eventually fits together, with Mariana in many ways the film's pivotal character.
Lawrence, so far best known for her regular role in the TBS' sitcom
The Bill Engvall Show
, displays some very serious talent in the role of Mariana. Her budding relationship with the son of her late mother's lover shares screen time with the sleuthing that led Mariana to discover the affair. It's a performance that in the end outshines those of Theron and Basinger, each of whom has an Oscar. Look for Lawrence to go far -- very far.
Burning Plain
also marks the directorial debut of screenwriter Guillermo Arriaga (
Babel, 21 Grams
), who deftly orchestrates the film's time traveling entanglements. It all meshes into another "small" but worthy offering from Magnolia, which to its credit continues to invest in
interesting, off-beat films
that deserve to have more bang at the box office.
GRADE:
A-minus