Sheen makes return deposits in FX's Anger Management
06/26/12 03:17 PM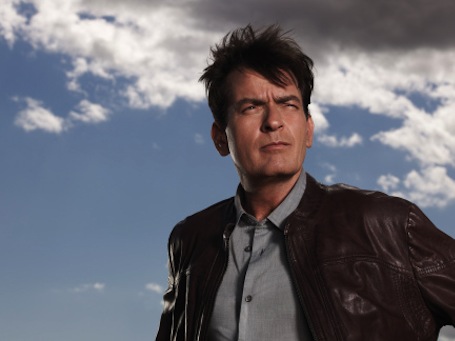 It's you know who, fittingly captured against a clouded sky. FX photo
Premiering:
Thursday, June 28th with back-to-back episodes at 8 and 8:30 p.m. (central) on FX
Starring:
Charlie Sheen, Shawnee Smith, Selma Blair, Noureen DeWulf, Daniela Bobadilla, Barry Cortin, Brett Butler, Derek Richardson, Michael Boatman, Darius McCrary, James Black, Michael Arden
Produced by:
Bruce Helford, Dave Caplan, Mark Burg, Joe Roth,Vince Totino
By ED BARK
@unclebarkycom
OK, let's not over-analyze this -- except maybe from a pure business standpoint.
Anger Management
, starring Charlie Sheen as a therapist in need of therapy, is FX's calculated risk to strike while his iron is still reasonably hot.
On a network specializing in flawed male characters, it's also the first multi-camera comedy series spiked with a laugh track. Because that's how Sheen rolled on
Two and a Half Men
until he lost his head, went batshit and then mounted an apology tour following his disastrous Violent Torpedo of Truth tour.
Business is business in Hollywood and anywhere else. And if Sheen as another womanizing version of himself is still a ratings winner, 90 more half-hours beyond FX's initial 10-episode order will be made in an accelerated two years' time.
This is similar to Tyler Perry's comedy series arrangements with TBS, in which both sides stand to come out way ahead on a much faster track. Quality control isn't guaranteed at such a pace. And nothing's really a guarantee with Sheen. But as FX president John Landgraf said during January's network TV "press tour," much of
Anger Management
is being under-written by Lionsgate Productions. FX's investment is comparatively minimal, with a nice slice of the syndication rights built in if the series makes it to the 100-episode mark.
Anger Management
otherwise is part of FX's new Thursday night summer comedy block, with back-to-back episodes leading into the returns of
Wilfred
and
Louie
and the premiere of
Brand X with Russell Brand
.
The title of the series comes from the same-named 2003 feature film starring Jack Nicholson and Adam Sandler. There otherwise are few carryover similarities, other than group therapy.
Sheen plays Charlie Goodson, a divorced former major league baseball catcher whose short career ended when he injured himself trying to break a bat over his knee. He's now welcoming head cases to his in-home office while also occasionally visiting a prison to dispense
gratis
advice to inmates.
The jokes tend to be ribald, of course. And the situations exaggerated. A new ball-busting patient named Lacey (Noureen DeWulf) literally shot her boyfriend in the balls when she caught him cheating on her. In the second of Thursday's episodes, she inquires of Charlie, "How am I supposed to work through my issues with men being dicks while women are showing up in this group as a result of your past 'dickness.' "
(Perhaps it's time now to note that
Anger Management
is affixed with FX's traditional TV-14 rating because of "intensely suggestive dialogue" among other things.)
Then again,
Two and a Half Men
wasn't exactly a monastery in word and deed. And Sheen actually is more likable in some ways here as a father who maintains a cordial relationship with his ex- (nice work by Shawnee Smith as Jennifer Goodson) and adores his teenage daughter, Sam (the lyrically named Daniela Bobadilla).
The need for renewed therapy comes when Charlie loses his temper with Jennifer's latest boyfriend, who says that college will be a complete waste of time for Sam. The familiar Sheen motif kicks in when he turns to fellow therapist Kate Wales (Selma Blair), who's been sleeping with him with the understanding that there be no other attachments between them.
"Things are going so well between us right now," she tells him. "We feel nothing for each other and it's working."
Further sex will be out of the question if he wants to be her patient, Kate warns. But don't expect Charlie's "cobra" to lay dormant for long.
TV vets Barry Corbin (
Northern Exposure
) and Brett Butler (
Grace Under Fire
) also are series regulars. She's a bartender who looks decidedly worse for wear. He's a coarse-talking patient making frequent contributions to the "Queer Jar" for his anti-gay flareups. Ugh.
Episode 2 initially finds Charlie at a bar with a squeaky-voice bimbo called Daytona. But the crux of this half-hour is his ad hoc reunion with a plain-faced woman named Mel. Back during Charlie's minor league days, he used her as a "Slumpbuster" -- a superstition-fueled roll in the sack with the ugliest woman available in an effort to raise the old batting average.
The woman walks into one of Charlie's group sessions, recognizes him and says she spent thousands of dollars on plastic surgery in hopes of getting over her humiliation. He initially plays dumb -- "I slept with you because you were drunk and easy and smelled like pie" -- before trying to smooth things over by making a home-cooked meal for her.
In print this sounds horrid. In actual on-screen practice it's less so. This is in part due to the very good performance by guest star Kerri Kenney as Mel. But Sheen also brings a little sensitivity to the table as their "relationship" unfolds.
None of this puts
Anger Management
anywhere in the vicinity of FX's
Louie
, whose first five episodes of Season 3 are uniformly remarkable (review to come). But it's not a total washout either.
Sheen and principal executive producer Bruce Helford (
The Drew Carey Show
) have assembled a strong cast of female characters to regularly put Charlie Goodson in his place -- and even chasten him a bit. He remains cocksure to be sure, because no one's about to buy Sheen as a milquetoast.
Given the potential workload that he's thrusting upon himself, these initial episodes of
Anger Management
may well represent the show's creative zenith. As such, they're somewhat more amusing than expected. And certainly more than anyone expected this soon from a guy who a little over a year ago at this time was still proclaiming himself a "total bitchin' rock star from Mars" flying high on "a drug called Charlie Sheen."
GRADE:
C+