Oscar host MacFarlane goes too far -- and also takes too long to do so
02/25/13 11:54 AM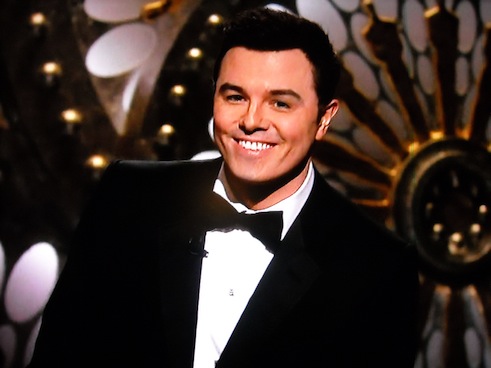 Good humor man? Oscar host Seth MacFarlane at outset. Photos: Ed Bark
By ED BARK
@unclebarkycom
Seth MacFarlane, whose Fox cartoons regularly ridicule Hollywood's highest and lowest, became a prime target of opportunity himself after hosting Sunday's Oscars on ABC.
The puckish provocateur took a slamming throughout the long night in the aroused Twitter-verse. But upon further review Monday morning, was MacFarlane really that bad?
Not entirely. But he did make some major missteps that unduly prolonged a typically over-long awards show. And some of his jokes weren't even debatably in very bad taste. They simply were.
Clad in a very traditional black tux and matching bow tie, MacFarlane began well. "And the quest to make Tommy Lee Jones laugh begins now," he said in reference to the grumpy actor's famous sourdough close-up at the Golden Globes. Seated up-front, Jones immediately was caught in at least a semblance of a laugh.
MacFarlane also had a nifty one-liner tied to
Argo
, which eventually won as Best Picture despite the snub of Ben Affleck in the Best Director category. Noting that the film's rescue of six U.S. hostages in Iran was previously classified, MacFarlane added, "The story was so top secret that the film's director is unknown to the Academy." Cue the rueful close-up of Affleck while the audience laughed knowingly.
The host's first misstep of the night was just a joke or two away, though.
DJango Unchained
is the "story of a man fighting to get back his woman, who's subjected to unthinkable violence," MacFarlane said. "Or as Chris Brown and Rihanna put it, a date movie."
MacFarlane likely wasn't surprised by the frosty reaction. He clearly had a fallback one-liner at the ready. "Oh no, no," he said, getting inside the audience's head. "That's what we were afraid he would do."
Well, jokes about domestic violence just shouldn't be in anyone's playbook anymore. MacFarlane then erred with a way over-long segment in which William Shatner as Captain Kirk arrived from the future to save him from being the "Worst Oscar Host Ever."
This was a potentially very funny idea -- in far more abbreviated form. But five separate production numbers and/or bits ensued, including the kickoff "We Saw Your Boobs" song in which MacFarlane (with help from the Los Angeles Gay Men's Choir) ticked off a stream of films in which Oscar winners and nominees had appeared topless.
OK, perhaps this was useful information -- from a purely research standpoint, of course. But it was hard to tell whether some of the actresses shown in close-up were genuinely offended -- or just playing along by affixing ticked-off looks.
All of this served to push the announcement of the night's first Oscar winner --
Django
's Christoph Waltz as best supporting actor -- all the way to 7:50 p.m. That was 20 minutes from the time MacFarlane took the stage. And in real-time viewing, it seemed like an eternity.
MacFarlane's extended screw-around motif seemed to be infectious when presenters Paul Rudd and Melissa McCarthy bombed with a painfully off-kilter bit tied to the "Best Animated Short" Oscar. The host later stepped in it big-time by telling the audience that Raymond Massey also had played Abraham Lincoln on film before Daniel Day-Lewis excelled with his eventual Oscar-winning performance.
"I would argue, however," MacFarlane deadpanned, "that the actor who really got inside Lincoln's head was John Wilkes Booth."
This time the reaction bordered on hostile. One could almost feel the sweat seep through the host's tux shirt as he not so playfully turned on the audience. "Really? One hundred fifty years and it's still too soon, huh?" MacFarlane said. "I got some Napoleon jokes coming up. You guys are gonna be so mad. Oh my God." He held back on any Lee Harvey Oswald one-liners.
The Oscars obviously shouldn't be stuffy. And a host should be able to tightrope a politically correct balance beam on occasion. But MacFarlane too often erred on the side of boorishness. A volley of tired old Jews-run-Hollywood jokes further diminished him down the stretch. Most of them were told by the talking stuffed bear Ted, whom the host voiced in his hit comedy movie
Ted
.
MacFarlane also couldn't resist a way-too-inside joke at the expense of the singer Adele. As in, "In just a moment, Rex Reed will be out here to review Adele's performance of
Skyfall
." (Here's
a link
for those who are interested in what Reed recently wrote about another performer. The old tart isn't going to get any more space here.)
The host had his moments, but needed an editor. In that respect, both MacFarlane and the show's producers, Neil Meron and Craig Zadan, simply failed to do their jobs. Instead, too many Oscar winners got played off -- each time by the menacing music from
Jaws
.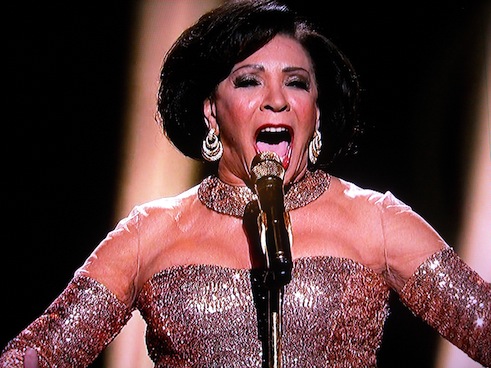 At age 76, Shirley Bassey can still nail the theme from Goldfinger.
Despite MacFarland, the Oscar-cast had some bona fide highlights.
The first big ovation of the evening came for Shirley Bassey's full-throated, theatrical rendition of the theme from
Goldfinger
. Which coming from her is "Gold-FINGUH!" She nailed it.
Adele's performance of the newest Bond theme also wowed the crowd. And Barbra Streisand memorably took the stage after the "In Memoriam" segment to fete songwriter Marvin Hamlisch and sing his "The Way We Were."
Whomever left Andy Griffith out of the montage, though, has some very serious explaining to do. In his early years as an actor, Griffith was acclaimed for his performances in two feature films,
A Face in the Crowd
and
No Time For Sergeants
. They put him on the road to a long and gainful TV career; attention should have been paid to the roles that got him there.
***
Daniel Day-Lews gave both a funny and gracious acceptance speech. With presenter Meryl Streep standing nearby, he joked that they had agreed to swap roles, with Streep playing Margaret Thatcher in lieu of Abraham Lincoln.
Rushed at the end, Ben Affleck nonetheless also had a resonant speech after his
Argo
won the Best Picture award. "I never thought that I would be back here," Affleck said in reference to his formative 1997 screen-writing Oscar for
Good Will Hunting
.
It's too bad he felt the need to talk at a speed rivaling the numerous side effect disclaimers tied to TV commercials for medical remedies. He didn't want to get played off by that
Jaws
music after all.
***
The big musical number for
Les Miserables
, with the entire principal cast participating, also lit up the Oscars. And for water cooler gossip purposes, Renee Zellweger presented a mug that seemed to be either stretched to the breaking point or Botox-overloaded while Kristin Stewart limped onstage in a decidedly disheveled hair-do.
Oh, and by the way, was John Travolta clearly wearing a toupee? And how much work did Ted the teddy bear have done? We'll close with those images while wishing it could have gone better for MacFarlane. Maybe next time? It's doubtful there'll be one.
unclebarky@verizon.net