ABC makes space for intergalactic Defying Gravity
07/29/09 02:23 PM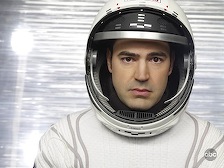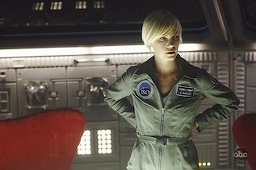 Spaced out: Defying Gravity's Ron Livingston, Laura Harris. ABC
Premiering:
Sunday, Aug. 2nd at 8 p.m. (central) with back-to-back episodes on ABC
Starring:
Ron Livingston, Laura Harris, Malik Yoba, Christina Cox, Ty Olsson, Florentine Lahme, Paula Garces, Dylan Taylor, Andrew Airlie, Karen LeBlanc, Zahf Paroo, Maxim Roy, Peter Howitt
Created by:
James Parriott
By ED BARK
ABC's sometimes exhilarating, occasionally overwrought
Defying Gravity
centers on eight astronauts on a $10 trillion mission to seven planets in six years.
Not having anywhere that kind of money to spend, the network has gone the inevitable international co-production route, with Fox Television and Omni Film Productions working in association with Canada's CTV and Germany's ProSieben. Whatever it takes. NBC similarly has co-partnered this summer on three scripted series --
Merlin, The Philanthropist
and
The Listener
, the latter already co-canceled.
Defying Gravity
at least looks expensive on-screen. And it has a capable international cast headed by Ron Livingston (
Office Space, Band of Brothers
) as jauntily named Maddux Donner, a womanizing and somewhat haunted flight engineer who 10 years earlier had to abandon two space colleagues on Mars. Quite naturally then, he's prone to grave narrative sermons that sometimes don't fly all that well.
The year is 2052, except when we're flashing back to training sessions for the eight astronauts who will be boarding the Antares and initially heading toward Venus. On the ground, Donner first gets into a fight with a snippy BBC reporter and later decks imperious Mission Control Commander Mike Goss (Andrew Airlie), who looks quite a bit like James Cameron.
There's a secret mission at the heart of the Antares expedition, and Sunday's first two hours don't go very far toward fingering it. Instead there are two rather pro forma rescues amid the continued haunting of ship geologist Zoe Barnes (Laura Harris), who hears a baby's high-pitched wail when no one else does.
Zoe initially is the most interesting and appealing character in a series that's still sorting through them after the first two episodes are over and out. Things keep promising to get more interesting and involving, and might well do so in time. It can be a long pull, though, as is Donner's very sl-o-o-w reeling in of a colleague after she's nearly lost in space.
TV watchers of a certain vintage might think they see someone quite familiar in
Defying Gravity
's opening minutes. Indeed they do. It's former
Hill Street Blues
star Charles Haid (who played "Cowboy" Andy Renko) as Donner's very dissipated dad. Haid spends most of his time behind the camera these days, but still knows how to make an impression.
ABC reportedly has ordered 13 episodes of
Defying Gravity
, which certainly brightens the network's summertime landscape more than its recently launched reality series,
Dating in the Dark
. But whether it truly blasts off -- creatively at least -- remains very much up in the air. So far we're still footloose -- and alien-free.
GRADE:
B