Osbournes: Reloaded -- What the @#$%&* was that *&%$#@ pile of #@$%*&?
04/01/09 05:01 AM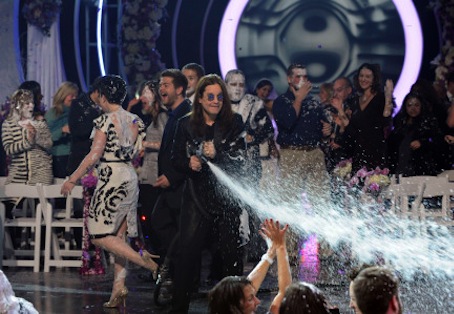 Ozzy expresses himself on Tuesday's Osbournes: Reloaded. Fox photo
By ED BARK
Mercifully delayed until 24 minutes past the hour Tuesday, the first
Osbournes: Reloaded
special spewed onto Fox with all the class and style of Ozzy relieving himself on the Alamo.
Perhaps that's to be expected of a show that wasn't made available for review. Fox has aired some dreadful stuff over the years, but
Osbournes: Reloaded
proved to be shockingly inept and unfunny from the instant mom Sharon and daughter Kelly shared ice-breaking bleeped profanities while a studio audience howled with laughter. What'd they give 'em -- Acapulco Gold?
Much of the 36-minute thing, presented after an
American Idol
performance show, was devoted to a guy named Nick and his tired-of-waiting girl, Lily. Kelly first noted that his name rhymed with (bleep). Then Lily purportedly surprised Nick with an ultimatum: either marry her or she'd leave him.
Nick, who frankly didn't look like much of a catch, got sent backstage to ruminate while the show unfortunately went on. Offal included Ozzy and Kelly in a filmed segment as profane, food-throwing drive-in workers followed by cursing kids of kindergarten age playing "The Littlest Osbournes." Earlier came a presumably fake Ozzy break-dancing, pulling a muscle of some sort and farting.
Meanwhile, Sharon busily milked the Nick/Lily denouement as though the fate of the universe hung in the balance. The would-be bride at last appeared teary-eyed in a wedding dress while her lug slipped into a tux. Family members gathered onstage as a "pastor" popped the big question to Nick: "Do you take Lily to be your wedded wife?" (Note that "lawfully" was omitted.)
He paused for effect while everyone acted as though they were in Hitchcock's
Spellbound
. Then came the answer you knew was coming from a guy who was probably an actor anyway. "I'll marry you," Nick grudgingly told her, prompting an audience eruption before Ozzy sprayed everyone with foam. Then a doused Sharon said goodnight.
There are supposed to be more periodic
Osbournes: Reloaded
specials, but Fox surely can't be serious about that. Please just pop in one of those old
Alien Autopsy
specials instead. We'd all be better served.