The CW goes Gellar in new fall season
05/19/11 08:45 AM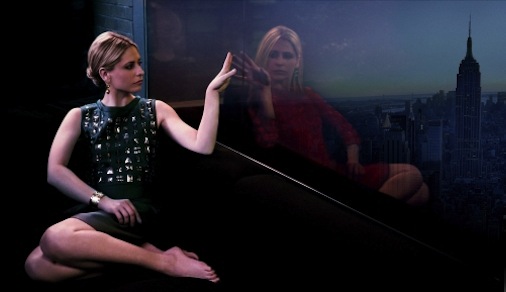 Sarah Michelle Gellar plays a twin on the run in Ringer. CW photo
By ED BARK
It'll be more girls' nights out this fall on The CW, with three new dramas starring young women in strange circumstances.
The headliner is
Ringer
, with Sarah Michelle Gellar returning to series TV eight seasons after The WB/UPN's
Buffy the Vampire Slayer
stopped slaying. Those two networks since have merged into The CW, but Gellar still wants a twofer. She'll be playing endangered twins named Bridget and Siobhan.
CW also has a sketchily detailed unscripted series on tap, with Mario Lopez as host. Gone are
Hellcats, Life Unexpected and Smallville, which had its finale last Friday after 10 seasons. Saved for midseason is the miraculously long-running One Tree Hill, which will return for a ninth season while also nearing its 200th episode. Two other returnees, 90210 and Nikita, are moving to new nights.

Here are The CW's four new series for this fall:

Ringer (drama) -- Gellar begins as Bridget, a recovering addict who's six months sober but fated to be the sole witness to a professional hit job. Fleeing to New York, she tries to mend fences with her pampered, wealthy, married twin sister, Siobhan, who then mysteriously vanishes. So Bridget takes on her identity and of course discovers some "shocking secrets." CBS passed on the series, leaving its l'il sister network to lap it up.

The Secret Circle (drama) -- Britt Robertson segues from the canceled Life Unexpected to another wayward kid role. This time she's Cassie Blake, a happy camper until her mom dies in an apparent accidental fire. So she heads off to the seemingly idyllic Chance Harbor, Washington to live with her loving granny. That's when "strange and frightening things begin to happen," with Cassie discovering that her new high school friends are all descended from "powerful witches" and have been waiting for her to join them. Creator/producer Kevin Williamson also is the guy behind The Vampire Diaries, which will be paired with this newcomer on Thursday nights.

Hart of Dixie (drama) -- Lippy doctor Zoe Hart (Rachel Bilson from The O.C.) plans to make a killing as a newly minted Manhattan cardio-thoracic surgeon. But plans go awry, prompting Zoe to head to little Bluebell, Alabammy after a stranger offers to share his practice with her. He dies in the interim, willing half of his medicine show to her. A lot of the townies don't like this, with Zoe quickly learning that "Southern hospitality isn't always so hospitable."

H8R (reality) -- CW has scant details on this one in its new season publicity release. So here we go: "Celebrities go head-to-head with civilians who hate them to win their 'haters' over." That's it, with Lopez finding room for this along with his other job as host of the syndicated rag mag Extra. Who does he think he is -- Ryan Seacrest?

The CW also announced a pair of new unscripted midseason series. Re-Modeled supposedly will "empower models to take control of their careers and lead healthier lives." The Frame is billed as a "wild social experiment" in which 10 teams "face outrageous challenges, punishments, head-to-head competitions and eliminations, all while isolated from the outside world." In other words, they're ripping off Big Brother.

Here is The CW's night-by-night new fall lineup, with all times central. (Note: the network does not program on Saturdays and Sundays.)

MONDAY
7 to 8 p.m. -- Gossip Girl
8 to 9 p.m. -- Hart of Dixie

TUESDAY
7 to 8 p.m. -- 90210
8 to 9 p.m. --- Ringer

WEDNESDAY
7 to 8 p.m. -- H8R
8 to 9 p.m. -- America's Next Top Model

THURSDAY
7 to 8 p.m. -- The Vampire Diaries
8 to 9 p.m. -- The Secret Circle

FRIDAY
7 to 8 p.m. -- Nikita
8 to 9 p.m. -- Supernatural