TNT's Perception is prime-time's latest crime-bender
07/02/12 02:49 PM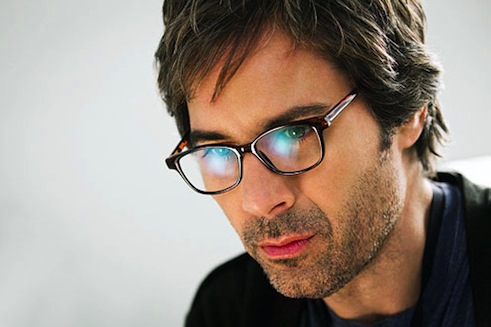 Eric McCormack plays a crime-solving schizophrenic in Perception.
TNT photo
Premiering:
Monday, July 9th at 9 p.m. (central) on TNT
Starring:
Eric McCormack, Rachael Leigh Cook, Arjay Smith, Kelly Rowan
Produced by:
Ken Biller, Mike Sussman
By ED BARK
@unclebarkycom
TNT's string of fair to fairly good drama series continues with
Perception
, Eric McCormack's latest effort to make viewers see him in a new light after his eight seasons on
Will & Grace
.
McCormack tried and failed once before on TNT with 2009's
Trust Me
, in which he played a Chicago-based advertising executive. Now he's returned to the Windy City as a paranoid schizophrenic neuroscience college professor who of course proves to be handy at solving crimes.
Today's over-stuffed corpse 'n' carry market demands much more than a straight-ahead Joe Friday to figure out whodunit and why. You almost have to have some sort of disorder or weird power. That or be based in picturesque Hawaii.
McCormack's character, Dr. Daniel Pierce, is first seen teaching a batch of college kids at an unnamed Chicago university that apparently isn't big on background checks. His first words to them: "What is reality?" And before dismissal: "If what we perceive is often wrong, how can we ever know what's real -- and what isn't?"
Daniel is reasonably sure, however, that the buxom student with the up-front "Stimulus Package" t-shirt is not one of his hallucinations. This has nothing to do with the opening murder case at hand, but does end up being a pretty lame kicker near episode's end.
After class, the prof is re-visited by FBI agent Kate Moretti (Rachael Lee Cook), a former student with whom he used to piece together murder mysteries until she got transferred out of town. So they team up anew -- just like that. The dead body under discussion had his skull fractured via numerous blows from a blunt instrument. His widow has already confessed to taking him out, but Kate thinks the real killer(s) is still out there. Presto, so does Daniel after he quickly determines that she's suffering from a mental disorder.
Perception
also includes an obligatory joke at the expense of the hapless Chicago Cubs while at the same time showing how little the producers apparently know about baseball. Daniel is watching what's referred to as a "spring training" game on TV with his best friend, Natalie Vincent (Kelly Rowan).
Spring training? Wrigley Field's famed ivy-covered outfield wall is visible on-screen as an unidentified Cub hits a home run into the "basket" bordering the bleacher section. But the Cubs didn't schedule any 2012 spring training games at Wrigley. They were all played in either Arizona or Nevada. "Rationality is over-rated, particularly when you're a Cubs fan," Daniel deduces before the team inevitably blows the game. Maybe so, but you've got to at least get the basics right. It makes one wonder whether the various mind impairments tossed around are also pretty much figments.
One other supporting character, Max Lewicki (Arjay Smith), is a young African-American teaching assistant who also keeps tabs on Daniel's behavior. This basically requires him to be the prof's manservant, making sure he eats nutritiously and has the requested classical music available for those imaginary orchestra conducting interludes. LeVar Burton will have a recurring role as university dean Paul Haley. He pops in for a throwaway scene in the premiere episode. Some might have a hard time recognizing him.
McCormack, in designer stubble, is no better than ordinary in the lead role. Nor are the cases at hand all that compelling, either in the July 9th premiere or in a subsequent episode built around a rapist/killer who strikes again 26 years after his last known crime.
The series also tries to impart the overall message that being a little or a lot mentally unhinged isn't always a bad thing. Which can be true. But
Perception
goes about all of this in less than absorbing fashion and with largely non-descript scripts. Pay it no mind and you won't be missing all that much.
GRADE:
C