Who shot Dallas? In the end it was mostly audience demographics
10/06/14 10:11 AM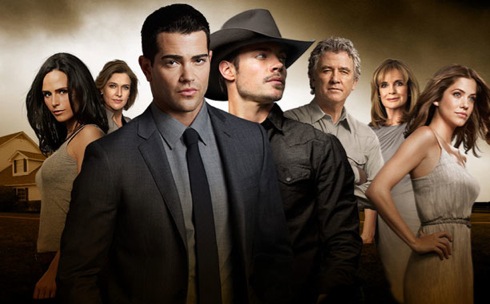 The younger and older Ewings of Dallas reboot. TNT photo
By ED BARK
@unclebarkycom on Twitter
TNT's cancellation of
Dallas
after three seasons and 40 episodes came as no particular surprise. Ratings had steadily fallen, with the two-hour Sept. 22nd finale averaging 1.72 million viewers compared to 4.29 million for Season One's cliffhanger.
Still, the overriding reason for
Dallas
' demise is another case study in network television's obsession with who watches, not how many. Depictions of sex and violence on TV are constant topics in Congress and among various consumer "watchdog" groups. But the rampant practice of ageism goes unchecked. In the wide, wide world of prime-time TV, you're still facing a death sentence if your audience skews too old. And in
Dallas
's case it did, despite the injection of a new batch of younger, prettier Ewings. Even a bedroom-set three-way among John Ross Ewing, Pamela Rebecca Barnes and Emma Brown didn't push the demographic needle at the close of Season 3's first arc. Hey, they tried.
Also of consider import: the death of Larry Hagman during filming of Season 2. He may have been the oldest
Dallas
cast member, but
Dallas
without him was akin to
The Sopranos
without James Gandolfini or
Gunsmoke
absent James Arness. Besides that, he had a retro coolness that may have even appealed to a few viewers young enough to draw a blank when asked to identify Jimmy Carter.
The
Dallas
Season 3 finale ended up ranking a fairly respectable 16th in total viewers among all cable programs shown on Monday, Sept. 22nd. But with advertiser-prized 18-to-49-year-olds,
Dallas
drooped to a 37th place tie. VH1's trio of
Love & Hip Hop Hollywood, T.I. and Tiny 4
and
Atlanta Exes
all drew twice or more 18-to-49-year-olds than
Dallas
. So did Discovery's
Fast N Loud
. Yes, you can count on all of them returning for new seasons.
Dallas
, which was filmed entirely in North Texas, had an area "economic impact" of roughly $40 million for Season 2's 15 episode, Dallas Film Commission director Janis Burklund estimated in a
2012 interview with unclebarky.com
.
Replying via email from New York Monday, Burklund said the Film Commission is "extremely disappointed and hopes another outlet will pick it up. How likely is that? Who knows? Nothing is 'typical' anymore. We're certainly not giving up hope!"
Burklund praised the
Dallas
cast and crew as the "best group we could have hoped for. If this campaign to save the show does not work out, we do have other projects looking and are by no means done. Afraid this is just the reality of how the business works."
Patrick Duffy, who played goodly Bobby Ewing in both the CBS and TNT version of
Dallas
has been the most active among cast members in lobbying for a reprieve.
"I for one am not done with Bobby Ewing!" he tweeted. "Let's see if some network wants the Ewings to live on!"
Well, the show isn't cheap to produce, despite the seeming elimination of at least one paycheck when Christopher Ewing apparently expired in a car explosion at the close of Season 3. Of even more import, the viewing audience shows no signs of getting any younger. A&E recently canceled its critically praised
Longmire
series after three seasons despite its attracting double the total viewers that
Dallas
did throughout its last season. But the bulk of
Longmire
's audience was deemed "undesirable." Or to put it another way, too old for advertisers to pay "premium" rates.
Dallas'
best chance for survival -- or at least a two-hour wrap-up movie -- may reside with Netflix, Amazon Prime or Hulu Plus. "Streaming outlets" basically don't care how old viewers are -- as long as they pay their monthly subscriber fees. For that matter, none of them release audience information either. But they don't have advertisers to placate or please. The overriding concern is to keep those subs growing. And in that context, money collected from the old folks at home is just as green as anyone else's.
Email comments or questions to:
unclebarky@verizon.net