NBC's Trial & Error makes a play date with the "true-crime" genre
03/10/17 02:52 PM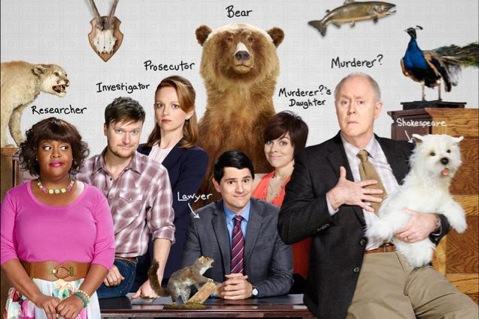 John Lithgow's the one facing a murder rap in Trial & Error. NBC photo
Premiering
Tuesday, March 14th at 9 p.m. (central) with back-to-back episodes on NBC
Starring:
Nicholas D'Agosto, John Lithgow, Sherri Shepherd, Jayma Mays, Steven Boyer, Krysta Rodriguez
Produced by:
Jeff Astrof, Matt Miller, Jeffrey Blitz
By ED BARK
@unclebarkycom on Twitter
There's no rhyme or reason -- nor is there meant to be -- to this tale of a small town poetry professor charged with fatally propelling his wife through their glass front door.
So the evidence preposterously builds against eccentric Larry Henderson (John Lithgow) in NBC's
Trial & Error
, a mockumentary spoof of the burgeoning "true crime" genre. You'll likely at least be grinning, if not sometimes laughing out loud. Because after a halting start, the amusements are plentiful during the three half-hours made available for review. Back-to-back episodes air each week after Tuesday's two-pronged premiere following the season finale of
This Is Us
.
Lithgow's character is first heard, not seen, making a 911 call in regard to his seriously dead spouse. But he quickly has a higher priority when it appears that another call is incoming from an overdue cable guy. It's that kind of comedy, something of a cross between
The Office
and
Airplane!
.
A green lawyer from New York, Josh Segal (Nicholas D'Agosto), soon arrives in the sub-hamlet of East Peck, South Carolina to represent Larry while assembling an inept team. "Lead investigator" Dwayne Reed (Steven Boyer) can't be counted on to do anything right. And head researcher/assistant Anne Flatch (Sherri Shepherd) has a wide assortment of oddball disorders, including laughing inappropriately.
They strategize in a back room office located adjacent to a taxidermy shop, which accounts for all of the stuffed animals serving as decor. Larry joins them after being sprung on a seven million dollar bail. Anne -- the poor girl just can't help herself -- slaps a "Larry Murderer" ID tag on his chest at the start of a brainstorming session. I think that's when
Trial & Error
pretty much had me.
Josh's courtroom nemesis is assistant district attorney Carol Anne Keane (Jayma Mays), who very much wants the top job. She'll do anything to win a conviction, including attempted seductions. There's also Larry's daughter, Summer (Krysta Rodriguez), who likewise has designs on the cute new attorney in town. Local TV anchor/reporter Heidi Baker (Angel Parker) keeps breaking stories that seem to further implicate Larry. In Episode 2, the on-screen subhead reads, "Local Man Accused of Killing Local Wife."
D'Agosto brings the requisite fresh-faced exasperation to his lead role while Shepherd and Mays are standouts as broadly drawn supporting characters. Lithgow segues from playing Winston Churchill in Netflix's
The Crown
to another of his batty comedic turns, which are tailor made for him. Although he did very convincingly play the Trinity Killer in Season 4 of Showtime's
Dexter
.
Trial & Error
can be hit & miss, but the hits just keep on coming as the murder case twists itself into a pretzel of ifs, buts, maybes and absurdities. This is a show where the trial judge's nameplate surname is Horsedich, but isn't pronounced that way. And where the wealthy brother of Larry's deceased wife proudly notes at the unveiling of her gravestone, "My tobacco company provides a lot of business for this cemetery."
It's a decidedly unconventional way to wrap up the last hour of prime-time, which traditionally is stocked with serious-minded crime-and-punishment dramas. On
Trial & Error
, the defense team's DNA expert is also a "compulsive masturbator." Let's see how this all plays out.
GRADE:
B
Email comments or questions to:
unclebarky@verizon.net