Singing its praises: ABC's Nashville is fall's best newcomer
10/09/12 07:21 AM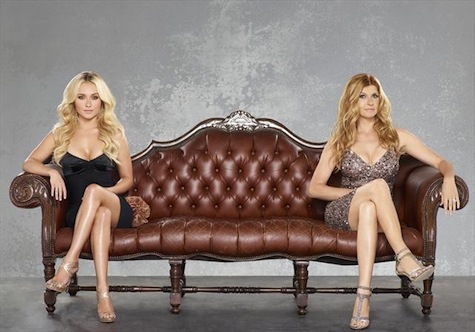 Arch foes Hayden Panettiere & Connie Britton sit pretty in Nashville.
ABC photo
Premiering:
Wednesday, Oct. 10th at 9 p.m. (central) on ABC
Starring:
Connie Britton, Hayden Panettiere, Charles Esten, Eric Close, Clare Bowen, Jonathan Jackson, Powers Boothe, Sam Palladio, Robert Ray Wisdom.
Produced by:
R.J. Cutler, Callie Khouri, Steve Buchanan, T Bone Burnett
By ED BARK
@unclebarkycom
Country-fried but never half-baked, ABC's
Nashville
is much more than a melodrama in tune with "Music City."
It has Emmy caliber performances from its two leads and an authenticity that won't quit. Singing its praises is a no-brainer from the moment Connie Britton takes the stage to sing for real at the Grand Ol' Opry. And this goes down in the opening minutes.
Arriving Wednesday in a 9 p.m. (central) slot opposite CBS' long-entrenched
CSI: Crime Scene Investigation
and NBC's new
Chicago Fire
, this is the class of the fall season's freshmen. All the soap opera elements are in place. But while
Dallas
is a full-blown sudser, this is a bracing mineral bath. Drama queens? Yes. Over-the-top caricature-izations? No, although Powers Boothe comes pretty close at times as a coiled cobra of a daddy.
Britton, brilliant in NBC's
Friday Night Lights
and victimized in the first season of FX's
American Horror Story
, plays iconic country singer Rayna Jaymes. Her record sales are down and her label is demanding a big concession after 21 years of chart-topping. How about if she cancels her upcoming tour and instead serves as an opening act for country music's hottest new sensation, willful, spoiled, busty Juliette Barnes (Hayden Panettiere from NBC's
Heroes
)? Well, that doesn't sit too well.
"Why do people listen to that adolescent crap? It sounds like feral cats to me," Rayna grouses. Still, she's got a big decision to make.
Nashville
's young-older country diva showdown is reminiscent of the 2010 feature film
Country Strong
, which starred Gwyneth Paltrow and Leighton Meester. But Britton's Rayna is by no means broken down or fresh out of rehab. She remains the bread-winning, full-voiced, steady-headed mother of two daughters and wife of struggling businessman Teddy Conrad (Eric Close).
Their marriage is less than a love match. That's because Rayna and her longtime band leader, Deacon Claybourne (Charles Esten), were -- as a country song title might put it -- "Meant For Each Other, But It Wasn't To Be." And now Juliette is hustling him with promises of a doubled salary and other side benefits.
Boothe, recently seen in the History channel's
Hatfields & McCoys
, plays super-powerful Nashville businessman Lamar Wyatt. Rayna's sister, Tandy (guest star Judith Hoag), has cuddled up to daddy and his money. But Rayna wants no part of him 'cause he's hurt her too many times. "It's a funny thing about, daddy, you know," she tells Tandy. "He's always there when he needs ya."
For that matter, Juliette has a broken-down mama who's always asking for money to fuel her drug habit. So maybe they can bond at some point on parental malfeasance.
Nashville
's creator and principal script writer is Callie Khouri, a San Antonio native and Oscar-winner for her
Thelma & Louise
screenplay. Co-executive producer R.J. Cutler is best known for his previous unscripted productions, among them
The War Room
and
American High
. But the series would be nothing without its music. And the legendary T Bone Burnett presides -- as "executive music producer" -- over what must be the best collection of original tunes ever written for an American TV series pilot.
They include the instantly transfixing "If I Didn't Know Better," performed at Nashville's Bluebird Cafe by Clare Bowen and Sam Palladio in the roles of untapped singer/songwriters Scarlett O'Connor and Gunnar Scott.
ABC already is in tune with Fox's
Glee
on this front, releasing original songs from
Nashville
on a weekly basis via iTunes and the network's
"Music Lounge" website
.
All of the actors perform their own songs, and you won't be cringing. But Britton's Rayna will, particularly when her two young daughters sing along to a Juliette hit while she's driving them home from school. They whine when she abruptly turns the radio off. "Momma's got a headache" is her pitch-perfect explanation.
Britton dominates Wednesday's premiere episode, but Panettiere gets just enough time to establish herself as a sex kitten/songstress to be reckoned with. Besides the music, the show-stopper is an extended scene between Rayna and bandleader Deacon, during which their feelings for one another are subtly but strongly felt.
In an ideal world,
Nashville
is just too good to fail and will draw a big audience for its unfurling. In the real world, one never knows. But ABC has put its very best foot forward with this one -- and with toes tapping, too. Failure would be a very dreary and depressing country song. Something on the order of, "We Put Out the Cream, But You Still Wanted Crap."
GRADE:
A
u
nclebarky@verizon.net