High School Musical 2 could make ratings history for Disney Channel, basic cable
08/16/07 04:06 PM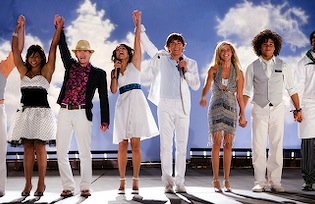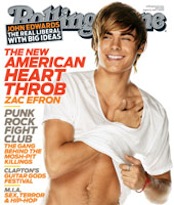 Some HSM2 cast members are larger than life. Namely Zac Efron.
By ED BARK
This is going to be huge. Massive. Maybe even mega-super duper with sugar on top.
Coming Friday to The Disney Channel at 7 p.m. (central) is
High School Musical 2
, sequel to the Jan. 20, 2006 original. You might say there's some anticipation in the 'tween and teen worlds, let alone among many of their parents.
Disney also is layering this cake with a sneak peek at its new
Phineas and Ferb
animated series (8:45 p.m.), followed by a new episode of
Hannah Montana
(9:15 p.m.) with guest stars The Jonas Brothers.
"While I am extremely reluctant to make predictions, I will guarantee that the night of August 17th will be on every kid's calendar," Disney Channel president Gary Marsh told TV critics last month.
He's not wrong about that, and so it won't really matter that Disney has decided to keep review copies of
HSM2
out of the hands of TV critics for fear of piracy.
It has been previewed, however, on some cable On-Demand channels. And critics attending July's TV "press tour" were allowed to see the movie on a close-circuit hotel feed, albeit with a big copyright stamp in the middle of it. Sorry, didn't take notes, but it all seemed very energetic and watchable. As noted, though, kids could care less about any favorable or unfavorable reviews. This one's completely pre-sold.
Disney also could have a ratings record in sight. No basic cable program has ever topped the overall prime-time Nielsens for both broadcast and pay TV. But the mountain isn't that steep in the late summertime. Last week's most-watched TV program, NBC's
America's Got Talent
, drew 10.8 million viewers.
HSM2
should be right in that ballpark -- and might well hit it out of that park.
The movie's top draw is Zac Efron reprising his role as hunky high school basketball captain Troy Bolton. He's also currently co-starring in the feature film
Hairspray
as well as adorning the cover of
Rolling Stone
as "The New American Heart Throb."
Swarmed by TV writers on press tour, Efron, 19, says he'd "love to bring musicals back to being cool and sought after. Not that they're uncool now. There's just other things that take priority."
His sudden fame -- and questions about his relationship with
HSM2
co-star Vanessa Hudgens -- are making it harder to be "normal" in the Hollywood sense of the word.
"Vanessa's a great girl," he says in reference to paparazzi photographing them romping in the surf. "But at 19 I don't want to be the guy that's got 'relationship' headlines all over the magazines. Maybe in the future that's something I would love to talk to the press about."
His iPod is "full of show tunes, embarrassing or not." And his private life is seldom that anymore. A photographer recently snuck into a gym to snap pictures of him working out, he says.
"I don't know what to say about it. It's funny. . . I'm getting used to people observing my daily activities. Formerly people would just see the work. Now it's like I'm at a grocery store buying Cheetos, and there will be people that are interested."
His next project is a starring role in a remake of
Footloose
, which he watched growing up.
"I don't know if we can make it better," he says of Kevin Bacon's signature movie.
For now he's still made it intact through the Hollywood obstacle course, which if anything is more treacherous than ever.