Rock's hard place: it's still a struggle on NBC's weak-kneed Thursday night schedule
10/15/09 10:54 AM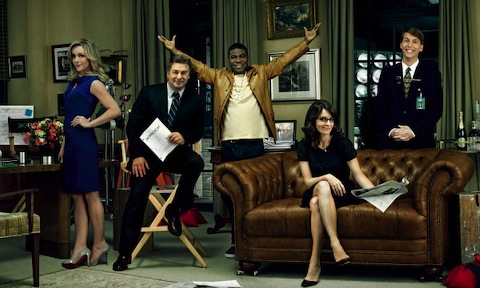 By ED BARK
Emmy's three-time reigning champ as best comedy series resumes play Thursday by again jabbing at its down-and-out network. And why not?
This used to be NBC's big "must-see" night, stocked with Grade A ratings smasheroos ranging from
The Cosby Show
to
Seinfeld
to
Friends
. But now the Peacock is plucked. Its two comedy standouts --
The Office
and
30 Rock
-- are pureed on a weekly basis by CBS'
CSI: Crime Scene Investigation
and ABC's
Grey's Anatomy
.
30 Rock
, again stuck with a late fall season start, is funny as ever in Thursday's 8:30 p.m. (central) slot, where the Season 4 premiere begins with a cost-cutting "cheesie blaster" staff dinner at a Manhattan eatery.
In tough times, bossman Jack Donaghy (Alec Baldwin) has a new "reaching-out-to-the-country" initiative in mind for
TGS
, the sketch comedy show produced by Liz Lemon (Tina Fey). He wants a new, more relatable cast member hired in addition to a folksier revamp of
TGS
.
This prompts an offer by Jenna Maroney (Jane Krakowski) to "go country" by recording a new theme song for NBC Sports.
"What sports does NBC have these days?" Lemon later wonders.
"Oh, off-season tennis," says Jack.
Actually, the Peacock would be completely horizontal in the prime-time ratings were it not for its ongoing
Sunday Night Football
franchise. But
30 Rock
seldom misses an opportunity to skewer the network that otherwise can't stop shooting itself in the foot.
Jack has other austerity kicks afoot.
"Thanks to Comrade Obama's recession, we've had to cut overtime for pages," he says. This is a cruel blow for Kenneth Parcell (Jack McBrayer), who's told that his daily regimen no longer can exceed 16 hours.
But Kenneth later mistakenly receives Jack's bonus-laden paycheck, prompting him to organize a page strike. Jack's efforts to waylay it -- "I didn't lie, Kenneth. I massaged the truth" -- are repeatedly thwarted.
Tonight's opener, subtitled "Season 4," also includes a closing reference to Jay Leno that can be construed as either a brickbat or a bouquet. The setup line: "Step into the light, Lemon. There's nothing wrong with being fun and popular and just giving people what they want."
Next week's episode likewise pinpricks the Peacock and its GE owner with a microwave oven subplot. But one joke is so "in" that it perhaps should have been thrown out. His livelihood again threatened by nemesis Devin Banks (guest star Will Arnett), Jack retorts, "I'll have you know that Barry Diller and I are working on a whole new approach to media."
That's a reference to recently deposed NBC Entertainment co-chairman
Ben Silverman
, whose ineffectual two-year reign officially ended in late July. Silverman concurrently announced he was "returning to his entrepreneurial roots to form a new venture" with Diller, formerly Fox's programming czar.
30 Rock
seemingly is bullet-proof in these matters, with NBC at least deserving credit for repeatedly playing the show's
pinata
. In turn, the Peacock gets prime-time's smartest, funniest and lamentably under-watched comedy series. One in which Jack can still get away with proclaiming, "We're GE, dammit. And we're going to make a giant, flimsy microwave" in an effort to spike sales and of course dupe consumers.
GRADE:
A