Uncle Barky's Emmy picks
09/18/15 10:38 AM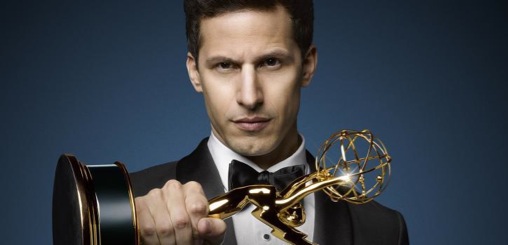 Your Emmy Awards host is first-timer Andy Samberg. Fox photo
By ED BARK
@unclebarkycom on Twitter
"Television's Biggest Night" (why do they keep saying that?) returns Sunday in the form of the 67th annual Primetime Emmy Awards.
Fox is the carrier this time, with the network's
Brooklyn Nine-Nine
star, Andy Samberg, hosting something of consequence for the first time ever. It all starts at 7 p.m. (central) opposite a
Sunday Night Football
matchup -- Green Bay Packers vs. Seattle Seahawks -- that almost assuredly will out-draw the Emmys in the national Nielsen ratings.
Still, some of the major categories are intriguing. And a little history could be made if ABC's
Modern Family
wins the Best Comedy Series Emmy for the sixth year in a row. No show has ever done that.
OK, let's get to the marquee contests and my fearless but often wrong picks. Caveat: I've had a grudge against Emmy voters ever since CBS'
Lonesome Dove
got skunked in all the major categories at the 1990 ceremony. So who knows what they'll do this time?
BEST COMEDY SERIES
Modern Family (ABC)
Veep (HBO)
Louie (FX)
Silicon Valley (HBO)
Transparent (Amazon Prime)
Unbreakable Kimmy Schmidt (Netflix)
Comment:
Momentum, spearheaded by the Caitlyn Jenner groundswell and no small amount of Hollywood-style political correctness, is definitely on the side of
Transparent
. Plus, this is a very good series fronted Jeffrey Tambor as Mort turned Maura Pfefferman. So I think it's the winner, with
Veep
also having a shot and
Modern Family
a long shot this time.
BEST DRAMA SERIES
Game of Thrones (HBO)
Mad Men (AMC)
House of Cards (Netflix)
Better Call Saul (AMC)
Homeland (Showtime)
Downton Abbey (PBS)
Orange is the New Black (Netflix)
Comment:
Hard to say. Voters might want to honor
Mad Men
's final season. Or maybe
Homeland
for a big rebound in Season 4. Might
Game of Thrones
finally break through? I wish it would, but probably not because some critics declared its latest season to be unforgivably violent. Besides, they killed Jon Snow. My personal pick would be
Better Call Saul
, which proved to be a superb
Breaking Bad
prequel in its first season. But I think the sentiment for
Mad Men
will carry the day.
BEST LIMITED SERIES
American Horror Story: Freak Show (FX)
Olive Kitteridge (HBO)
The Honorable Woman (Sundance TV)
Wolf Hall (PBS)
American Crime (ABC)
Comment:
Gonna go with
Olive Kitteridge
, although the little-seen
Honorable Woman
likewise would be a fine choice.
BEST MOVIE
Bessie (HBO)
Grace of Monaco (Lifetime)
Hello Ladies: The Movie (HBO)
Killing Jesus (National Geographic Channel)
Nightingale (HBO)
Agatha Christie's Poirot: Curtain, Poirot's Last Case
Comment:
In an extremely thin category,
Bessie
looks like the clear choice.
LEAD ACTOR, DRAMA SERIES
Jon Hamm, Mad Men
Kevin Spacey, House of Cards
Kyle Chandler, Bloodline (Netflix)
Jeff Daniels, The Newsroom (HBO)
Liev Schreiber, Ray Donovan (Showtime)
Comment:
It's a borderline felony that Hamm has never won for his iconic role of ad man Don Draper. This is the last chance to rectify that. And this time around, the chances for Hamm look pretty good. He would get the night's biggest applause and undoubtedly deliver a memorable speech. Team Hamm all the way.
LEAD ACTRESS, DRAMA SERIES
Claire Danes, Homeland
Robin Wright, House of Cards
Elisabeth Moss, Mad Men
Viola Davis, How to Get Away with Murder (ABC)
Taraji P. Henson, Empire (Fox)
Tatiana Maslany, Orphan Black (BBC America)
Comment:
The battle is between Henson and Davis, either of whom would be the first African-American woman to ever win in this category. I'll give Henson the edge. She blasted through the screen as Cookie Lyons in Fox's runaway midseason hit.
LEAD ACTRESS, COMEDY SERIES
Julia Louis-Dreyfus, Veep
Amy Poehler, Parks and Recreation (NBC)
Edie Falco, Nurse Jackie (Showtime)
Amy Schumer, Inside Amy Schumer (Comedy Central)
Lily Tomlin, Grace and Frankie (Netflix)
Lisa Kudrow, The Comeback (HBO)
Comment:
Schumer is the hot commodity at the moment and has to be considered the favorite. But I'm going with a Tomlin upset, although both Louis-Dreyfus and Falco have won several times before and can never be counted out.
LEAD ACTOR, COMEDY SERIES
Jeffrey Tambor, Transparent
Louie C.K., Louie
Anthony Anderson, black-ish (ABC)
Matt LeBlanc, Episodes (Showtime)
Will Forte, The Last Man Standing (Fox)
William H. Macy, Shameless (Showtime)
Don Cheadle, House of Lies (Showtime)
Comment:
I'd be shocked -- shocked, I tell you -- if Tambor doesn't win this one.
LEAD ACTOR, LIMITED SERIES OR MOVIE
Timothy Hutton, American Crime
Richard Jenkins, Olive Kitteridge
David Oyelowo, Nightingale
Mark Rylance, Wolf Hall
Adrien Brody, Houdini (History)
Ricky Gervais, Derek (Netflix)
Comment:
Rylance likely will win for his very pensive performance as Thomas Cromwell. But I'd prefer to see Jenkins step to the stage.
LEAD ACTRESS, LIMITED SERIES OR MOVIE
Felicity Huffman, American Crime
Jessica Lange, American Horror Story: Freak Show
Maggie Gyllenhaal, The Honorable Woman
Frances McDormand, Olive Kitteridge
Queen Latifah, Bessie
Emma Thompson, Sweeney Todd: The Demon Barber of Fleet Street (PBS)
Comment:
This category is loaded. My personal choice is Huffman, who played against type and was superb in
American Crime
. Besides, Lange has won enough. Gyllenhaal, McDormand and Queen Latifah also would be worthy choices. And in the end, I think QL gets the nod.
Email comments or questions to:
unclebarky@verizon.net