Brokaw passes Meet the Press baton to Gregory
12/07/08 11:36 AM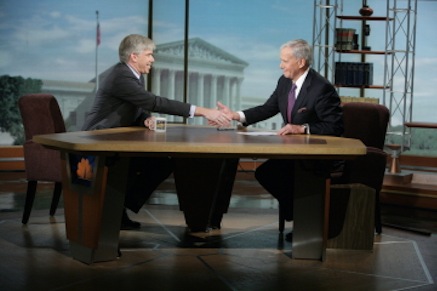 By ED BARK
David Gregory officially became the 10th permanent moderator of
Meet the Press
Sunday, with Tom Brokaw passing the baton after ending his interim tenure by interviewing president-elect Barack Obama.
Gregory, 38, and Brokaw, 68, found themselves on this unlikely path after the sudden death last June of Tim Russert, who had moderated
Meet the Press
since 1991.
"I'm not Tim, but along with this great team, I can just work real hard to make Tim proud," Gregory told Brokaw, who noted that his first
Meet the Press
appearance was "at the height" of Watergate in 1973.
"But now it's time for me to move on," Brokaw said before ushering in Gregory.
News of Gregory's selection leaked earlier in the week, but NBC News officials had declined to comment on the selection.
Gregory, who begins his
Meet the Press
tenure next Sunday (Dec. 14), will be the youngest moderator in the program's 61-year history. Russert was 41 when he took the position, succeeding Garrick Utley. Chris Wallace, now competing with
Meet the Press
on his
Fox News Sunday
program, was 39 when he began moderating
Meet the Press
on May 10, 1987. His short time with the program ended on Dec. 4, 1988.
Gregory, who joined NBC News in 1995, quickly rose to become the network's White House correspondent during George W. Bush's presidency.
NBC News, in a statement released Sunday, said Gregory will continue as a contributor and substitute host on
Today
, where he's regularly participated in cooking segments. He'll also continue as a contributor to MSNBC, the network said.
Gregory, in his joint appearance with Brokaw Sunday, said that Russert had always counseled him to "be respectful, but ask the tough questions and think of the smart followup and hold 'em accountable" when interviewing newsmakers.
ABC's competing
This Week with George Stephanopoulos
lost no time Sunday in announcing prominent interview subjects for the next two Sundays. Stephanopoulos told viewers he'll be talking to John McCain on Dec. 14th and vice-president Joe Biden on the following Sunday.
Apologies to Chris Matthews, but that's playing hardball.