FALL TV PREVIEW: New series -- Moonlight (CBS)
09/27/07 03:06 PM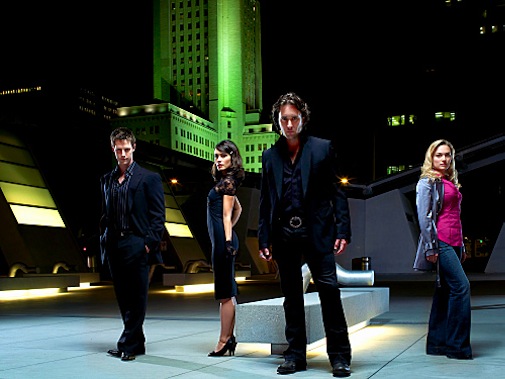 Three out of four are vampires. They all have dark hair.
Premiering:
Friday, Sept. 28 at 8 p.m. (central) on CBS
Starring:
Alex O'Loughlin, Sophia Myles, Jason Dohring, Shannyn Sossamon
Produced by:
Joel Silver, Ron Koslow, Rod Holcomb
By ED BARK
The lazy path of easiest resistance is to write that CBS' new vampire series really sucks.
Path taken. That's the way it goes when your notepad includes the notation, "PLEASE END SOON!"
CBS canceled the far superior
Close to Home
to accommodate
Moonlight
, deemed to be a better Friday night follow up act this season for a darkened
Ghost Whisperer
.
Home
actually drew more total viewers than
Whisperer
. But its overall audience was appreciably older than that for the Jennifer Love Hewitt dollop. That's a punishable crime in prime-time, even on CBS these days. So
Home
got foreclosed on in favor of a series that's a bit clever only in its first few minutes.
That's when finger lickin' handsome vampire Mick St. John (Aussie Alex O'Loughlin) imagines being interviewed about the ins and outs of vampires. He sleeps in a freezer, not a coffin. A stake through the heart can't kill him, but a flamethrower can. Yes, it's true that he doesn't like the daylight. But this particular vampire doesn't bite people "unless they really ask for it."
Alas, Mick then awakens from his reverie. It's
Moonlight
's signal to become a bloody awful mess. It's not particularly graphic. But it is particularly inept in its flashbacks, murder mystery of the week and just about any other measure of whether a series will merit your time.
Mick was "turned" 60 years ago by his bride, Coraline (Shannyn Sossamon), who must have given him a helluva wedding night. On the plus side, though, he's been forever 30 ever since. It's a restive 30, though, with Mick chafing and philosophizing. He's trying hard to be a Casper the Friendly Vampire, but fellow bloodsucker Josef Konstantin (Jason Dohring) keeps demanding that he get with the program.
There's also "ambitious Internet investigative reporter" Beth Turner (Sophia Myles), whom Mick saved from vampire-dom as a child. Now she's all grown up, and he kinda likes her. So coming to blonde Beth's rescue looks like it's going to be pretty much a weekly occurrence. You know how these Internet journalists are. Well, actually she's very much unlike most of them. Beth actually hits the streets in search of stories that she then embellishes.
Myles plays this role with all the range of a Nerf bazooka gun. The acting in general is generic, as is the script. Never involving but definitely annoying,
Moonlight
probably is best experienced under the influence of a half-dozen Bloody Marys. That way you're likely to be passed out, and none the wiser.
Grade:
D