Curvy women of Cougar Town replacing men in drag of Work It
01/18/12 12:11 AM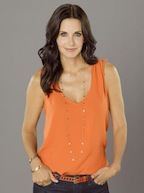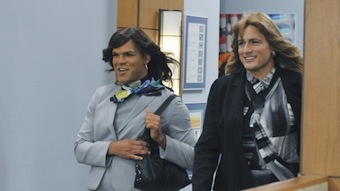 Courteney Cox will be easier on the eyes than faux women of Work It
. ABC photos
By ED BARK
ABC's critically reviled
Work It
, canceled after a two-episode infliction, will be replaced on Valentine's night by the returning
Cougar Town
, ABC announced Tuesday.
It was an unexpectedly quick reprieve for
Cougar Town
, whose creator Bill Lawrence, had been notably unhappy with ABC's treatment of the show. So much so that he held his own guerilla party Jan. 9th on the eve of ABC's day-long presentations to TV critics during the just-concluded winter "press tour" in Pasadena, CA.
Lawrence and the stars of the show, including Courteney Cox, gathered in a hotel bar to pointedly express their concerns before ABC entertainment president Paul Lee told TV writers on the following morning that
Cougar Town
was "tentatively in there for March."
"We love the show . . . We're going to give it a really good launchpad," Lee said, commending Lawrence for what he termed a "pirate job" of getting the word out about
Cougar Town
.
Cougar Town
will follow Tim Allen's
Last Man Standing
on Tuesdays at 7:30 p.m. (central). Reruns of the Allen sitcom are filling that slot until Feb. 14th.
***
Two big blows to my native state's football pride bookended Uncle Barky's trip to and from the Pasadena. CA site of winter's annual TV press tour.
On Jan. 2nd, the day before departure, my alma mater Wisconsin Badgers lost their second straight Rose Bowl in heartbreaking last-second fashion. This time it was Oregon; the last time, TCU.
On Jan. 15th, the day before returning home to D-FW, the No. 1-seeded Green Bay Packers were thoroughly outplayed and beaten by the visiting New York Giants.
But the great state of cheese, beer and brats also won a highly unusual prize over the weekend in a contest where Miss Wisconsins had long been treated like moo cows.
Twenty-three-year-old Kenosha native Laura Kaeppeler became the state's second Miss America ever, and the first since since 1973, when Terry Meeusen wore the crown.
Kenosha, located three miles from formative Barky's hometown of Racine, Wisconsin, was a prime beer-drinking venue of my misspent youth. That's because the suds-draining age was 18 in Keno and 21 in Racine. We took full advantage, often stupidly.
It's hardly a fair trade -- one Miss America for two punch-in-the-face football losses on national stages. But Kaeppeler proved to be a gamer in Vegas while the Pack and Bucky went down for the count. Say cheese -- and smile at the irony of it all.