Williams/Goldthwait collaborate in Magnolia's unflinching World's Greatest Dad
08/19/09 02:30 PM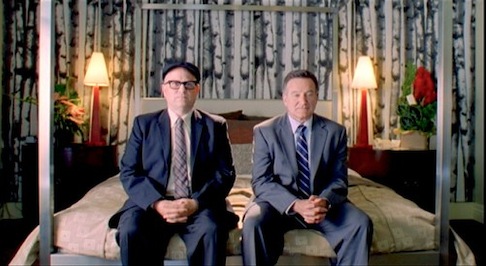 Director-writer Bobcat Goldthwait and star Robin Williams
By ED BARK
Morbidly fascinating and achingly watchable,
World's Greatest Dad
pairs a hellish son with a rejected, dejected father whose would-be novels have yet to see print.
This doesn't sound like your typical Robin Williams movie, which lately is a good thing.
"It's like
Dead Penis Society
," he recently told TV critics who otherwise gathered to hear about Williams' Dec. 6th HBO standup special and his ongoing recovery from open-heart surgery.
World's Greatest Dad
, hollowly emblazoned on the central character's coffee cup, can first be seen Wednesday, Aug. 19th on Mark Cuban's HDNet Movies as part of the network's ongoing "Sneak Preview" series. Show time is 7 p.m. (central), with repeat airings at 8:45 and 10:30 p.m. The film then opens in theaters Friday under Cuban's and business partner Todd Wagner's
Magnolia Pictures
banner.
The architect of
World's Greatest Dad
is Williams' longtime friend, Bobcat Goldthwait, who both wrote and directed the film. He's cast Williams as sad sack high school poetry teacher Lance Clayton, whose teenage son, Kyle (Daryl Sabara), can charitably be called despicable.
Kyle is first seen pleasuring himself in masochistic fashion. Dad catches him in the act, and things degenerate from there. This is no warm, fuzzy family film. Instead it's a dark morality play about sudden losses and gains, which can't be further specified here without spoiling the jolt.
When not warring with his son, Lance Clayton sneaks schoolhouse kisses with a fellow teacher named Claire (Alexie Gilmore). She's cute and lithe, prompting Lance to marvel, "How'd a lump like me get a dame like you?"
Except that he doesn't really have her. Claire blows with the winds, and quickly in the direction of schoolteacher Mike Lane (Henry Simmons), who's just had an article published in
The New Yorker
. In this scene, Williams fully conveys the pain of a man of letters deemed unfit to publish time and time again.
Resultant shattering events are transformational for both Claytons, with
World's Greatest Dad
digging deep into the parallel realities of unearned fame and redemption. Others want their pieces of this, even the real-life Bruce Hornsby in a cameo role.
The film is well-paced, never dull and headed toward a not entirely unpredictable but satisfying denouement. Williams, whose occasional serious side has come out in films such as
Good Will Hunting, Insomnia
and
One Hour Photo
, is particularly effective when not knowing whether to laugh or cry. Witness his character's appearance on the
Dr. Phil
-like
Dr. Dana
TV show, where Williams turns in a few minutes of at least borderline brilliance.
World's Greatest Dad
isn't a game-changer for Williams at this late stage of his career. But it may be for Goldthwait, whose previous signature movie is 1991's very dark-shaded
Shakes the Clown
. Williams made an appearance in that one, too, as mime class instructor Marty Fromage. Now he's front and center, toting the load that Goldthwait's given him without ever buckling under it. Bravo to both.
GRADE:
B+