Christopher McDonald is wild about Harry's and OK with being "Shooter" (although it'd be nice to play the romantic lead for a change)
11/16/11 02:46 PM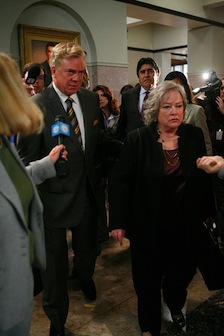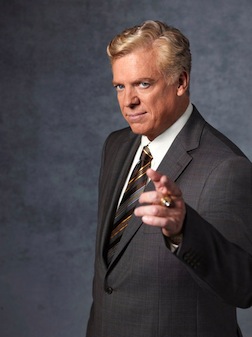 Christopher McDonald again goes the cocksure route in Harry's Law
. NBC photos
By ED BARK
His characters have seldom lacked for confidence. On the contrary they tend to be full of themselves.
Christopher McDonald's latest supporting role, swaggering Tommy Jefferson on NBC's
Harry's Law
, is doubly par for the course if you remember him (and who doesn't?) as super-vain golf pro Shooter McGavin. That 1996 role, in the Adam Sandler-starring
Happy Gilmore
, has kept him firmly on the pop culture fairway.
"You love it, you crave it, and then once it happens, be careful what you ask for," McDonald says in a telephone interview from a home he's remodeling in Lake Arrowhead, CA. "A guy stopped me the other day and said he's seen
Happy Gilmore
100 times. It's a silly comedy, but it holds up. But more and more people are stopping me for Tommy Jefferson, which is great, too."
Tommy is the resident Denny Crane of
Harry's Law
, which stars Kathy Bates as the acidic title character. But unlike William Shatner and despite his leading man looks and 6 foot 3 stature, McDonald is seldom cast in heroic or romantic roles. Producers and directors instead tend to perceive him as pompous or villainous. Or both.
"As a young actor, I was immediately cast as the bad guy or the best friend," McDonald says. "And then when I played that misogynist husband in
Thelma & Louise
, I thought the die was cast."
Two years before
Thelma & Louise
, he had landed a romantic comedy role in 1989's
Chances Are
, which co-starred Cybill Shepherd, Robert Downey, Jr. and Ryan O'Neal.
"But I guess those kinds of parts weren't in the cards," says McDonald. "I would love to do another romantic comedy, and you don't have to be super good-looking these days to do them. But the things that have had real resonance in my career are the colorful 'bad guys,' which are a lot of fun to play. But it ain't over yet, baby. So we'll see what happens."
Harry's Law
(
8 p.m. central on Wednesdays
) arguably is in prime-time's toughest time slot, going against ABC's
Modern Family, Fox's The X Factor and CBS' Criminal Minds.

"Warner Bros. (which produces the David E. Kelley legal drama) and NBC have apologized for that time slot," McDonald says. "But over time we've held our own, which is amazing. It's not in your face and it's not too preachy. It's got a really nice mix of comedy and drama. And people love Kathy Bates . . . I'd never worked with her before but I've known her socially. She's a tremendous presence on-screen, and I thought some of her greatness would rub off on me. She raises the bar. I learn from her."

Shortly after our interview, NBC announced a midseason lineup in which Harry's Law will move to Sundays at 7 p.m. (central), but not until March 4th. The series also has received a full-season order, again defying all demographic odds by casting a 60-plus woman in the lead role and living to tell about it.

McDonald, 56, also is enjoying another nice tour of duty, on HBO's acclaimed prohibition era drama Boardwalk Empire. He has a recurring role as Harry Daugherty, campaign manager for Warren G. Harding in the 1920 presidential election.

"HBO is rare air for me," McDonald says. As is the chance to work in a series produced by Martin Scorsese.

"An actor acts, and I love to act," he says. "I love meeting new people. I love new challenges. I love doing comedy, drama, horror and farce. I have a good work ethic and I've beat the odds . . . I have a restless spirit, so I'm always looking for the next part. But I'm also having such a great ride right now."

So far that doesn't include any presence on Facebook or Twitter, but "I really want to do it," McDonald says. He tried to tweet as "Chris McDonald," but the name was taken.

"And his first five tweets I read are what he's going to have for dinner, where he's going for lunch and so on," McDonald says. "I don't want to do that. But Kathy Bates just joined, so maybe she can teach me the plusses of it. The biggest fear is that I'll have only eight followers."

Have no fear. And maybe consider using "Shooter" as your Twitter name.

He laughs, then adds, "That's not a bad idea."

Whatever works for one of Hollywood's consummate working actors.