Bad form? Couric bypasses CBS, announces her impending departure in People magazine exclusive
04/26/11 02:33 PM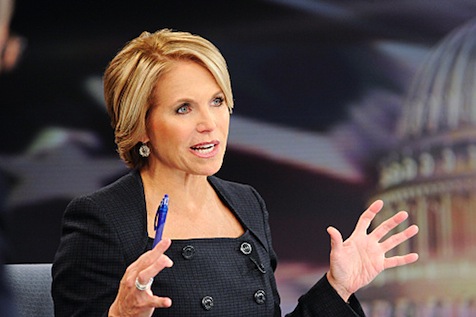 Katie Couric strikes one of her last poses for CBS news. CBS photo
By ED BARK
It takes little if any reading between the lines to deduce that CBS News isn't exactly thrilled about the way in which Katie Couric made her exit official.
"There's a lot to be proud of during Katie Couric's time at
Evening News
. CBS News, like Katie herself, is looking forward to the next chapter," the network said in a decidedly terse "CBS News Spokesperson" statement after its onetime mega-star
exclusively told People magazine
of her decision to leave the network.
Couric, whose
CBS Evening News
never got out of third place during her nearly five years as anchor, spilled her beans to
People
in an interview posted early Tuesday afternoon. "I have decided to step down from the
CBS Evening News
," she said in comments to the less than hard newsy magazine. "I'm really proud of the talented team on the
CBS Evening News
and the award-winning work we've been able to do in the past five years in addition to the reporting I've done for
60 Minutes
and
CBS Sunday Morning
. In making the decision to move on, I know the
Evening News
will be in great hands, but I am excited about the future."
Those great hands are expected to belong to
60 Minutes
correspondent
Scott Pelley
, who worked at D-FW stations KXAS-TV (Ch. 5) and then WFAA-TV (Ch. 8) before joining CBS News in 1989.
It's been widely rumored that Couric, 54, will next go the daytime talk show route, with ABC lately in a prime position to snag her according to the latest word on this front. She told
People
that her post-CBS future is "still being discussed," but "I am looking at a format that will allow me to engage in more multi-dimensional storytelling . . . I have a lot of areas of interest and I want to be able to full all of that."
Her pact with CBS expires on June 4th, and she'll supposedly be covering the royal wedding before taking a hike. That is, if CBS doesn't decide to ground her in light of Tuesday's chilly response to the
People
exclusive.
Announcements of such high-level departures almost always are handled by the network that's saying goodbye. This one clearly wasn't, indicating a frosty relationship between the two parties after Couric apparently decided against working for CBS in some other capacity.
Any Couric-hosted talk show likely wouldn't start until fall 2012, giving those hoping to fill Oprah Winfrey's impending void a full year to either solidify themselves or fail to make their marks.
Couric received a reported $15 million annual salary at CBS. Pelley's pay, should he be anointed, assuredly will far below that level. In the latest national Nielsen ratings, released Tuesday, the
CBS Evening News
averaged 5.7 million viewers for the week of April 18-22), again running well behind the
NBC Nightly News
(8.4 million viewers) and ABC's
World News
(7.7 million viewers).