The Emmy Awards' extraneous night, with artificial additives reigning over winners' speeches
09/23/13 09:14 AM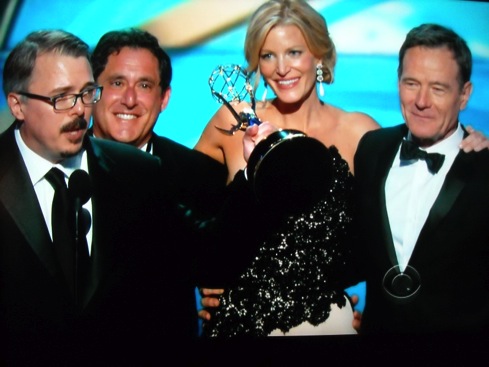 Well, they got this one right. Breaking Bad wins first best drama series Emmy. That's creator Vince Gilligan on the left.
Photo: Ed Bark
By ED BARK
@unclebarkycom on Twitter
The only plausible cure for the Emmys? How about a complete revamping of its format.
And the path of least resistance would be a more intimate, chatty awards ceremony in the mold of the Golden Globes. Far more time should be available for winners to actually speak their pieces rather than being "played off" (as a majority of them unceremoniously were). Serve dinner and drinks to loosen everyone up if necessary. The host or hosts of course can tell jokes whenever the spirit of the night moves them.
But please, no more spectacles in league with the one served up Sunday night. CBS' telecast of the 65th annual prime-time Emmy Awards, hosted by Neil Patrick Harris, repeatedly short-changed the night's winners to make room for two elongated dance numbers; five separate "In Memoriam" tributes that made also-rans of the year's other deceased; and another pair of filmed comedy bits that at best were spottily amusing.
Executive producer Ken Ehrlich also found a spot for Elton John to play and plug his new single, "Home Again." It was disguised as a tribute to another flamboyant piano player, the long-dead Liberace. He was the central figure in HBO's Emmy-winning
Behind the Candelabra
.
In another diversion, actor Don Cheadle somberly linked the assassination of President John F. Kennedy on Nov. 22, 1963 with The Beatles' first appearance on
The Ed Sullivan Show
just 80 days later. Carrie Underwood then took the stage to sing "Yesterday" -- again with all due solemnity. Neither had been born yet when these two events underscored television's nascent power to "unify" a nation.
Meanwhile, Larry Hagman was left out in the cold, save for a brief black-and-white photo amid all the other supposedly lesser deceased. But I've already
written that one to death
.
Ehrlich, who also has helmed numerous Grammy Awards shows, seemed intent at times on turning the Emmys into a Hollywood version of the Tonys. Harris, who's hosted the Tonys four times, may have been seen as just the man for this. But the Emmys honor TV. And the night was very notably short on clips from actual TV shows.
The Emmys ran 11 minutes past the appointed 10 p.m. (central) closing hour, but at least climaxed on a high note with AMC's
Breaking Bad
winning its first ever trophy as best drama series. ABC's
Modern Family
in contrast won for the fourth straight time as best comedy series on a night otherwise loaded with surprise victors.
The acting wins for Jeff Daniels (HBO's
The Newsroom
); Tony Hale (HBO's
Veep
); Merritt Wever (Showtime's
Nurse Jackie
); Laura Linney (Showtime's
The Big C
); Ellen Burstyn (USA's
Political Animals
); and James Cromwell (FX's
American Horror Story: Asylum
were all for the most part unexpected. But there's no problem here with that. Those of us who have whined over the years about Emmy's numbing predictability have no reason to complain about voters going out of the box this time around.
On the other hand, bypassing
Breaking Bad
again would have been truly egregious. And on that front, the Emmy voters came through with the absolute right choice. The penultimate episode of
Breaking Bad
had ended less than hour before creator Vince Gilligan and seemingly the show's entire cast gathered happily onstage to bask in victory.
For the record, HBO again led Sunday night's Emmy parade with seven statues, followed by a plucky Showtime's four. NBC and ABC both had three wins, the most for any broadcast network. (ABC benefited from the choreography Emmy being included for the first time on the main telecast after the second production number. Derek Hough won for his work on
Dancing with the Stars
.)
The 26 Emmys were distributed among 19 different shows, with only six winning more than one.
Behind the Candelabra
led all contenders with three, followed by two apiece for
Modern Family, Homeland, Veep, Breaking Bad
and Comedy Central's
The Colbert Report
, which dethroned Jon Stewart's
The Daily Show
after it had won 10 straight Emmys as TV's best variety series. (A complete list of Sunday's winners
is here
.)
Now it's time to very seriously consider junking all the extraneous adornments and slimming Emmy down into a show where the winners get much more of a chance to create their own ancillary TV moments. The Academy of Television Arts & Sciences also might want to consider including a career achievement Emmy that would be an equivalent of the Golden Globes' Cecil B. DeMille award. The most recent DeMille winner, Jodie Foster, turned in a bizarre but enduring out-of-body speech. That's what awards ceremonies are for, but you need a chance to get rolling rather than a preemptory "play-off."
Producer Ehrlich got his chance to turn the Emmy telecast into something of a vanity project that played to his primary music/dance interests. Emmy organizers hopefully will see what a mistake that was and by some miracle react accordingly.
Email comments or questions to:
unclebarky@verizon.net