New fall season: Up All Night gives NBC a very rare prime-time baby but no cigar
09/12/11 04:29 PM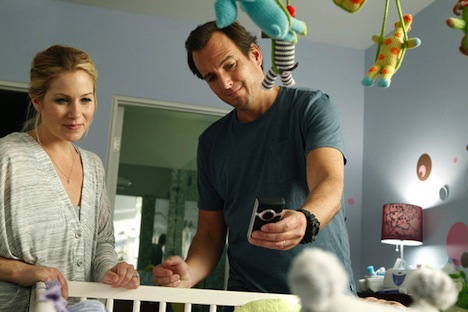 Christina Applegate & Will Arnett star in Up All Night. NBC photo
Premiering:
Wednesday, Sept. 14th at 9 p.m. (central) on NBC before moving to regular 7 p.m. slot
Starring:
Christina Applegate, Will Arnett, Maya Rudolph, Nick Cannon
Produced by:
Lorne Michaels, Emily Spivey
By ED BARK
NBC will try just about anything at this point, including a sitcom with an actual kid in it. And a newborn at that. Desperate networks call for desperate measures -- even desperate parents.
The Peacock for decades has made a concerted effort to keep its comedies childless. The onetime network of
The Cosby Show
instead put almost all of its eggs in the workplace -- or in the hands of singles who gathered in diners and coffee shops.
Seinfeld, Friends, Frasier, The Office, 30 Rock, Parks and Recreation
-- its denizens could be infantile but they never changed any diapers, read any report cards or chaperoned any proms.
Which probably makes
Up All Night
an overall bad fit for a network that just doesn't know what to do with a parental unit anymore.
ABC lately has excelled on Wednesday nights with two first-rate mom, dad and the kids sitcoms,
The Middle
and
Modern Family
. After a sneak preview following the season finale of
America's Got Talent
, NBC will lead off Wednesdays with Christina Applegate and Will Arnett as beleaguered first-time parents of a baby girl named Amy. It will be followed by the workplace comedy
Free Agents
. No need for the Peacock to go hog wild here.
Up All Night
also spends half of its time out of the home. Applegate's Reagan Brinkley toils for Maya Rudolph's talk show host Ava, a continuation of her
Saturday Night Live
send-ups of Oprah. Reagan's husband, Chris, for now is trying to be a stay-at-home dad.
The original pilot had Rudolph playing a batty public relations firm boss. But those portions were re-shot in the interest of giving her more opportunities to ply her old shtick as a talk show diva. In that respect, it's hardly coincidental that
SNL
creator Lorne Michaels is a co-executive producer of
Up All Night
, which also belatedly has added
America's Got Talent
host Nick Cannon as Ava's "wildly popular co-host." He's seen for just a few seconds in Wednesday's opener.
Arnett and Applegate look convincingly worn down during their maiden voyages with cute little Amy. But
Up All Night
is a messy diaper in terms of what to do and where to go long-term. The revamped but still unwieldy first episode is pretty much all over the place, with Chris panicked in a grocery store, Reagan proposing a women's health week (with a badly backfiring "cleansing" segment), nobody getting any sleep and everybody winding up drunk at a karaoke bar.
A cute little closing segment isn't enough to offset all the forced comedy preceding it. And in the real world of a Wednesday, 7 p.m. slot,
Up All Night
has no realistic chance to last many future nights in competition with
The Middle, CBS' Survivor: South Pacific and Fox's big ballyhooed The X Factor.

GRADE: C