HBO's Family Tree: a sturdy oak of a comedy
05/09/13 01:45 PM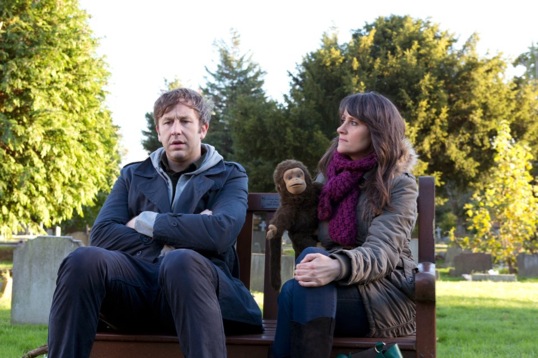 Chris O'Dowd, Nina Conti & cheeky monkey of Family Tree. HBO photo
Premiering:
Sunday, May 12th at 9:30 p.m. (central) on HBO
Starring:
Chris O'Dowd, Nina Conti, Tom Bennett, Michael McKean, Lisa Palfrey, Jim Piddock
Produced by:
Christopher Guest, Jim Piddock
By ED BARK
@unclebarkycom
He's the king of the feature film "mockumentary," with credits including
This Is Spinal Tap, Best of Show
and
A Mighty Wind
. Now Christopher Guest deftly down-shifts to the small-screen for the half-hour comedy
Family Tree
Then again, "It's Not TV, it's HBO," gone but not forgotten after being used for 13 years until 2009. As the director of all eight Season 1 episodes, Guest has fashioned a distinctly unique premise while also latching onto the core storyline of Jodie Foster's 2011 film
The Beaver
. That's the one where Mel Gibson played a depressed man who began communicating via a hand puppet after his wife tossed him out.
In this case, though, be our guest and filch a little. Because
Family Tree
(
premiering Sunday, May 12th at 9:30 p.m. central
) has so much else going for it beyond the acerbic stuffed monkey long used by the central character's sister as her "inner voice." Even though the unnamed imp of an ape is quite the scene-stealer.
OK, let's further explain. Thirty-year-old Tom Chadwick (Chris O'Dowd) is a jobless British bloke whose longtime girlfriend sacked him half a year ago. In the first episode's establishing scene, Tom, sister Bea (real-life ventriloquist Nina Conti) and her monkey (carefully strapped in a car seat) are heading to their father Keith's (Michael McKean) house after he summons them.
Tom's and Bea's great aunt Victoria has recently died, they learn. And she left him a musty old box filled with family artifacts. These include a framed picture of an imposing bearded man in uniform who possibly might be Tom's great grandfather, Harry Chadwick. Having little better to do, he pays a visit to friendly Glenn Pfister (co-executive producer Jim Piddock), owner of Pfister's Bits & Bobs. And so the detective work begins, with Tom hoping to discover that his ancestors amounted to something more than he's been so far.
Along on some of their jaunts is Tom's best friend, Pete Stupples (Tom Bennett), a doofus live wire who works in a zoo and enjoys setting up blind dates that never work out. Four episodes were sent for review, and the second is flat-out hilarious. Subtitled "Treading the Boards," it discloses the true identity of Tom's great grandfather in a manner that few but Guest could both envision and pull off.
The first half of
Family Tree
is set in the U.K., with Episodes 5 through 8 migrating to the United States after Tom discovers more about his ancestors. HBO publicity materials say that "many of the actors on the show who are already known to viewers from Guest's feature films" will pop up in the second batch of half-hours.
It'd be a shame, though, to lose the other Chadwicks -- let alone Pete -- in the trip across the pond. McKean, a veteran of Guest's feature films, is a big and very funny part of these proceedings, particularly when he's loudly enjoying fake British TV series DVDs. (Tom and Pete prefer TV drama series, with a truly inspired sendup coming in Episode 4.)
McKean's character also has a latter day Polish wife named Luba (Lisa Palfrey), whose cooking, diction and odd tastes are sprinkled into the first three episodes before being poured on in Episode 4.
Finally, let's not forget Bea and her monkey, whose steady stream of insult-laced truth-telling invariably is not well-received by its targets. At the very least, they have to be presenters at this year's prime-time Emmy ceremony. That surely would be memorable, even if Oscar host Seth MacFarlane recently set that stage by mouthing Ted the stuffed bear from his hit comedy movie
Ted
.
Family Tree
may have too generic a title, but there's otherwise nothing commonplace here. Potentially the best new comedy series of this season arrives on the eve of the Big Four broadcast networks trotting out their latest fall schedules after another season-long batch of sitcom clinkers.
"This is not a show that would work on a traditional network. HBO is the perfect place for it," Guest says in the accompanying HBO materials.
That may be a little self-serving on HBO's part, even though it almost goes without saying in contemporary TV times.
Family Tree
is sturdily planted on a network that knows enough to let Guest go out on a limb without sawing any of them off from out under him.
GRADE:
A-minus
Email comments or questions to:
unclebarky@verizon.net