The Jewish Americans: a great first impression
01/09/08 01:49 PM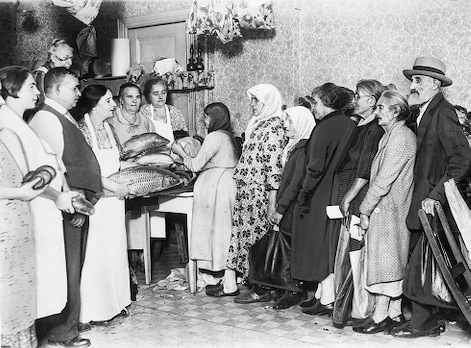 Early Jewish immigrants gather at a Lower East Side fish market.
By ED BARK
Ken Burns gets most of the ink and acclaim among PBS documentarians, but the David Grubin catalogue otherwise is second to none.
His six-hour
The Jewish Americans
, premiering on Wednesday, Jan. 9 at 8 p.m. (central), looks like another masterpiece of visual and verbal storytelling. And that's judging only from its first two hours. The remaining chapters will air on successive Wednesdays (Jan. 16 and 23), with PBS again the fortunate beneficiary.
Grubin's previous work for public television includes
Napoleon, The Secret Life of the Brain, Abraham and Mary Lincoln: A House Divided
and multi-part biographies of Presidents Lyndon Johnson, Harry S Truman, Franklin Delano Roosevelt and Theodore Roosevelt under the esteemed
American Experience
banner.
His productions invariably are textured quilts in an increasingly threadbare genre. Grubin doesn't get to go on and on like Burns sometimes does, and perhaps he wouldn't care to anyway. But his attention to detail is extraordinary nonetheless. You come away richer for the very human stories he tells.
The Jewish Americans
is another textbook example, although it certainly never seems like a textbook.
Wednesday's opener, divided into segments titled "They Came to Stay" and "A World of Their Own," charts the dawning of Jewish immigration to America in the 1700s. They mostly came to New York, eventually massing on the city's Lower East Side for a crowded, culture-rich existence that also was marked by crime, disease and unsafe, exploitive "sweat shops."
The worst factory fire in the city's history, in 1911 at the Triangle Shirtwaist company, killed 146 young Jewish workers, 123 of them women. A reporter at the scene witnessed many of them jumping to their deaths as the fire consumed the top three floors of a 10-story building.
"The thud of a speeding, living body on a stone sidewalk," the reporter wrote. "Thud, dead. Thud, dead. Thud, dead. Thud, dead. Sixty-two thud, deads."
Interviewees in Wednesday night's premiere include Supreme Court Justice Ruth Bader Ginsburg, playwright Tony Kushner, comedian Sid Caesar, producer/actor Carl Reiner and former
Picket Fences
co-star Fyvush Finkel, who joyously recalls the exploits of America's first Yiddish theater star, Boris Thomashefsky.
It all makes for a very rich broth, with much more to come on the next two Wednesdays.
Grade:
A (for chapter one)