New infusions on Idol and The Voice vs. same-old, same-old on DWTS
09/18/12 08:22 AM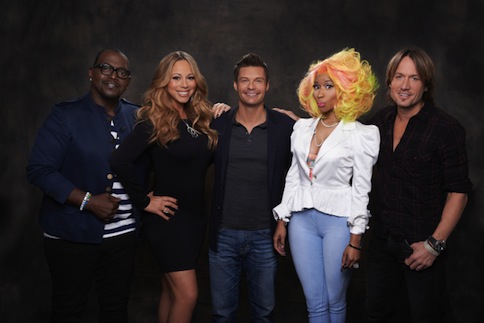 Another new look is coming for American Idol. Fox photo
By ED BARK
@unclebarkycom
A spate of new judges for Fox's
American Idol
-- and NBC's
The Voice
-- raises questions of high ratings import for these top dog talent competitions and others.
Does familiarity breed contempt? Or would a majority of fans rather see the old familiars in place?
Idol
, returning for a 12th season in January, has now named Niki Minaj and Keith Urban to join fellow newcomer Mariah Carey and charter judge Randy Jackson, who got a last-minute stay of execution. Ryan Seacrest remains as host, a position he's held from the start.
On Monday,
The Voice
announced that Usher and Shakira will be joining holdovers Adam Levine and Blake Shelton as judges for the show's midseason fourth edition. Christina Aguilera and Ceelo Green supposedly will return for the next "cycle" after busy careers and commitments required them to take a break. As of now, Carson Daly is still the host.
Fox's
The X Factor
also juggled judges after just its first season, with the ongoing new mix of Britney Spears and Demi Lovato in place of the deposed Paul Abdul and Nicole Scherzinger. Two new hosts also will be named when the show goes live; Khloe Kardashian is strongly rumored to be one of them.
NBC's
America's Got Talent
, which just concluded its latest season after braving Howard Stern as a judge, apparently will be losing Sharon Osbourne if she follows through on statements that she's not coming back. The show's original three judges were Piers Morgan, David Hasselhoff and Brandy Norwood, all of whom have left. The show has had three hosts -- Regis Philbin, Jerry Springer and incumbent Nick Cannon.
That leaves only ABC's
Dancing with the Stars
basically unchanged since its inception. Charter judges Len Goodman, Carrie Ann Inaba and Bruno Tonioli are all returning Monday (Sept. 24th) for the show's 15th edition, an "All-Star" mix of previous winners and fan favorites. Tom Bergeron likewise is back as the principal host, with Brooke Burke Charvet logging her sixth edition as his Robin. Bergeron also has teamed with Samantha Harris, Drew Lachey and Lisa Canning.
DWTS
also retains a sizable number of familiar pro dancing partners, most notably Cheryl Burke, Maksim Chmerkovskiy, Derek Hough and Kym Johnson.
In a different "reality competition" genre, both CBS'
Survivor
and
The Amazing Race
have kept hosts Jeff Probst and Phil Keoghan in place for their entire lengthy runs. All seven shows averaged more than 10 million viewers per episode last season.
DWTS
continues to rank No. 2, behind only
Idol
, in the prime-time ratings for these seven competitions. But its overall audience also is the oldest of the bunch. And networks tend to view older viewers with at best a frosty glare.
The prevailing network wisdom at the moment is that annual or at least semi-annual shakeups are a means to revitalize rather than tear down a show. But
Idol
slightly stopped its downward ratings slide only during its first year with Steven Tyler and Jennifer Lopez as judges. Last season ended up being a sharp drop-off, with
Idol
at last relinquishing its No. 1 spot in prime-time to NBC's
Sunday Night Football
in both the total viewer and 18-to-49 Nielsen ratings.
Prediction: Only
DWTS
will show an overall audience increase this season -- mainly because of its All-Star trappings.
Idol
will dip anew after the initial curiosity, although the interaction among country strong Urban and divas Minaj/Carey literally could be an audience-grabbing x-factor provided that Jackson doesn't say "Yo yo yo" too much.
At some point,
DWTS
will have to change judges and dance with some new ones. But with the comparative chaos on rival competition shows, same-old, same-old still isn't a bad way to go.