A&E's Longmire stands tall for straight arrow law enforcement
05/31/12 11:22 AM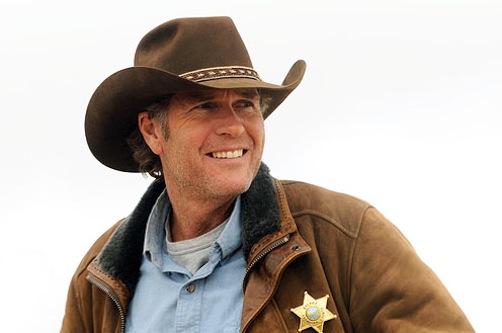 Robert Taylor suits up as leading man of Longmire. A&E photo
Premiering:
Sunday, June 3rd at 9 p.m. (central) on A&E
Starring:
Robert Taylor, Katee Sackhoff, Lou Diamond Phillips, Bailey Chase, Cassidy Freeman, Adam Bartley
Produced by:
Greer Shephard, Michael M. Robin, Hunt Baldwin, John Coveny, Christopher Chulack
By ED BARK
@unclebarkycom
Still renouncing cell phones but somehow missing a Marlboro, Sheriff Walt Longmire strides through Big Sky Country with an elemental resolve and a hurtin' heart.
He's envisioned by the producers of A&E's new
Longmire
as "an antidote to the flood of anti-heroes" on screens large and small. And as played by Australian actor Robert Taylor, the guy's got just enough presence, wit and vulnerability to make the sale. Being a throwback lately is making a comeback, with the History network still basking in the boffo ratings for its turn-back-the-clock
Hatfields & McCoys
miniseries. So maybe there's no time like the present for a modern-day Matt Dillon.
A&E has ordered 10 episodes of this Wyoming-set crime drama, adapted from the string of
Walt Longmire Mysteries
by novelist Craig Johnson. With
Mad Man, Game of Thrones
and
The Killing
winding down their latest runs, it arrives just in time to establish a new Sunday night viewing habit. Oh wait,
True Blood
will be back on Sunday, June 10th. It's always something on the week's premier TV night.
Longmire is first seen in the shower, the better to show off his two deep back scars and a lingering reluctance to get the day going. His newest deputy, Vic Moretti (Katee Sackhoff from
Battlestar Galactica
), keeps leaving phone messages about hating to trek to the scene of a crime on her day off. He pays her no mind and is brewing his coffee until being informed, "We got a dead body."
Longmire isn't lazy. But he's still grieving the loss of his wife, and this is the one-year anniversary of her death. Law enforcement has been a drag without her, but our hero is gradually coming out of it. The process is accelerated after he learns that a deputy he doesn't much like (Bailey Chase as Branch Connally) has decided to run for sheriff in the next election.
"You haven't exactly been on top of your game for the last year," Connally tells him.
Series regulars also include Lou Diamond Phillips as longtime friend/confidant Henry Standing Bear and Cassidy Freeman in the role of Longmire's attorney daughter, Cady. A corpulent deputy known as "The Ferg" (Adam Bartley) is also in the mix, but not much of a factor in Sunday's opener.
The crime-solving is decidedly low-tech, although Longmire isn't nearly as primitively tough or short-spoken as Chuck Norris's Ranger Cordell Walker.
Taylor, reminiscent in appearance and tone to a younger Lee Majors, seems to have a pretty firm grip on what's required of his character. Not too hot, not too cold but steering clear of being just plain lukewarm. He's a man of relatively few words without being a stiff. And in Sunday night's signature scene, Taylor poignantly communicates the pain he feels in breaking the news to a wife whose husband has just been found murdered.
Phillips looks as though he'll be a sturdy bridge between two cultures. Some might see him as a contemporary Tonto, even though he's mostly a stand-alone bartender who gotten used to helping Longmire in a pinch.
"I would like to propose an OIT," Standing Bear says after Longmire makes amends for suspecting him of running an illicit operation.
""OIT?"
"Old Indian Trick."
Longmire laughs, and somehow this works.
At some point down the road, there's also the possibility of more than a platonic partnership between Longmire and Deputy Vic. But for now it's all business -- with a little badinage thrown in.
Longmire
, with spacious New Mexico standing in for Wyoming as the series' production base, makes a solid overall first impression without rising to the level of critical huzzahs. It likely will do very well for A&E, which needs a palate-cleanser to offset low-brow flotsam such as
Flipped Off, Hoarders, Billy the Exterminator, Parking Wars, Monster-In-Laws
and
Dog the Bounty Hunter
, which at last is being canceled.
Walt Longmire wouldn't be likely to waste his time with any of the above. Instead he'd have a few brews (Rainier is his lifelong brand) while watching Tom Selleck in a
Jesse Stone
movie or maybe a
Law & Order
marathon. Most definitely on an old-fashiond TV screen, not a laptop.
GRADE:
B