ABC's Body of Proof has a familiar, off-putting stench
03/28/11 11:05 AM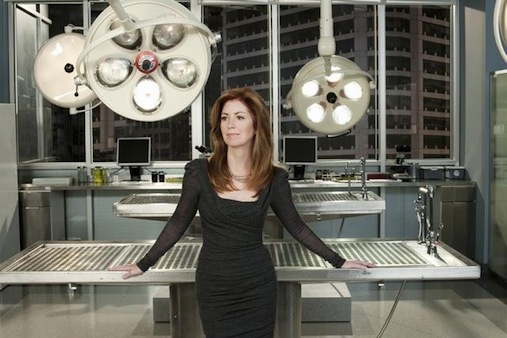 Dana Delany awaits another corpse in Body of Proof. ABC photo
Premiering:
Tuesday, March 29th at 9 p.m. (central) on ABC
Starring:
Dana Delany, Nicholas Bishop, Jeri Ryan, John Carroll Lynch, Sonja Sohn, Geoffrey Arend, Windell D. Middlebrooks
Produced by:
Christopher Murphey, Matthew Gross, Sunil Nayar
By ED BARK
Rewind to the coltish actress of ABC's distinctive and daring
China Beach
, which ran from 1988-'91 and nabbed her two best actress Emmy Awards as a field nurse during the Vietnam war.
A first-rate body of work seemed like a strong future possibility. But two decades later, here comes ABC's
Body of Proof
. Or to put it another way -- sigh, it's another Dana Delany series.
Originally announced as a Friday night entry on the network's fall schedule,
Body of Proof
instead is supplanting
Detroit 1-8-7
, which is iffy for next fall. Delany plays Dr. Megan Hunt, a self-aborbed, disagreeable Philadelphia neurosurgeon who now has brought those traits to the medical examiner field after a car wreck rendered her "world-renowned" operating hands inoperative.
"You can't kill somebody if they're already dead," she snaps.
Quincy PMS
? Surely someone somewhere in the wide world of TV criticism has already used that line. But if not . . .
Tuesday's premiere and next week's episode both have Hunt on the scent of a murdered young woman. This has become a stock setup in the "procedural crime" genre, with the idea that an audience's sympathy is easier earned by going this route. Male corpses or torture victims just don't seem to have that built-in empathy going for them in prime-time's wide world of crime-solving.
Hunt of course clashes with her superiors and co-workers, principally John Carroll Lynch in yet another turn as a no-nonsense, old school detective (this time named Bud Morris). Their overall boss is Dr. Kate Murphey, superfluously played by former
Star Trek: Voyager
fave rave Jeri Ryan in the first two episodes available for review.
Body of Proof
also includes Windell D. Middlebrooks as a constantly exasperated deputy chief medical examiner. But it's basically impossible to divorce him from his far more familiar role as the highly opinionated Miller High Life delivery man with an aversion to snooty people drinking his suds.
Another regular character, Peter Dunlop (Nicholas Bishop), is both Hunt's partner and ad hoc Dr. Phil when it comes to giving advice about her estranged 12-year-old daughter, Lacey (recurring guest star Mary Mouser).
Dunlop is quick on the verbal trigger when Hunt considers buying an expensive handbag for Lacey's birthday. "If you really want to connect with her, give her something that comes from your heart," he earnestly counsels. "Nobody gives a damn about a handbag." Arrrgh.
The series otherwise consists of scenes in which the coppers bluntly accuse someone of being a murderer before moving on to someone else they bluntly accuse of being a murderer. Deductions are based on what regularly seem to be far-fetched assumptions. Such as Hunt deducing that a suspect most assuredly must have had his vasectomy from the sprawling city's finest.
"You're the No. 1 ball-cutter in all of Philadelphia," she tells him face-to-face.
"I thought you held that title," he retorts good-naturedly.
Lots of drug names and medical disorders also are thrown into the scripts. And if you play a drinking game to the tune of piano or acoustic interludes, you'll be sloshed long before the weekly culprit gets cuffed.
Next week's episode likewise is a groaner, with Hunt called in on her day off to investigate the senseless motel shooting of a dedicated female social worker. Delany somehow summons the wherewithal to recite the line that she planned to spend down time with "a new book, an old Bordeaux and" -- wait for it -- "some stinky cheese."
Please stop.
Body of Proof
for the most part plays dead within the realm of plausible crime-solving, interesting characters and assumptions that Delany's once-promising career would do more than wither on this vine. Looking for a strong hour of drama starring an actress whose career
has
blossomed? Go no further than Tuesday's competing
The Good Wife
on CBS, with Julianna Margulies better than ever.
GRADE:
D