God is the Bigger Elvis is its own form of Graceland
04/04/12 06:51 PM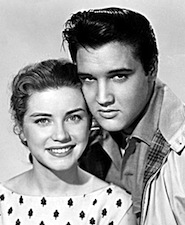 Dolores Hart: then with Elvis and now with God. HBO photos
By ED BARK
Nuns are all right by me. They almost always have been.
My first grade teacher was a Dominican sister. Save for the 6th grade, it was an uninterrupted string of nuns.
My late father, during his tenure as Home and School president, would regularly visit the nearby nuns' residence to discuss strategies. He'd sometimes take me with him. It was kinda cool.
I served early morning Mass in a convent for a while. The nun in charge knew how tough those cold Racine, Wisconsin winter wakeup calls could be. So she always gave us little presents on various holidays. And pretty much looked the other way when we snuck sips of the leftover wine.
The person who convinced me that I needed to write for my high school newspaper was a nun. She had an incredible influence, and I'll never forget Sister Sean. And one of my cousins was Sister Shirley. She was always lots of fun while on leave from wherever she'd been stationed. And she loved sports.
So that's the context preceding this brief review of
God Is The Bigger Elvis
, the Oscar-nominated short documentary film (just 40 minutes) charting the transformation of Dolores Hart from movie star to the current Mother Prioress of the Abbey of Regina Laudis in Bethlehem, Connecticut. It has its TV premiere on
Thursday, April 5th at 7 p.m. (central) on HBO.
Some of the nuns of my youth could be cranky, and even a little mean at times. But most of them were benevolent "real people" who enjoyed a good joke and tried to put us on the straight and narrow without being all stuffy about it. Kind of like Ingrid Bergman in
The Bells of St. Mary's
.
Dolores Hart, who received Elvis Presley's first on-screen kiss as a 19-year-old in 1957's
Loving You
, is the closest we have to a real-life Ingrid Bergman. She was still a knockout upon joining the sequestered Benedictine order in 1963. And at age 73 she continues to radiate an inner and outer beauty, whether asking her parakeet Toby for a kiss or giving the film its title by telling director/producer Rebecca Cammisa, "The abbey was like a grace of God that just entered my life in a way that was totally unexpected. And God was the vehicle. He was the bigger Elvis."
Hart also co-starred with Elvis in
King Creole
. Her other film credits include
Where the Boys Are, Wild Is the Wind
and
Come Fly With Me
, her last movie before quitting cold turkey.
Hart was engaged to architect Don Robinson when she shocked both her fiance and Hollywood by deciding to enter the abbey. She had first visited Regina Laudis in 1959 after feeling exhausted and unfulfilled during her run in Broadway's
The Pleasure of His Company
.
Robinson, who's newly interviewed for this film, recalls the moment she told him of her decision to find God amid the abbey's kindred spirits.
"Every part of my love for her was destroyed in a matter of seconds," he says. But Robinson never really got over Dolores Hart, and still visits her residence annually.
"'I've come to the abbey for 47 years," he says. "I think that says something."
God is the Bigger Elvis
also includes interviews with other nuns and vintage footage of earlier times at Regina Laudis. As Mother Prioress, it is now Hart's responsibility to counsel wavering young novices who are struggling with their new surroundings -- as she once did.
"It's going to take time," she tells one of the rookies who seeks her comforting advice. "And you have to trust that your heart grows and can take on the work of becoming a person of Christ in this monastery."
The film has the perfect Hollywood ending. Don has come to visit, and the two of them are still fond of one another. They hold hands and walk along an abbey pathway. And they briefly kiss on the lips before he says, "Love you," and she says "Love you, too."
When he leaves -- after promising to call -- Mother Prioress Dolores Hart is both teary-eyed and contemplative. She folds her hands and says a short silent prayer before in effect exiting stage left.
Yes, nuns are good people. And this is an effecting short film about life in the chaste lane.
GRADE:
A (in part because anything less just wouldn't seem right.)