Reviewing Season 2 of House of Cards (after a full 13-episode immersion)
02/17/14 11:53 AM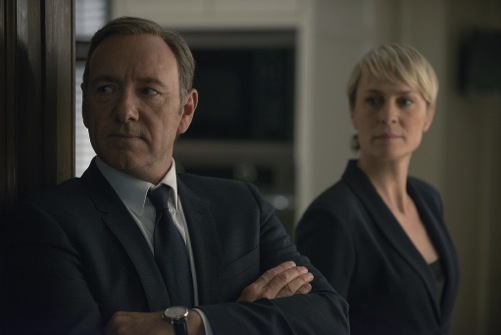 Sinister force: Kevin Spacey and Robin Wright in House of Cards.
Netflix photo
By ED BARK
@unclebarkycom on Twitter
Television's preeminent power-seekers got exactly what they deserved over the weekend -- power-watching.
OK, Netflix technically isn't TV. It's a "streaming media" outlet that nonetheless plays very well on home screens. And although no viewing figures are available (because Netflix still doesn't provide them), it's a safe bet that lots of people already have devoured the entire Season 2 of
House of Cards
after all 13 episodes became available on Valentine's Day.
I was one of them, opting to watch from start to finish rather than review
House of Cards
ahead of time based on seeing the first four hours via Netflix's media site. Besides, a signed confidentiality agreement was required in return for the "privilege" of basically promoting the series. One had to solemnly pledge in writing not to give away any "spoilers." That seems a bit too much like having to dispense a urine sample. What, we otherwise can't be trusted? Sorry, but no thanks.
No worries, though. There won't be any big reveals here because that's essentially unfair to readers who haven't yet seen for themselves. You've perhaps heard, though. There's a major jolt in Episode 1 of Season 2. And it cements Kevin Spacey's Francis "Frank" Underwood as a far more heinous evil-doer than Bryan Cranston's Walter White on
Breaking Bad
. At least "Mr. White" was looking out for his family. Underwood and his equally willful wife, Claire (Robin Wright), are solely consumed with amorally dividing and conquering. And when everything is clicking for them, it's time for a shared cigarette.
Although he's connived and schemed his way to within a heartbeat of the presidency, Frank isn't officially sworn in as the veep until the start of Episode 2. This allows him to skulk around without a Secret Service escort. And yes, there are still a few fires to put out before his ascendancy can be seamless.
Claire also has some unfinished business. Welcome to Cruella de Vil-ville when she informs a recalcitrant former ally, "I'm willing to let your child wither and die inside of you if that's what's required."
Post- jaw drop, Episode 1 ends just perfectly. Frank, who hasn't talked directly to viewers yet, finally throws a haymaker through the "Fourth Wall" by noting that "for those of us climbing to the top of the food chain, there can be no mercy. There is but one law. Hunt or be hunted. Welcome back."
A close-up of his new pair of initialed cufflinks, a birthday gift from Frank's loyal chauffeur, provides optimum closure. How very aptly he's named.
House of Cards
relentlessly pushes the Underwoods' agenda -- to wrest the presidency from Garrett Walker (Michael Gill). The President and First Lady Tricia Walker (Joanna Going) in time become more than stick figures. But he's too often gratingly ineffectual in the early going before getting something of a fix on Frank -- for a while at least.
Season 2 also greatly fleshes out billionaire businessman Raymond Tusk (fine work by Gerald McRaney), who has the ear of the President until Frank mucks things up. A comparatively peripheral character in Season 1, Tusk becomes Frank's principal adversary in an escalating, no-holds barred battle. Some of this isn't all that easily grasped. Still, the ins and outs of Chinese trade policy and money laundering eventually come out in the wash while the two sides blackmail and extort each other.
A major new character, Jackie Sharp (Molly Parker), is hand-picked by Frank to be the new House Majority Whip. He appreciates her "ruthless pragmatism," which doesn't make Sharp particularly unique among all the scorpions inhabiting Congress. Our real-life elected officials already are held in depressingly low esteem.
House of Cards
is a full house on that score. Hell, even the AARP can be easily bought off, even if this is only a brief side reference in Episode 4.
Journalistic crusaders are still hoping to reel the Underwoods in. Let's just say they're up against very hard targets who end up having their hands fuller with the aforementioned Tusk.
Wright's Claire Underwood remains icily fixed on the ultimate prize, but on occasion falls victim to slight onsets of semi-sympathetic vulnerability. But the most affecting character in
House of Cards
turns out to be hole-in-the-wall barbecue joint owner Freddy Armstrong (Reg. E. Cathey), whose ribs delight Frank every time he stops by.
Freddy's back story and current entanglements are fleshed out in a terrific Episode 9 directed by Jodie Foster. Will the uncommon bond he has with Frank survive the fallout?
A number of real-life TV journalists again happily traipse through
House of Cards
in mostly cameo appearances. Rachel Maddow, Sean Hannity, Candy Crowley, Chris Matthews, Chris Hayes, Major Garrett and Morley Safer are all present and accounted for. But the biggest splash by far is from Ashleigh Banfield, who turns out to be quite good at playing herself during an extended and pivotal Episode 4 interview with Claire Underwood.
The opening theme music for
House of Cards
remains in place and note-perfect in both its accelerations and dour intonations. It's been said that the Underwoods and their supporting players are thoroughly joyless in their pursuits. "All you can offer me is Ethics (meaning the committee), which nobody wants," one congressional veteran tellingly tells another during their clash for the Majority Whip post.
But while not a bundle of joy, Frank Underwood clearly takes considerable delight in his machinations. They can be vexing and stressful to be sure. But no one's having a better time than him when he says in Episode 3, "There are two types of vice presidents -- doormats and matadors. Which do you think I intend to be?"
At the close of Episode 4, Frank even breaks into a little song at his wife's request. "Oh Polly, pretty Polly" it goes. But she never asks for a cracker.
Season 2 also works in an Edward Snowden-type cyber avenger, a three-way sex scene whose participants might surprise you and the continued tribulations of Frank's very tightly wound chief of staff, Douglas Stamper (Michael Kelly).
Not everything meshes perfectly. But far more often than not,
House of Cards
remains an absorbing tale of high-level government dysfunction populated by double-dealers who hold their aces under the table. Netflix already has ordered a Season 3. And as you'll see at the end of this one, Frank and Claire remain very much all in.
GRADE:
B+
Email comments or questions to:
unclebarky@verizon.net