The Office "Baby Event" struggles to be a special delivery
03/04/10 03:19 PM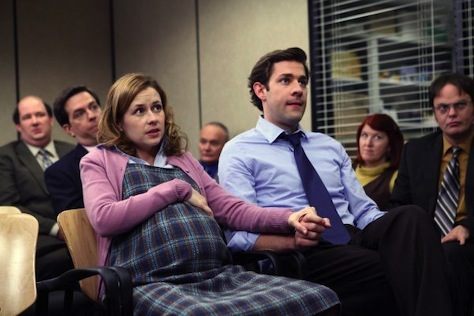 Expectant parents Pam and Jim play mind games. NBC photo
By ED BARK
"The One-Hour
Office
Baby Event," as NBC keeps billing it, seems more than a little too sitcom-y for a series of this caliber.
But most long-running comedies eventually get around to either having a wedding or a baby. Jim Halpert and Pam Beesly (John Krasinski, Jenna Fischer) have already been married on
The Office
, so why not go for a twofer.
Otherwise subtitled "The Delivery Part 1 and 2," this one-hour episode (
Thursday, March 4th, 8 p.m. central
) tends to be a little flat and, well, lifeless. The shark hasn't been jumped yet, but a few piranhas might be swimming in the distance.
NBC doesn't want critics to ruin anything for viewers, so the sex of the baby won't be revealed here. Nor will the particulars of a case of mistaken identity that leaves Pam with one of those priceless mortified looks on her face.
Through it all, Dunder Mifflin boss Michael Scott (Steve Carell) as always makes an ass of himself, whether trying to act as a matchmaker or racing off to the hospital with the expectant couple in tow.
Carell can still mug and improvise as few can. But the character is getting stretched thin if not threadbare. And Michael's second lieutenant, Dwight Schrute (Rainn Wilson), is getting creepy to the point of being almost totally uncomfortable to watch.
"I need a baby. I'll never out-sell Jim and Pam without one," Schrute frets before propositioning the always desperate Angela Martin (Angela Kinsey). He later diverts his energies to attack the kitchen cupboard mold in Pam and Jim's kitchen. Symbolic perhaps?
Now in its sixth season,
The Office
already has made about 10 times as many episodes as the BBC original, which called it a day after 12 plus a Christmas special. At some point that takes its toll. Even the very idea of a "Baby Event" is evidence of that.
Maybe a funeral in the fairly near future should be the next step. You've got to know when to fold 'em, and
The Office
already has gone from a Royal Flush to three of a kind.