Penny Dreadful gives Showtime a promising horror story
05/08/14 12:50 PM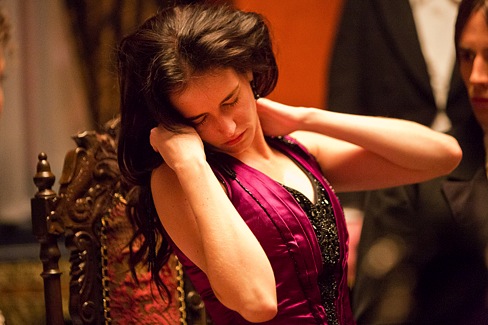 Trancing with the stars. Eva Green of Penny Dreadful. Showtime photo
Premiering:
Sunday, May 11th at 9 p.m. (central) on Showtime
Starring:
Eva Green, Josh Hartnett, Timothy Dalton, Harry Treadaway, Reeve Carney, Billie Piper, Danny Sapani, Rory Kinnear, Alex Price, Simon Russell Beale
Produced by:
John Logan, Pippa Harris, Sam Mendes
By ED BARK
@unclebarkycom on Twitter
Shiver, shudder, quiver, quaver. Sunday spooky Sunday is creeping up.
NBC's
two-part re-do of Rosemary's Baby
has a good deal more gore than the original movie. But in the realm of dark, devilish make-believe, it's something of a pussycat compared to Showtime's bloody, bludgeoning but pulse-stirring
Penny Dreadful
, which also launches on the night of May 11th. (Note that WGN America's ongoing
Salem
is likewise a Sunday night newcomer that's not for the squeamish.)
Showtime's "free view" weekend also allows non-subscribers to get a first look at
Penny Dreadful
, whose title refers not to an anti-heroine but to the pulp publications of Victorian England. Publications with cover come-ons such as "Varney the Vampire" or "Wagner the Wehr-Wolf" or the future Broadway smash "Sweeney Todd."
The serialized yarns spanned multiple editions. Showtime's
Penny Dreadful
hopes to endure for multiple seasons with its tales of famous characters of literature (Dr. Victor Frankenstein, Dorian Gray) mixed in with newly minted troubled souls.
Principal among them is Vanessa Ives (Eva Green), a steely, cryptic and very comely woman of mystery whose primary hookup is the esteemed Sir Malcolm Murray (former James Bond movie star Timothy Dalton in a graying beard). His daughter was abducted by some sort of creature from the netherworld. So in Sunday's early going, Vanessa and Sir Malcolm enlist the quick-trigger help of jaunty Ethan Chandler (Josh Hartnett), star of a Buffalo Bill-ish Wild West Show.
"Do not be amazed at anything you see. And don't hesitate," Ethan is informed before the three of them plunge into an ultra-gruesome underground gaggle of sub-human creatures. Much mayhem later, one of the malformed is on an autopsy table, where mysterious Egyptian hieroglyphics are discovered under his skin. Perhaps they foretell some sort of Apocalypse. To be sure they're not an ad for happy hour at Ye Olde London Rathskeller.
Meanwhile, a new series of murders has sent 1891 Victorian England into another typical tizzy. "Is Jack Back?" a newspaper headline screams. "Family Ripped in East End Carnage."
Actually, Jack came back Monday in Fox's
24: Live Another Day
. But we kid
Penny Dreadful
, which gradually starts clicking during the first two episodes sent for review.
Each hour ends with a genuine jolt, particularly the second one. Episode 2 also includes a show-stopping, deep-throated trance on the part of Vanessa during a party thrown by a very lively supporting character named Ferdinand Lyle (Simon Russell Beale). Actress Green literally throws herself into this lengthy, freaky sequence, which even creeps out the kinky Dorian Gray (Reeve Carney) while Sir Malcolm repeatedly is shown trying to keep his fury in check.
Penny Dreadful
also works in a nifty character named Brona Croft (Billie Piper). She's a lippy prostitute whose relationship with Ethan is progressing nicely by the end of Episode 2. It concludes with Rory Kinnear's character, billed in publicity materials as "To Be Disclosed," making his entrance in a very big and unforgettable way.
The series seems to have its feet more firmly on the ground at that point after some initial bouts with over-oration and lines such as "You have the soul of a poet." Creator John Logan, in a cover letter sent with publicity materials, says he's deduced that "for something to be meaningful it has to be true. If you can make it true for an audience, you can make it frightening, you can make it provocative, you can make it sexy, and funny, and moving."
Logan's mission isn't yet accomplished, although
Penny Dreadful
does seem to be heading toward his promised land. Some of its mumbo jumbo may hurt your head, but the last words of Episode 2 are precisely on point. They whet the appetite for more, more. We'll see how it all comes out in the bloody wash.
GRADE:
B+
Email comments or questions to:
unclebarky@verizon.net