HBO's True Detective 2 keeps hating on itself
06/17/15 09:49 AM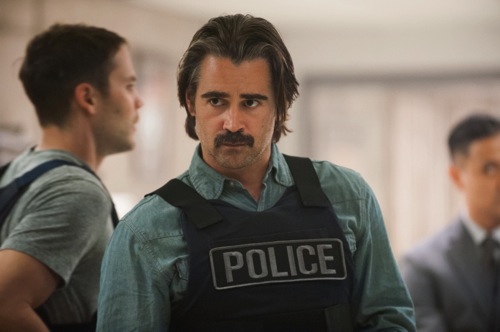 Colin Farrell has lots on his tortured mind in the new True Detective.
HBO photo
Premiering:
Sunday, June 21st at 8 p.m. (central) on HBO
Starring:
Colin Ferrell, Vince Vaughn, Rachel McAdams, Taylor Kitsch, Kelly Reilly
Produced by:
Nic Pizzolatto, Steve Golin, Scott Stephens
By ED BARK
@unclebarkycom on Twitter
The thrill of discovery, the agony of the followup act.
Season 1 of HBO's
True Detective
enthralled from the start, with Matthew McConaughey killing it and Woody Harrelson gamely keeping pace.
Season 2, which premieres on Sunday, June 21st, is relentless in both its darkness and pretensions. The all-new principal characters, played by Colin Farrell and Vince Vaughn, come close to being more comically than tragically flawed. They're aided and abetted by Rachel McAdams and Taylor Kitsch in a Gomorrah of a Los Angeles County infested by freaks, creeps and despots. The eight-episode series' main murder victim is better off dead while those pursuing his killer or killers spend more time battling their own demons. None of this wears well during the course of the three distasteful episodes made available for review. The thing almost cries out for a palate-cleansing straight arrow from
Adam-12
.
Rust Cohle and Marty Hart, the disparate detectives played by McConaughey and Harrelson, also wrestled with their very troubled pasts and presents. But they resonated as more than Bayou-based dicks in both senses of that word. Creator Nic Pizzolato, who again has written all of the episodes, faced a daunting task this time out. He's responded by flailing about and so far coming up well short of what made the first
True Detective
so mesmerizing. It's hard to empathize with anyone in
True Detective 2
, which is bent, spindled and mutilated with a vengeance.
Farrell plays detective Ray Velcoro, who favors string ties and booze straight from the bottle. His ex-wife was raped and impregnated, leaving Ray with partial custody of a tubby non-biological son who's now bullied in grade school. It doesn't help when "dad" impulsively calls him a "fat pussy" in the opening episode.
Crooked casino owner and developer Frank Semyon (Vaughn) did Ray a "favor" in connection with the assault on his wife. The detective has been at his beck and call ever since. They tend to meet at a bar where a lone woman singer wails melancholy tunes with lyrics such as, "This is my least favorite life."
Things have heated up after a kinky, corrupt city manager named Casper is found with his eyes removed and his genitals shot off. The guy had $5 million of Frank's money at his disposal, and now it's gone. So Ray ends up investigating, both for Frank and for his hard-ass cop shop bosses. Along for the bumpy ride are officer Paul Woodrugh (Kitsch), a high-strung war veteran with a constant haunted look, and caustic detective Ani Bezzerides (McAdams), whose sister does sex tapes and whose father is a weird, bearded, long-haired, robed religious institute leader played by a virtually unrecognizable David Morse (now close to three decades removed from
St. Elsewhere
).
Vaughn's character broods and stares a lot while wondering why he and his wife, Jordan (Kelly Reilly), can't have children. He's chiseled himself for the role, but Vaughn as a tough-talking intimidator still tends to come off as more silly than menacing. Ferrell, his countenance weighed down by a furry caterpillar of a mustache, is better suited to his dissipated detective role. Still, it's a very tough slog on the empathy front. The overriding problem with
True Detective 2
is its neck-deep wallow in debasement and self-pity.
Some of the long stretches of dialogue are basic loads of time-wasting bull. Vaughn's Semyon opens Episode 2 by going on and on about a past trauma while his wife listens in bed. Episode 3 begins with a dream sequence that looks borrowed from David Lynch's super-swervy
Mulholland Drive
.
Viewers also are hit with frequent overhead shots of the serpentine Southern California freeway system. What tangled webs it weaves, all of them made of stone cold concrete. Get the picture? No? Then we'll pound it home again.
Meanwhile, the central murder mystery looks to be more of a draining endurance contest than an absorbing whodunit. But
True Detective 2
's opening talk/sing theme music -- "I live among you, well-disguised" -- is definitely a chill-inducing keeper.
True Detective 2
still has five more episodes to go beyond the three put in play by HBO. Anything's possible -- but not probable -- in terms of this series taking some turns for the better. But it very much looks like one big misfire, with a wealth of off-putting characters and their stink holes.
"You talk to me like that again, you're gonna need a little baggie to carry your teeth home," McAdam's Ani tells a fellow cop whom she's just abruptly dumped. That's the spirit -- over and over again.
GRADE:
C+
Email comments or questions to:
unclebarky@verizon.net